This post contains affiliate links to products and or services.  I may receive a small commission for purchases made through these links, but with no additional costs to you.
Located in heart of northern Germany, Hamburg is Germany's second largest city. After previously visiting Frankfurt and Munich during my journey through Germany, I could tell that Hamburg had a much larger presence, but perhaps that was due to being surrounded by the North Sea and the Elbe River. Known worldwide as a busy port city, Hamburg is home to the second busiest port in Europe and is famous for its many parks and canals. The Binnenalster, or Inner Alster lake, is usually filled with boats ready for river cruises and surrounded by cafés. The Außenalster, or Outer Alster lake, is the larger of the two artificial lakes and boasts the most activity during the warmer months of the year. The city's main walkway connects the Neustadt (New Town) with the Altstadt (Old Town) and is home to some beautiful pieces of architecture. Although I only had two days and some pretty shit-tastic rainy weather, I did manage to see as much as I could during my stay.

Enjoy a Hearty Meal and a Few Beers
By the time I had reached my hotel, I was soaked, cold and starving. It was raining, I was feeling exhausted and honestly, didn't feel like doing much because of the rainy weather. I was pretty stoked to see that my favourite German beer, Paulaner, actually had its own pub just around the corner from my hotel. Uh-oh! After getting settled into my room, I sauntered my way down to the pub to grab a nice, hot and hearty meal…and of course, sample a few pints of my favourite beer. Let's just say I had to have a nap right after before doing any exploring.
Read more: How to Find Great Places to Eat While Travelling
Read more: Table for one, please – How to feel confident eating alone while travelling solo
Admire The Architecture Of The Hamburg Rathaus
The Hamburg Rathaus, or Town Hall is an architectural beauty. The Rathaus is located in the Altstadt quarter in the city centre at the Rathausmarkt Square and near the Binnenalster lake. When I arrived, I wandered around the city for a bit and grabbed a coffee before seeking shelter from the rain under a covered walkway. Even with the rain falling, the Rathausmarkt Square was still bustling and full of life. It was nice to sit back, cozy up with some provided blankets and watch the world go by as I sipped my hot coffee.
Window Shop At The Jungfernstieg
The Jungfernstieg, or Alster Arcade, is known as the shopping district of Hamburg. Located around the Neustadt (New Town), this shopping area also stretches into the Altstadt (Old Town) and lies adjacent to the Binnenalster. Lined with prestigious brands and shops, the Jungfernstieg is a covered shopping area with ceilings painted as if they were part of Venetian architecture. It's a great place to window shop and really pretty to look at, but not exactly the best place to shop if you're on a budget.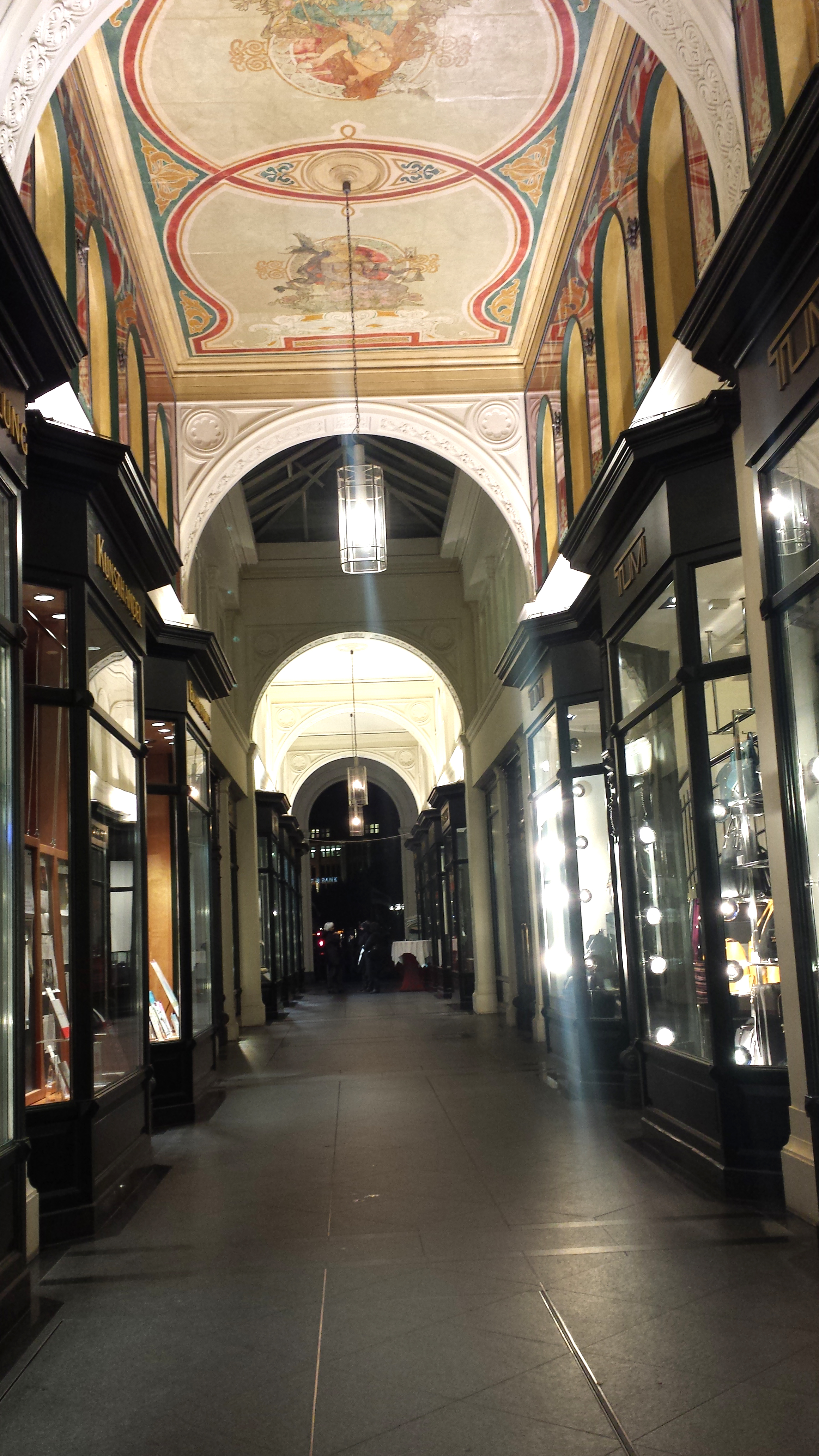 Explore The Amazing Speicherstadt
Speicherstadt, or Hafen City, is the historic Warehouse District of Hamburg. It was built over a century ago to store all of the exotic goods, from spices to carpets that came through the port of Hamburg. It is now listed as a UNESCO World Heritage Site and houses businesses ranging from creative agencies to restaurants and cafés. This was my absolute favourite area of Hamburg to explore, even if it was pouring rain. Getting lost within the Speicherstadt was by far one of the highlights from visiting this amazing city. I knew I wanted to photograph and explore this area even before boarding my flight to Germany! After wandering around in the rain for a few hours, I stopped into one of the hip restaurants for lunch. I walked into Gröninger Braukeller and fell in love with the rustic interior immediately. I was also pleasantly surprised that they had some other options on the menu such as vegetarian dishes. I decided to get a chickpea curry and an ice cold house brewed beer that was honestly, super refreshing and much deserved after the rainy day stroll.
Read more: The Ultimate Guide to Street Photography – Tips & Tricks
Wander Around Alster Lake
No trip to Hamburg would be complete without enjoying Alster Lake. During my rainy visit, I didn't get to walk around, or enjoy the views as much as I would've if it were sunny out, but I did manage to stroll along the lake and appreciate the fact that Alster Lake is in fact, a man made lake in the middle of a bustling city. During the summer months, you can enjoy a leisurely boat ride as you look out at the Hamburg cityscape from the water. Art installations are no stranger to Alster Lake either. The most impressive one I've seen is the woman bathing in the lake, which was honestly the coolest thing I have ever seen! I wish it were still there when I had visited the city, but it was taken down a few months before I had arrived.
Despite raining steadily during my two day stay in Hamburg, I still managed to walk my way around the city, umbrella in hand and make the most of it. A lot of my time was spent seeking shelter, whether it be in cafés, or restaurants, so I feel that I didn't even scratch the surface as to what Hamburg has to offer. It was a city that I thoroughly enjoyed visiting and exploring, so it's definitely on my list of places to return to. Have any of you guys ever visited Hamburg? If so, what are your recommendations for me for next time? Let me know in the comments below! xo
Read more: 7 German cities I fell in love with
Let's get social!