This post contains affiliate links to products and or services.  I may receive a small commission for purchases made through these links, but with no additional costs to you.
It's no surprise that over the last couple of years, Iceland has become a hot spot for travellers from all around the globe. From the nature loving enthusiast to the "in the know" hipsters, it seems like everyone is venturing off to the tiny island country for a taste of Scandinavian culture. Upon arriving in Iceland, Reykjavík is more than likely the first place on your itinerary. Reykjavík is the perfect place to start your Icelandic adventure and has a myriad of things to do and see. Whether you're into checking out a concert, taking an adventurous day trip, or relaxing in one of the many coffee shops dotted throughout the city – you definitely won't have a problem finding something to do. I've compiled a list of things to do and things to see while visiting this colourful, eclectic, sophisticated and friendly city.
Read more: Falling In Love with Reykjavík – Iceland's Vibrant & Hip Capital City
Head To The Top Of Hallgrímskirkja
Probably the most popular and noticeable landmark in Reykjavík, Hallgrímskirkja is surely one of the places you need to visit. Hallgrímskirkja is a beautifully designed, white concrete Lutheran church that soars 74.5 metres into the sky. Architect, Guðjón Samúelsson (1887–1950), designed the columns of the tower to represent the natural basalt columns seen within Iceland's landscapes. Unfortunately, Samúelsson never saw Hallgrímskirkja's completion, as he died before it was finished being built. You can purchase an adult ticket for 900ISK (approximately $11 CAD), which grants you access to take the elevator up to the top of the tower. Once the elevator reaches the top, you'll have to climb a few more steps to the observation deck for an unobstructed 360 degree view of Reykjavík. From the top, you'll be rewarded with a burst of fresh air, a beautiful view of Mount Esja and a colour explosion of brightly painted buildings below. 
Read more: 25 Photos That Will Inspire You To Book A Trip To Iceland
Visit Harpa Concert Hall & Conference Centre
As you walk along the water's edge near the old harbour, you'll be greeted by Harpa – Reykjavík's very modern Concert Hall & Conference Centre. Harpa is most known for being the home of the Iceland Symphony and the Icelandic Opera. The architecture is nothing short of jaw dropping with its shimmering glass  honeycomb-like windows that glisten as the sun's rays hit it. As you enter the doors, it feels as though you've stepped into a psychedelic kaleidoscope. Harpa was officially opened in 2011 and was designed by Danish firm Henning Larsen Architects, Icelandic firm Batteríið Architects and Danish-Icelandic artist Ólafur Elíasson. If you have a chance to visit during the evening, you'll see the windows light up with bright colours that dance against the dark background of the harbour, giving it a look and feel of the Northern Lights. If you get cold from walking around outside, head inside! It's free to enter the building and take a peek around the stunning lobby and leisurely walk around to admire the design. There are also a few gift shops, a café in the main lobby area and even a luxurious restaurant situated on the upper level.
Read more: Inspired by Iceland – The Land of Fire & Ice
Eat Some Fresh Caught Fish Or Lobster
While staying in Reykjavík, you must absolutely try some fresh fish and lobster. If you are a seafood lover, do I have a restaurant for you to try! Saegreifinn, otherwise known as Sea Baron in English, is located right along the main fishing dock along the harbour. Located in a bright turquoise building, it's hard not to miss. Although it looks very small from the outside, there is plenty of seating once inside. Saegreifinn was recommended to us when we asked where to get THE best lobster soup in Reykjavík – and boy, this place did NOT disappoint. The main eating area when we walked in was packed, but there are two other eating areas behind the kitchen and upstairs. Upon entering the restaurant, there is a large fridge off to the side where the fresh daily catches are skewered up and then cooked to order. Once the food is gone, it's gone, so you know it's the freshest you'll get. We grabbed a seat upstairs and the homey looking interior was instantly relaxing and felt like you were eating inside a relative's home. It was super cozy and inviting. Once the meal is ready, the friendly staff brings it up to you for you to enjoy. I ordered the famous lobster soup and it was INCREDIBLE! Served piping hot in a large mug with sliced baguette and butter, this soup was to die for. Spiced perfectly and jammed packed with massive chunks of buttery soft lobster, I could've easily ate another serving. You definitely have to hit this place up when in Reykjavík.
Read more: How to Find Great Places to Eat While Travelling
Walk Around The City Centre
Walking around Reykjavík's city centre was one of my favourite ways to get a feel of what the city was all about. Exploring Reykjavík by foot is, in my opinion, the best way to get your bearings and popping down a few side streets will lead you to a few hidden gems, such as some amazing street art, brightly painted buildings, or a quirky and cool bar. Head down Laugavegur, Reykjavík's main shopping street to admire some beautifully designed clothing shops and restaurants. Laugavegur is a place where not only tourists flock to, but also locals dressed up for a night on the town, or hipster skateboarders trying to impress each other with newly learned tricks. If you walk up the street named Skólavörðustígur (try saying that one), you'll have a great view of Hallgrímskirkja at the end of the street. Getting lost within the streets of Reykjavík is surely the best way to discover everything the city has to offer.
Read more: The Ultimate Guide to Street Photography – Tips & Tricks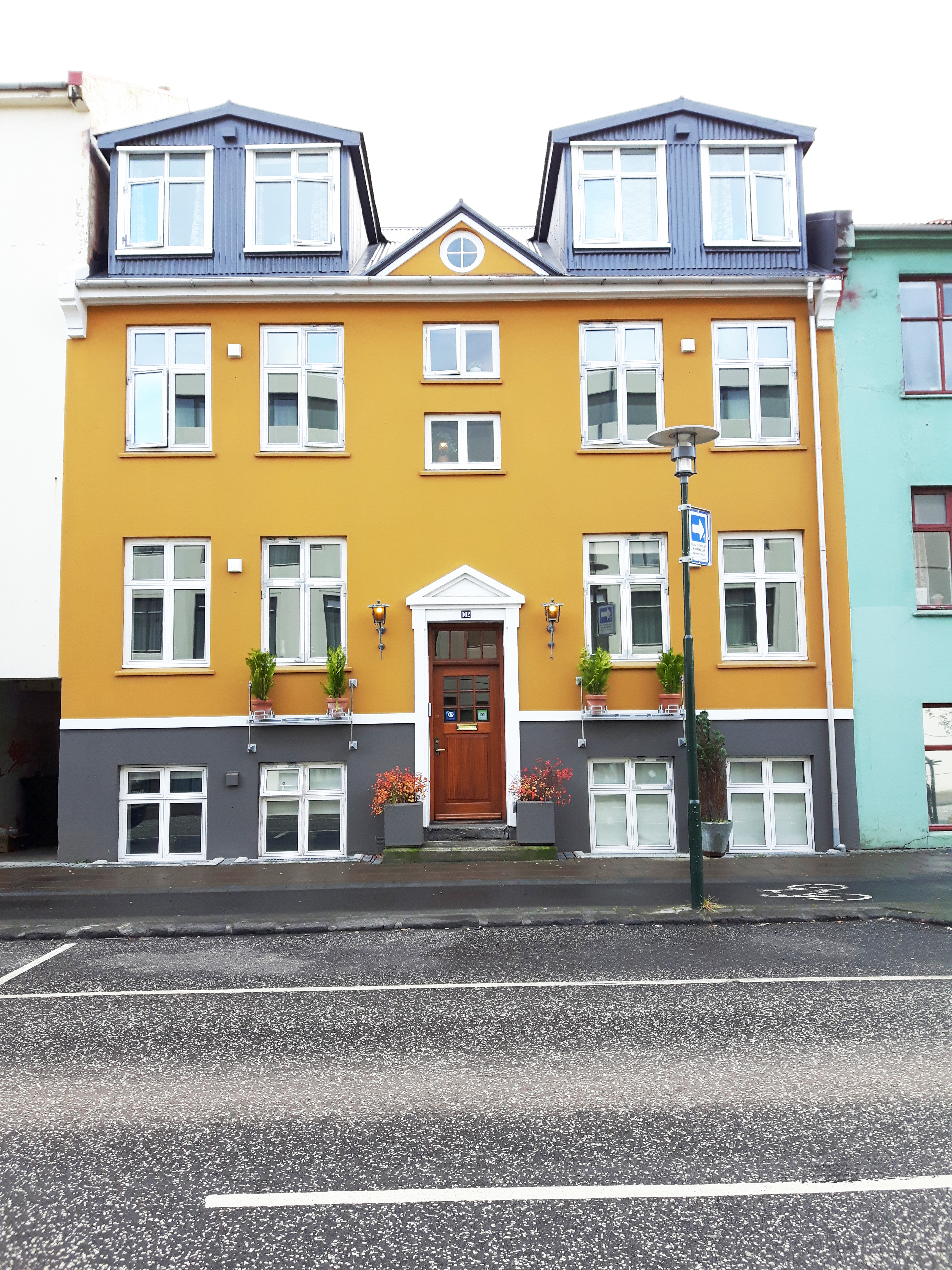 Warm Yourself Up In A Café
As a self proclaimed coffee lover, Reykjavík is a dream come true for me. Reykjavík is teeming with artisan style coffee shops with quirky flare and eclectic and cozy interiors. You won't find big name coffee giants here (aka Starbucks), which makes me adore this city and country even more! If you get chilly while exploring the streets, just pop into one of many unique cafés that are dotted throughout the streets. I don't think you can actually get a BAD cup of coffee while in Reykjavík. Every place is just so good! I didn't have many opportunities to go test all the coffee shops out that I wanted to, as we were out of town for most of the mornings and afternoons while we were situated in Reykjavík, but every place I went to was awesome. The preferred method of making a sweet cup of java in Iceland is with an espresso machine, rather than the traditional drip coffee method most North Americans are used to. If you ask for just a "normal" cup of coffee, you're essentially getting an Americano, which is A-OK with me! You'll definitely be able to tell the difference in quality, taste and your overall perkiness. I even went to a vegan coffee shop completely by accident and the latté I got was out of this world good! No matter which café you happen to stumble into, you definitely won't be disappointed!
Take A Day Trip Out Of Reykjavík
Now, as great as Reykjavík is, try to get out of the city to explore more of Iceland's raw and powerful nature. The best way to do this is by booking a day trip with one of Iceland's many reputable and knowledgeable adventure tour companies. All of the day tours we took did require us to take a tour company for safety reasons. A lot of Iceland's terrain, especially glacial terrain can be extremely dangerous for people that know nothing about the conditions and dangers of potentially walking into a crevasse. You probably don't want to fall in one of those during your vacation, so please, do yourself a favour and get a trained guide to make sure your adventure stays a safe and fun one! While staying in Reykjavík, we did a snowmobiling trip with the Mountaineers of Iceland on the Langjökull Glacier (Icelandic for "long glacier"), which is the second largest ice cap in Iceland. We also did a glacier hike and ice wall climb on the ever changing and moving Sólheimajökull Glacier with the amazing team at Arctic Adventures. Last, but not least, we did a snorkel and scuba dive tour with the wonderful team at Dive.IS, where we got to suit up in thick dry suits and float and explore the clearest water on Earth and swim between the two tectonic plates of Eurasia and North America, which are moving at a rate of 2cm every year. Definitely one of the greatest things I've seen in my life.
Read more: Snowmobiling on Langjökull Glacier in Iceland
Read more: Hiking and Ice Wall Climbing on Sólheimajökull Glacier with Arctic Adventures
Read more: Snorkeling in the Silfra Fissure with Dive.IS
Reykjavík is one of those cities where you can do and see so much, so it'd be a shame not to spend a few days exploring what it has to offer. Whether you're into adventure, getting cozy in one of the many coffee shops, or simply doing some window shopping and leisurely walking around the city centre, Reykjavík can and will fit all your needs.
Have any of you been to Reykjavík? What was your favourite thing to do there? Is it a city you would visit again? Let me know in the comments below! xo
Let's get social!