This post contains affiliate links to products and or services.  I may receive a small commission for purchases made through these links, but with no additional costs to you.
Sitting high up on a hilly peninsula between two impressive natural harbours smack dab in the Mediterranean Sea, Malta's beautiful fortified golden city, Valletta, is nothing short of breathtaking. With approximately 320 monuments situated within its less than one square kilometre walls, Valletta is considered one of the most historically concentrated cities in the entire world and also the smallest capital city in Europe. The city as a whole is recognized as UNESCO World Heritage Site and it's very easy to see why. As you approach the walled city from the ferry, it immediately demands the attention of visitors with its grandiose presence and sandstone walls that seem to rise from the sea. Valletta was built for the Knights after the Great Siege of 1565, so you can only imagine the layers of undisturbed history to be found while wandering its ancient streets.
Read more: Exploring Valletta – Malta's tiny golden capital city with larger than life appeal
Read more: The colourful wooden balconies of Malta
Valletta is a city that was once ruled by the Phoenicians, Greeks, Carthaginians, Romans, Byzantines, Arabs and British. Valletta's architecture was influenced by all of these civilizations and as you wander the streets and look around, you'll see their presence within the tiny narrow streets and building facades. Although Valletta is known for being small, it is also home to magnificently large churches and intricately designed buildings that hold a commanding presence over you as you meander through the streets, which gives you a feeling as if you've been transported into the pages of a history book.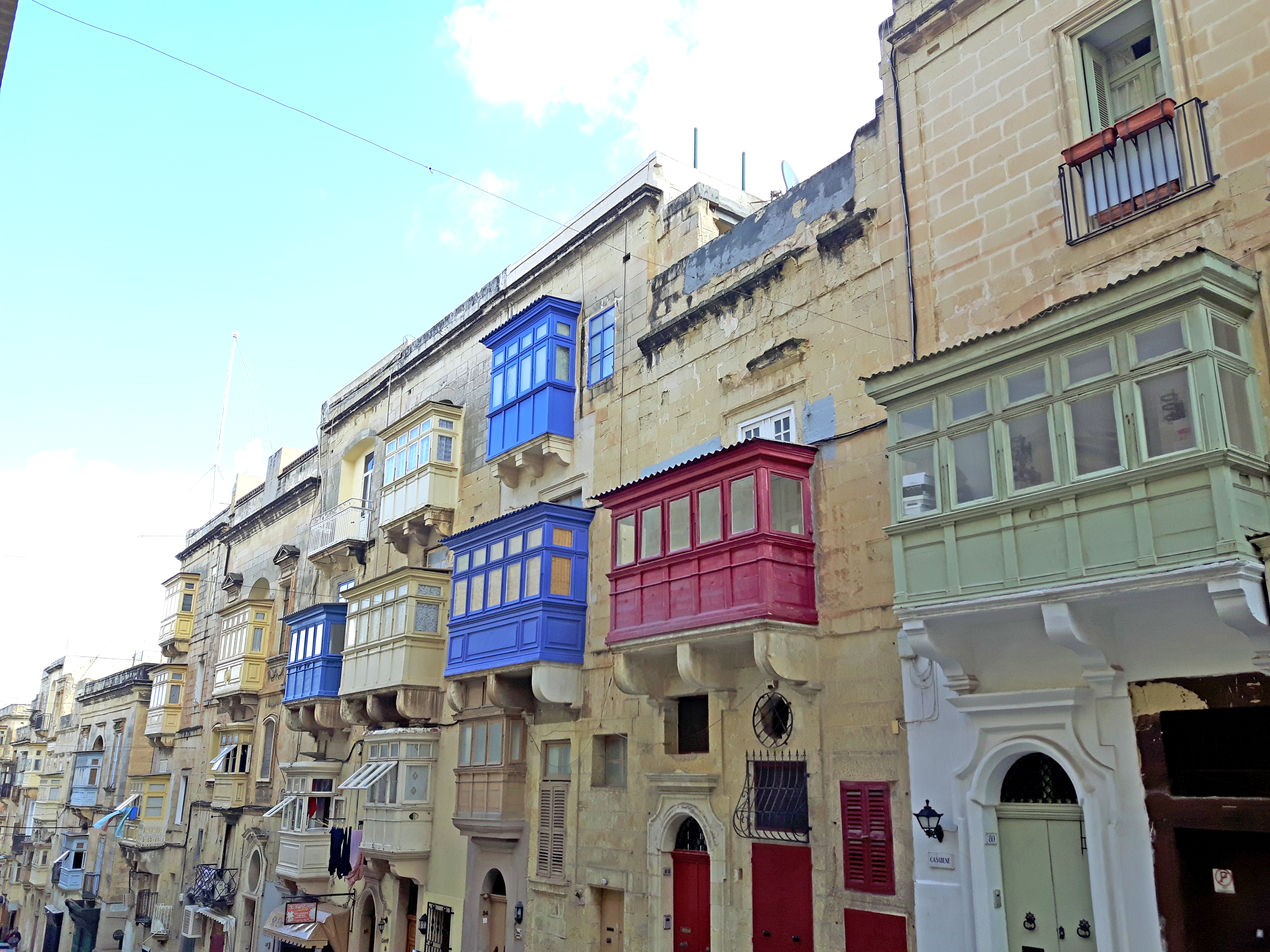 Read more: The quirky and beautiful doors of Malta
As you walk through Valletta's Renaissance streets and gaze up at the elegant architecture and steep streets made entirely of stairs, it comes as no surprise that Valletta was chosen to receive the prestigious title of 2018 European Capital of Culture.
Read more: 25 Photos That Will Inspire You To Book A Trip To Malta
The Capital of Culture initiative was started back in 1985 and since then, has named over 50 countries with the prestigious title. Six years prior to the title year, a member of the Ministry of Culture for a European country submits an application for their city of choice. The application is then reviewed by a panel for judging and the list is then made shorter before the final list of cities is made and then those cities are asked to submit a more detailed document to the European Commission. The European Commission decides the Capitals of Culture and makes sure that the country's preparations are following all EU rules and regulations very strictly. The Capital of Culture titles are formally decided upon about four years in advance in order for the country to prepare special events and amazing festivities and also prepare the country for an influx of tourists that pour over to celebrate.
Receiving the title of European Capital of Culture is a title that significantly helps highlight a country and city in more ways than one. It showcases the diverse culture and history of a particular city, increases the pride of the country's people, it can regenerate cities and their economies and not to mention, boost tourism immensely during its title year. 
Valletta is the perfect city to be chosen as one of the European Capitals of Culture for 2018. When I was there last February (exactly a year on February 2nd, actually), Malta wasn't on many people's travel radars. A lot of people I know didn't even know where Malta was and now in the last few months, I feel like every blogger has been to, or is going to Malta in 2018. Malta is a country so deeply enriched with history spanning back six thousand years, and has endured so much during its existence. It's great to see Valletta and Malta in general, being cast into the spotlight that it so rightly deserves. 
Read more: Sea, sun, history & culture…colourful Malta has it all
If you are one of the lucky people who get to travel to Malta this year to celebrate with the incredible Maltese people and find yourself immersed in the historic streets of Valletta, remember that the best way to explore Valletta by foot while slowly maneuvering your way through tiny alleyways, up steep streets made entirely of stairs, or relaxing on a patio while sipping a coffee, or local Cisk beer while people watching. However you decide to spend your day(s) in Valletta, your visit will be nothing short of memorable, especially for the duration of 2018. It's one small capital city, but you can bet it'll leave a big impression in your heart.
Have you ever been to Malta and explored the walled city of Valletta? If you have, what were your first impressions of the city? Let me know in the comments below. xo
Read more: A One Week Itinerary For Visiting Malta During Off Season
Let's get social!