This post contains affiliate links to products and or services.  I may receive a small commission for purchases made through these links, but with no additional costs to you.
Attention all you outdoor sports enthusiasts and relaxation seekers, have I got a place for you to visit! What would you say if I told you that there is a picturesque village located on one of the cleanest lakes in all of Europe that offers outdoor activities all year round and spectacular mountain scenery in which you can sit back and enjoy without a care in the world? In the summer months, you have plenty of trails to hike, you can enjoy water sports on the crystal clear lake, enjoy leisurely boat rides and in the winter time, enjoy over 138 kilometres of skiing and snowboard trails on the local mountains? The best of both worlds, right?
Well, that place is the beautiful little Austrian village of Zell am See.
Read more: My Solo Journey Through The Fairytale Country Of Austria
Read more: How To Spend 2 Days In Vienna, Austria
Surrounded by towering mountain peaks of Schmittenhöhe and Kitzsteinhorn, Zell am See is the perfect place to chill out, enjoy nature and relax, or get your adrenaline pumping while careening down a mountain run on your snowboard. Regardless of the time of year you visit, or the type of holiday you're looking to have, Zell am See is the small village that offers a huge amount of activities to keep you and your family occupied during your stay.
Located just shy of two hours from the city of Salzburg by train, Zell am See is the perfect place to be one with nature, avoid excessive crowds and cars and just revel in the beauty of your surroundings. Zell am See is nothing short of breathtaking and was my version of heaven.
Read more: A City Guide To Steyr, Austria
Read more: A Complete Guide To Gmunden, Austria
Read more: How To Spend 2 Days In Salzburg, Austria
If you are looking for a place to retreat to after stopping in larger cities, visiting the alpine scenery of Salzburgerland will be just what you need to fully get your relaxation mode on. 
I only had a little less than a full day in Zell am See due to some issues that happened on the train tracks coming from Salzburg that put me about two hours behind schedule of my planned arrival. You can hear more about that on my Instagram Stories Highlights. In the time that I was in Zell, I was able to enjoy as much as possible and from what I did see, I can honestly say that I wanted more! It was one of the most relaxing places that I've ever visited. Staying two or three days would be ideal, but in case you don't have that much time to spare, here are just a few things that you can do while visiting Zell am See.
Read more: A Day Trip To Hallstatt, Austria – A Complete Guide
Take A Boat Ride Around Lake Zell
Hop on the MS Schmittenhöhe for a leisurely boat cruise around Zell am See. The MS Schmittenhöhe is a three tiered boat complete with dining area on the main level with a full bar and panoramic windows and the middle and top have an outdoor deck boasting incredible and unobstructed views of the surrounding area. There's no better way to enjoy the water than being on the water and what makes being on the MS Schmittenhöhe even better? They serve food and drinks while you sit back, enjoy the scenery and drift around Lake Zell for approximately one hour. Green rolling hills, majestic mountains and tiny villages line the lake making for one of the most scenic boat rides in Austria. I visited in mid-October and the colourful autumn leaves made for an even more magical view as they reflected in the calm lake water. An adult priced ticket goes for about €15,50 at the time of this blog post. Check the MS Schmittenhöhe website for updated costs and departure times.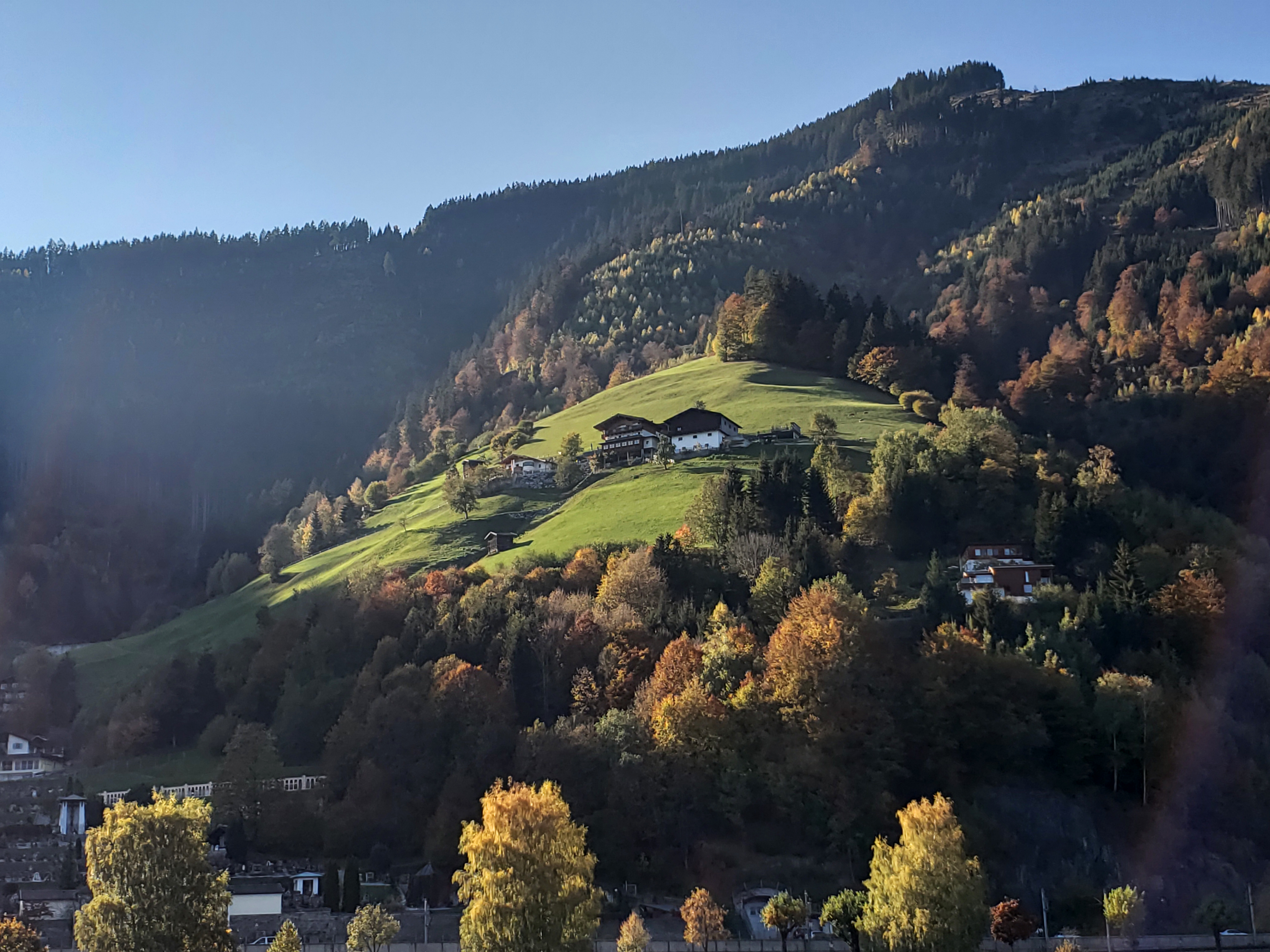 Walk Along The Zell am See Esplanade
Located right along the lake's edge, the Zell am See esplanade is a tranquil lakeside walk that will leave you feeling calm and relaxed in no time. Watching boats bob silently in the water and ducks quacking in the distance, and not to mention the autumn leaves reflecting in the calm waters, I knew I had found my little piece of paradise. To access the esplanade, you'll need to take a little underground passageway that will take you beneath the train tracks and up to the other side where the Grand Hotel is located. It may look a bit sketchy at first, but it is a really convenient way of accessing the other side of the tracks, and safer than crossing up top as well in my opinion. A walk around the lake is approximately seven kilometres and can be done in about three hours, but might take a bit longer if you stop to take a million photos just like I did! 🙂
Take The Cable Car Up The Schmittenhöhe
What better way to enjoy some of the best views of Zell am See than high in the sky on top of the main attraction, the Schmittenhöhe. The Schmittenhöhe is Zell am See's main mountain that towers approximately 2000 metres above the town and offers dazzling views of the surrounding area and the tiny village below. Numerous hiking trails are located on the mountain, so it makes for a nice day to get outdoors and enjoy nature. Due to my delayed train coming in late, my plans of taking the cable car to the top were squashed when my lovely hotel owner called the base personally for me to get times. Sadly, there wouldn't have been enough time to ascend and descend, so I'll need to save the Schmittenhöhe for next time 🙂 I did have a nice view of it from my hotel balcony though. 🙂
Wander Around The Quiet Altstadt
Zell am See has a very small town centre, which can be explored on foot and easily in less than an hour. The tiny and quaint Altstadt (Old Town) is filled with cute restaurants and cafés to cure away those hunger pangs after spending a day outside enjoying nature by hiking, biking, or walking around the lake. The Altstadt is also filled with loads of shops that are equipped with all your winter gear needs, so whether you need a cozy sweater, or new snowboard boots, you're bound to find it while perusing the many shops. The St. Hypolith's Church, which dates back to the 11th-century, can also be found within the Altstadt and the Kasternerturm is Zell am See's oldest building and dominates the centre of town. You'll also be surrounded by cute and brightly panted guesthouses, which must look super pretty covered in a fresh blanket of snow. During the busy winter months when the town is popping full of snow lovers, the Altstadt comes to life and the party supposedly doesn't stop until the wee morning hours.
Ski & Snowboard In The Winter Months
For all you ski and snowboard enthusiasts, this one's for you. Zell am See is home to thousands of winter weather lovers once the slopes get their first few inches of white gold. Winter sports fanatics won't be disappointed with the array of different slopes and terrain and won't be short for options when it comes to choosing a place to get your thrills, or test your beginner skills on the hills. See what I did there? 😉 The ski resorts of the Zell am See – Kaprun area are: Schmittenhohe (Zell am See) at approximately 2000 metres (lifts operate from end of November to mid-April), Kitzsteinhorn Glacier (Kaprun) at approximately 3029 metres (lifts operated all year), and Maiskogel and Lechnerberg (Kaprun), which has lifts that operate from early December until mid-April. For a complete list of prices, ski conditions and other activities, visit the official Zell am See – Kaprun website.
Zell am See if the perfect village to visit for a relaxing few days immersed within nature and scenery, but also a place where adrenaline seekers flock to get their blood pumping during the cold winter months. No matter the time of year you visit, there is always something to get you outside and active, or you could just pull up a chair lakeside, with a cup of coffee in hand and just enjoy the views. There's no wrong way to experience this spectacular little lakeside village.
Have you guys ever heard of Zell am See? Would you visit during the summer to enjoy some boating and swimming, or would you attempt to conquer the snowy slopes on a snowboard or with skiing? Let me know in the comments below! xo
During my stay in Zell am See, I stayed at the cute and very welcoming Hotel Seehof, which is located right at lakeside and a short 5 minute walk from the train station. Thank you to the staff who gave me a discount card for all the main attractions in the area!
Let's get social!