This post contains affiliate links to products and or services.  I may receive a small commission for purchases made through these links, but with no additional costs to you.
"Open your mind to the world and the many different ways that can be found in it, before making hasty judgments of others. After all, the very same thing that you judge from where you are— may very well be something totally different in meaning on the other side of the world. The problem with making hasty judgments is that it will emphasize your ignorance at the end of the day."
― C. JoyBell C.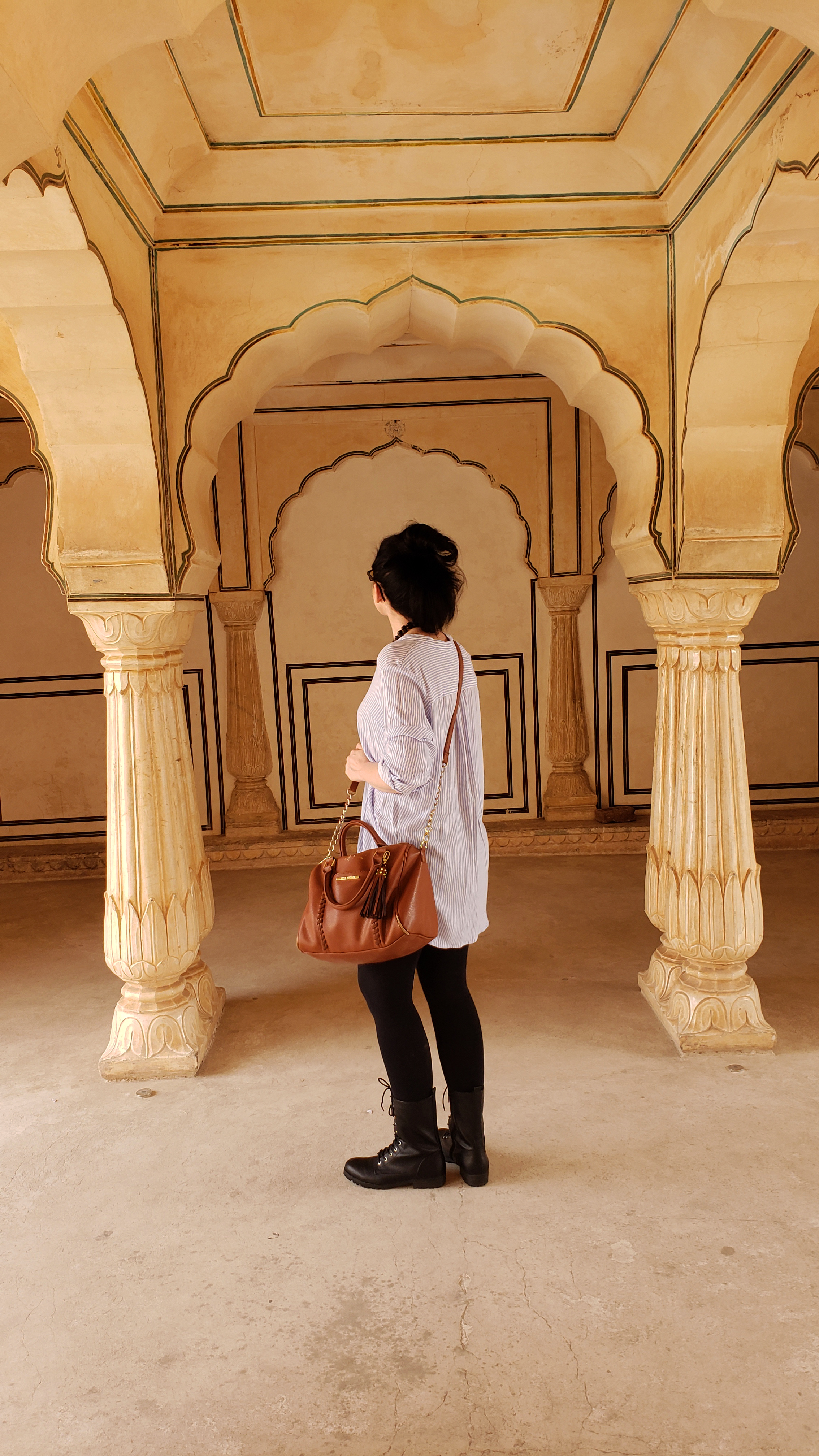 Don't go there. It's not safe for girls to travel there. There are gangs of rapists everywhere. It smells. It's dirty. You know you're going to get really sick over there. You need to get all of these vaccines to go there. Poor people will rob you. You'll consistently be begged for money. It's so noisy there, good luck sleeping at night. The people will be rude to you. There's a war going on right now with Pakistan. I wouldn't go if I were you. You should cancel your trip now. 
Why India?
Read more: How I Spent Two Weeks Travelling In India
For all the negativity surrounding my recent trip to India, all I could chime back with was, "why NOT India?"
Yes, there were beggars, some badly deformed with Leprosy, yes there were groups of poor children on the streets hustling for Rupees whenever they saw white Westerners hop in and out of tour buses and yes, it was dirty, smelly and stomach turning at times when entering a squat toilet in a restroom. Yes, there were horns of all kinds sounding off every hour, minute and second of the day.
But…
No, I didn't get raped. No, I didn't feel unsafe even while walking alone in some areas. No, I didn't feel that I was unwanted there as a visitor. No, I didn't get one single vaccine to travel there and nobody was crude, or rude to me (except an unruly bull in the streets of Rishikesh, but that's another blog post), or tried to rob me once.
What if I told you that some of the nicest people that I've ever met in my travels were those within India? Hearing joyful laughter with Namaste being said with a smile almost everywhere I went, reassured me that I had made the right choice to not listen the the naysayers that bombarded me with negative feedback and hop aboard those numerous flights that took me 29 long hours from Toronto all the way to my first stop in Jaipur, which is situated in the state of Rajasthan.
As I walked around the streets of Jaipur absolutely mesmerized by the kindness of strangers, offering a flower for my hair, a piping hot cup of masala chai, or trying to sell me things I didn't need, like bongo drums, I found that a polite, yet firm "no, thank you" and a smile will work 9 times out of ten…there is always that one super persistent salesman who just won't take no for an answer. Him? You just ignore completely. 🙂
Read more: Exploring Jaipur, India – A Guide To The Pink City
I experienced the kindness and laid back attitudes of the folks in Rishikesh, located in the stunning hills of the Himalayas with the mighty Ganges powerfully flowing through. I celebrated the famously energetic and colourful Holi Festival and had only smiling people approach me that day to take numerous selfies with them and their families and to rub my entire face with bright neon powders that made me look as if a rainbow threw up on me. RIP to my white shirt and white sneakers.
Read more: Visiting Rishikesh – Everything You Need To Know Before You Go
I experienced the kind, yet forceful personalities of New and Old Delhi. Careening through the tight streets via rickshaw and tuk-tuk made me appreciate our clean and organized streets of Canada, but despite the chaos, it worked. Somehow…it just worked. Finally getting to see the Taj Mahal in Agra, a man made wonder of the world, was nothing short of spectacular. Gazing up at the white marble glistening in the sunset and admiring the intricacy of the inlaid designs, precious stones and carvings is something that will stick in my mind for years to come. And yes, I even got to experience the unforgiving Delhi Belly before travelling home after thinking I had beat it for the whole trip. Never say never, I guess!?
Read more: Two Days In Delhi – Exploring India's Capital City
India proved to be an assault on all of my senses. I saw bright coloured saris every way I turned on the streets. I smelt everything from aromatic spices to rancid sewers. I heard car and motorcycle horns blazing down the streets, people yelling in the markets and parrots chirping as they fluttered above me at the Taj Mahal. I felt the cold Himalayan Ganges water with my feet. Last, but certainly not least, I tasted the delicious and spicy dishes that India is famous for.
Read more: Visiting The Taj Mahal – Everything You Need To Know Before You Go
I came to India with no expectations. As the famous Happy Rishikesh Song by The Beatles says, "Everything you need is here and everything that's not here is not there," couldn't be more true to what it feels like to visit India. I went to India with an open heart and left with a full mind of knowledge, respect and not to mention, a full stomach of naan bread and chapatis. 😉
Visiting India was a no brainer. It's one of those must see destinations that people need to go to, not only to see the world, but respect and fully appreciate what they have back at home. I witnessed people that have so little and empty pockets, but they had the fullest smiles and the most open hearts I'd ever encounter. 
Once you put aside all the negative feedback, headlines and false dispositions that this amazing country seems to have hanging over them, for whatever reason, you'll see beyond all the bullshit and see happy, dedicated and intensely hard working individuals that the Indian people truly aim to be. 
My intention at the beginning of the trip was to show Westerners that they need not fear travelling to this Eastern unknown culture and not to fear the headlines bombarding us with negativity left, right and centre because coming from someone who works within the media industry, I can tell you straight up: Fearful headlines sell. Look beyond the headlines and travel to India. I can assure you'll never know unless you go…so GO!
Over the next few weeks, I'll be following up on a day by day breakdown of what I got up to while spending half of a month experiencing an only small portion of India's vast landscapes, culture and diversity. Get ready, it's going to be a whirlwind of pictures, thoughts and of course, my unbiased opinions. 😉
I travelled to India with Vivid Life Journeys in partnership with Toerboer based in South Africa and Ashoka Holidays based in Jaipur, India. Thank you to all those involved in making this the experience of a lifetime! xo
Let's get social!