This post contains affiliate links to products and or services.  I may receive a small commission for purchases made through these links, but with no additional costs to you.
Ah, Malta. You beautiful Mediterranean country, you.
Malta is home to vast landscapes that are dotted with churches, sandstone architecture, seaside cliffs and surrounded by azure water, which make it a destination that, although overlooked by many North American tourists, is a must visit for any traveller looking to experience something that doesn't feel like a typical European holiday.
Malta has hot and dry summers, humid spring weather and cooler, yet mild winters, so this tiny Southern European archipelago is an absolute dream to visit all year round.
Read more: Things To Do While Visiting Malta
Malta's beauty isn't only found in its landscapes though. While you wander around the ancient cities, colourful Arab and North African inspired balconies jut out of the buildings above you and the sounds of older women chatting and sharing the daily gossip from them flows down the narrow streets. Walking through these streets transports you into the pages of a history book and nothing feels more authentic than living in that moment in my eyes.
Read more: The Dazzling Beauty Of St. John's Co. Cathedral – A Self Guided Tour
Malta's 6,000 years of history is unlike any other country I've had the chance to visit. It has been ruled by the Romans, Byzantines, Muslims, Spanish, French and most recently, the British.
Read more: A One Week Itinerary For Visiting Malta During Off Season
During WWII, Malta became the most bombed place on earth with 6,700 tonnes of bombs that fell in just a short six weeks. Around 1979, the last bit of British forces left the islands and finally, in 2004, Malta joined the EU.
With all the history, trials and tribulations this little Mediterranean country has endured over the years, Malta and its beautiful people are proud of their heritage and are more than happy to talk your ear off about it over a glass of cold beer while sitting at the water's edge, or a late night dinner.
During my week long trip, I had the opportunity to visit a handful of eclectic villages and cities, which deepened my love for this country forever in my soul. Here are a few cities and villages that I suggest visiting if you ever find yourself in Malta.
Valletta
Valletta is considered one of the most historically concentrated cities in the entire world and also the smallest capital city in Europe. Malta's golden walled city is nothing short of spectacular and still stands as one of my absolute favourite capital cities I've been to. Situated in the middle of two natural harbours, and filled with streets made up entirely of stairs, colourful balconies occupying the sides of buildings and a laid back Mediterranean vibe, Valletta feels as old world as it looks and that's not a bad thing. Valletta was built for the Knights after the Great Siege of 1565, so you can only imagine the layers of undisturbed history to be found while wandering its Renaissance streets. Valletta is built on a grid system, so it's very easy to navigate, especially since the entire city is only about one square kilometre in size. Valletta felt everything and anything, but small to me. I was the one that felt small. Massive churches and impressive buildings looming overhead as I walked aimlessly around the miniature capital city. I felt as if I was alone in the city and had entire streets to myself because it was calm, quiet and you could possibly hear a pin drop. It's hard to believe that there was an incredible amount of war within these quiet walls during WWII and for centuries before that. With its years of historical significance, it comes as no surprise that Valletta was chosen to receive the prestigious title of 2018 European Capital of Culture.
Read more: Valletta, Malta – 2018 European Capital Of Culture
Read more: Exploring Valletta – Malta's Tiny Golden Capital City With Larger Than Life Appeal
Read more: The Colourful Wooden Balconies Of Malta
Mdina
Mdina, the old capital of Malta, is an impressive fortress city with a grand Baroque style gate leading into the city walls. Also known as The Silent City, Mdina is virtually car-free, except for the residents that live there full time. As you make your way through the tiny streets, no bigger than alleyways, you'll hear the echoing of horse hooves making their way through the city with a karozzin, which is a traditional horse drawn carriage, that dates back to the 19th century. Wandering around Mdina feels as if you're getting lost in a maze. Around every corner, there would be something more beautiful than the last thing you saw, whether it was a brightly painted door adorned with a shiny brass door handle and knocker, or a gorgeous ivy covered villa. Mdina's inviting little streets are filled with tiny restaurants, cafés just waiting to be discovered. Make sure to head over to St. Paul's square to marvel at the Baroque styled architectural masterpiece that is St. Paul's Cathedral, which was designed by world famous architect, Lorenzo Gafa.
Read more: Wandering Around Mdina – Malta's Silent City
Read more: The Quirky And Beautiful Doors Of Malta
Ir-Rabat
Mdina's neighbouring city of Ir-Rabat is not to be missed. Mdina was once part of the same settlement as its neighbouring city of Ir-Rabat until the Arabs decided to wall Mdina off and make it into a fortress city. Now, Ir-Rabat is considered a town of its own now with a small population just shy of 13,000 people. Ir-Rabat is a great place to avoid crowds and simply enjoy walking along the quiet streets while looking for quirky religious details along the side of the buildings to photograph. Ir-Rabat has a distinct feeling of tranquility and authenticity within its streets and as you make your way through the beautiful neighbourhood, you'll hear the voices of people chatting, but not much else. It's the perfect place to visit while you wait for you bus back near Mdina's walls.
Sliema
Sliema is one of Malta's busiest towns, filled with tourists, casinos, pubs, restaurants and nightlife and is a popular coastal town situated on the northeast side of Malta. Try to look past the clubs and busy area and take a long walk along the immaculate promenade, which runs about 5 kilometres and is the perfect way to wind down at the end of the day, or to start your early morning before the crowds awake. Enjoy the many seaside benches along the walk to rest your feet and enjoy people watching and gaze at the luzzo boats as they bob in the water. Sliema is just steps away from the major bus stops to take you to neighbouring towns and only a ten minute walk to the Sliema-Valletta ferry port, which takes you to directly to Valletta across the harbour in under ten minutes. It was also a short 25 minute shuttle to and from the airport.
Read more: Sleeping In Sliema-Why I Chose To Stay In One Of Malta's Busiest Commercial Hubs
Gozo
Now, although not a city, or village, Gozo is a must visit while travelling in Malta and definitely worth taking a day trip to the second largest island that makes up the three Maltese islands. Gozo is the smaller, greener and quieter island off the main island of Malta and the coastline is made up of bright blue water and large stunning cliffs that protrude out of the sea and can be reached by taking a bus, or private car hire to the ferry port at Cirkewwa in Malta. For all you adrenaline freaks, I highly suggest renting an ATV to discover Gozo at your own leisure and you'll be able to access parts of the island that buses and cars do not have permission to go. Make sure to hit up some great spots such as Ramla Bay, Marsalforn, the salt pans of Gozo in Reqqa Point, the site of the now infamous Azure Window, located on Dwerja Bay and take a ride through the stunning city of Victoria (also known as Rabat), which is the capital of Gozo.
Read more: The Collapse Of The Azure Window – Malta Loses Its Iconic Landmark To The Vicious Sea
Read more: 25 Photos That Will Inspire You To Book A Trip To Malta
Read more: Throttle Therapy – Exploring The Island Of Gozo On An ATV
Marsaxlokk
The Maltese sure have some confusing and hard to pronounce names for their villages and Marsaxlokk is no exception. The village of Marsaxlokk has a population just coasting above 3,500 people and is a traditional fishing village tucked into the southeastern part of Malta. It is most famous for its big Sunday fish market and colourful luzzu boats that bob around in the water, as local fishermen tend to their nets and daily catch. Even though I visited Marsaxlokk on a Wednesday, the city was alive and full of busy locals. The first thing that will catch your eye as the harbour comes into view is the bright azure coloured water that is full of brilliantly coloured luzzu boats. This small, tight-knit village operates in a very traditional manner still to this day and isn't entirely taken over by many tourists, which makes visiting Marsaxlokk even more magical, since you get to see how the locals live their day to day lives. Marsaxlokk can easily be reached from Valletta via local bus route 85.
Read more: Wandering Around The Colourful And Traditional Fishing Village Of Marsaxlokk
The Three Cities
The Grand Harbour is a natural harbour in Valletta and also connects Valletta with the Three Cities otherwise known as Vittoriosa (Il-Birgu), Senglea (L-Isla) and Cospicua (Bormla). Cospicua is the largest of the Three Cities and is known to most by its earlier name, Bormla. The city was actually renamed as Cospicua by the Knights of St. John because of the brave ('conspicuous') role played by its people during the Great Siege of 1565. The crumbling stairways of the Three Cities that lead up to other hidden streets above feel as though you've been transported back in time. Vittoriosa, otherwise known as Birgu, is the oldest and smallest of The Three Cities with its origins reaching back to medieval times. At approximately 800m long and 400m wide, Vittoriosa is easily navigated by foot and enjoyable as you make your way through the old streets with windows lined with bright flower pots. Birgu occupies a portion of land with Fort Saint Angelo at its head and the city of Cospicua at its base. The view of the Grand Harbour from the Fort is definitely a site to see, as you'll get a full panoramic view of Valletta. Make sure to have lunch along the Grand Harbour Marina in Birgu and marvel at all the massive luxury yachts and boats docked nearby.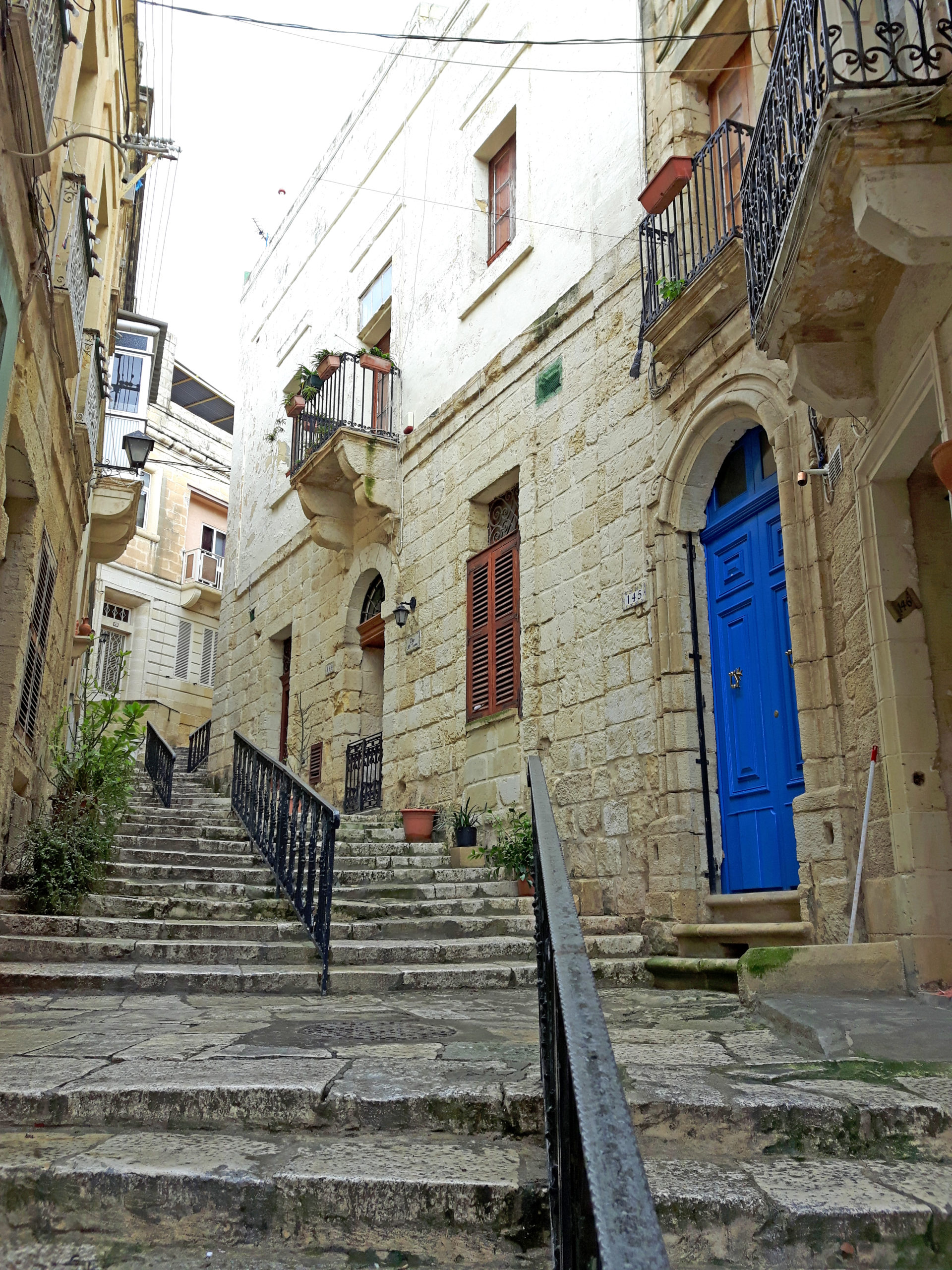 Read more: Exploring The Intriguing Streets Of The Three Cities – Cospicua, Vittoriosa And Senglea
St. Julians
If you're looking to party the night away, then head to the seaside neighbourhood of St. Julians to get your fix. The long promenade in Sliema stretches to St. Julians and there are loads of bars, restaurants and a handful of clubs within the Paceville area of St. Julians. Balluta Bay is not to be missed either. There is small, sandy beach that is a great place to relax after a meal, or to check out during your walk along the promenade. Surrounded with large buildings and stunning architecture, Balluta Bay is a great place for some street photography.
Read more: Sea, Sun, History & Culture…Colourful Malta Has It All
Malta is home to so many inviting villages, cities, towns and jaw dropping landscapes that it's hard to visit them all in just one week. Although I was only in Malta for one week, being immersed in the country's melting pot of Italian, North African and English cultures made Malta one of my top European destinations for culture, food, ambiance and historic value and a place I plan on returning one day in the future. Oh, and the cheap prices, especially during the off season, are very attractive as well. 😉
Have I convinced you guys to head to Malta? If you've been before, let me know in the comments below. xo
Let's get social!