This post contains affiliate links to products and or services.  I may receive a small commission for purchases made through these links, but with no additional costs to you.
Located in Southeast Asia, Thailand is an idyllic tropical destination filled to the brim with beauty that many travellers dream of visiting one day. It's one of the most frequently visited destinations in Southeast Asia by frugal backpackers, expats and luxury seeking honeymooners for many reasons other than its hot climate, stunning resorts and cheap prices.
Read more: 25 Photos That Will Inspire You To Book A Trip To Thailand
Thailand is a place that will ignite all your five senses upon your first few hours of being there, so get ready to be tested, especially as a first time visitor. Chances are that you'll be landing in the busting metropolis of Bangkok, so get ready for what looks like organized chaos. You'll see tons of people rushing around the streets, smell the street food frying away, hear the sound of honking tuk-tuks as they whiz by you, taste the best coconut green curry of your life and feel the sweat beading on your forehead as the humidity creeps into the depth of your soul. As overwhelming as it may be the first couple of days, trust me, once you're there and experience the bustling streets of Bangkok and then head to the beaches and islands, you'll be glad you booked that ticket.
Read more: A Guide To Phuket, Thailand – What To See And Do Around The Pearl Of The Andaman Sea
Read more: Essential Things To Remember Before You Travel

If you're looking for the ultimate holiday that encompasses tropical vibes, island hopping, fun and relaxation, look no further than Thailand – The Land of Smiles for your next getaway. If you aren't convinced that you need to visit this country one day, here are my top 12 reasons why you need to visit Thailand.
Read more: 6 Ways Travelling Will Change You
Read more: Exploring The Surrounding Islands Of Phuket By Speed Boat
Read more: How To Make Long Haul Flights More Bearable
Friendly People
They don't call Thailand the Land of Smiles for nothing. Everywhere you go within the country, you'll come across smiling locals waving at you while saying a friendly "Sawadee ka" as you come into their shops, pass them on the street, or even while lounging on the beach. Thailand had some of the happiest people I've ever come across on my travels and happy local interaction definitely can make or break a vacation and first impressions of a country to a traveller.
Insane Nightlife
If you are a party loving traveller, than Thailand has some areas that will definitely get your revved up. I can't stress to you enough when I say this: The nightlife in Bangkok and Patong Beach is absolutely, positively, without a doubt the craziest! There are certain areas and other islands that throw all night dance parties with loud and obnoxious music playing 24-7. It's in your face all the time and for those experiencing it for the first time, more than likely it'll be overwhelming. Don't be afraid if you see weird shit, because you probably will see a LOT of that. You'll be uncomfortable during some points, but remember the number one rule of travelling to foreign lands…they aren't there to make YOU feel comfortable in THEIR country. Good news though, you can literally buy a Chang beer for about $1 CAD. You can have a good night out for about $10 CAD. Seriously, don't be put off by the craziness of Thailand's nightlife. It is some of the most famous in the world and once you experience it, you'll see what I mean!
Read more: 72 Hours In Bangkok- What To Do & Places To See
Delicious Food
The food in Thailand is hands down some of the best food in the world. It's aromatic, spicy, eclectic and is one of my favourite types of cuisine ever! I've always loved papaya salad, pad thai and my favourite, Gaeng Keow Wan Gai (green chicken curry) and nobody does it better than the cooks in Thailand. Some other must try dishes for you travel foodies to indulge on are Tom Kha Gai (chicken in coconut soup), Khao Niew Mamuang (mango sticky rice) and Kai Med Ma Muang (chicken with cashew nuts). Oh, and if you want to try some of the tastiest street food ever, definitely get your hands on some Kanom Krok, the famous little Thai coconut pancakes that are easily one of the most popular street foods in Thailand and bonus…they are super cheap!
Read more: How To Find Great Places To Eat While Travelling
Read more: Top Mistakes First Time Solo Travellers Make
Beautiful Temples
No country does beautiful temples quite like Thailand. Scattered throughout the country, you'll come across temples that range in small sizes placed in front of people's homes in rural areas, to the grandiose temple complexes, such as Wat Pho, home of the reclining Buddha, in busting Bangkok. Buddhism plays a huge role within the Thai culture. With over 95% of the population identifying as Buddhist and over 33,000 temples located in the country, they aren't only visited as a place for people to find peace and solace, but for tourists to admire the insanely intricate details that went into creating some of the most gorgeous temples on the planet.
To Relax
Now, you may not step foot into the wild and crazy streets of Bangkok while attempting to dodge rogue tuk-tuks and consider that relaxing, but once you head to one of the many islands, beaches and resorts that Thailand has to offer, you can sit back, chill out and let the stress of everyday life melt away as you watch the waves roll in, the sun dip below the horizon and long tail boats bob in the water – ya, now that is what I'm talking about!
It's Affordable
For budget backpackers, expats, or solo travellers, Thailand is a relatively budget friendly place to travel to for a few weeks and even months…IF you're smart. Of course, the further south you get, the prices will jump because of the amount of tourists that flock there every year. More tourists = more cost, it's that simple. The further north you head in Thailand, the cheaper it will be, but don't let that steer you away from exploring the south regions of Thailand. If you are good with your money and don't spend your Baht like it's going out of style, you can still manage to stay and play in some pretty spectacular hotels, resorts, Eco-accommodations, or unique home stays. Transportation costs in Thailand are affordable and plenty. You can take trains, planes, boats, tuk-tuks and even buses to get to where you want to be. While on islands, tuk-tuks and bicycles are quite often a wallet friendly method of transportation. 
The Beaches
If there's one thing that Thailand is not short on, it's beautiful beaches. With an endless amount of coastline, sandy beaches and turquoise waters, Thailand is a mecca for beach goers from around the world. If you're basing yourself in Phuket, for about 1500 Baht, you can get a 30 minute return trip on your very own private long tail boat to Phuket's own hidden gem of a beach known as Freedom Beach. This 300 metre long strip of pure white sand can only be accessed by long tail boats, as no other boat transportation is allowed to go there. One of Thailand's most popular beaches, Maya Bay, which was made wildly popular because of Leonardo DiCaprio's movie The Beach, has recently been closed off from tourists for the next few years because of the deterioration of the beaches on the islands and the trash that irresponsible tourists left from beach parties and day trips from Phuket and the surrounding area. Try not to stick to the overly hyped up beaches if you can and explore the lesser known ones around the country.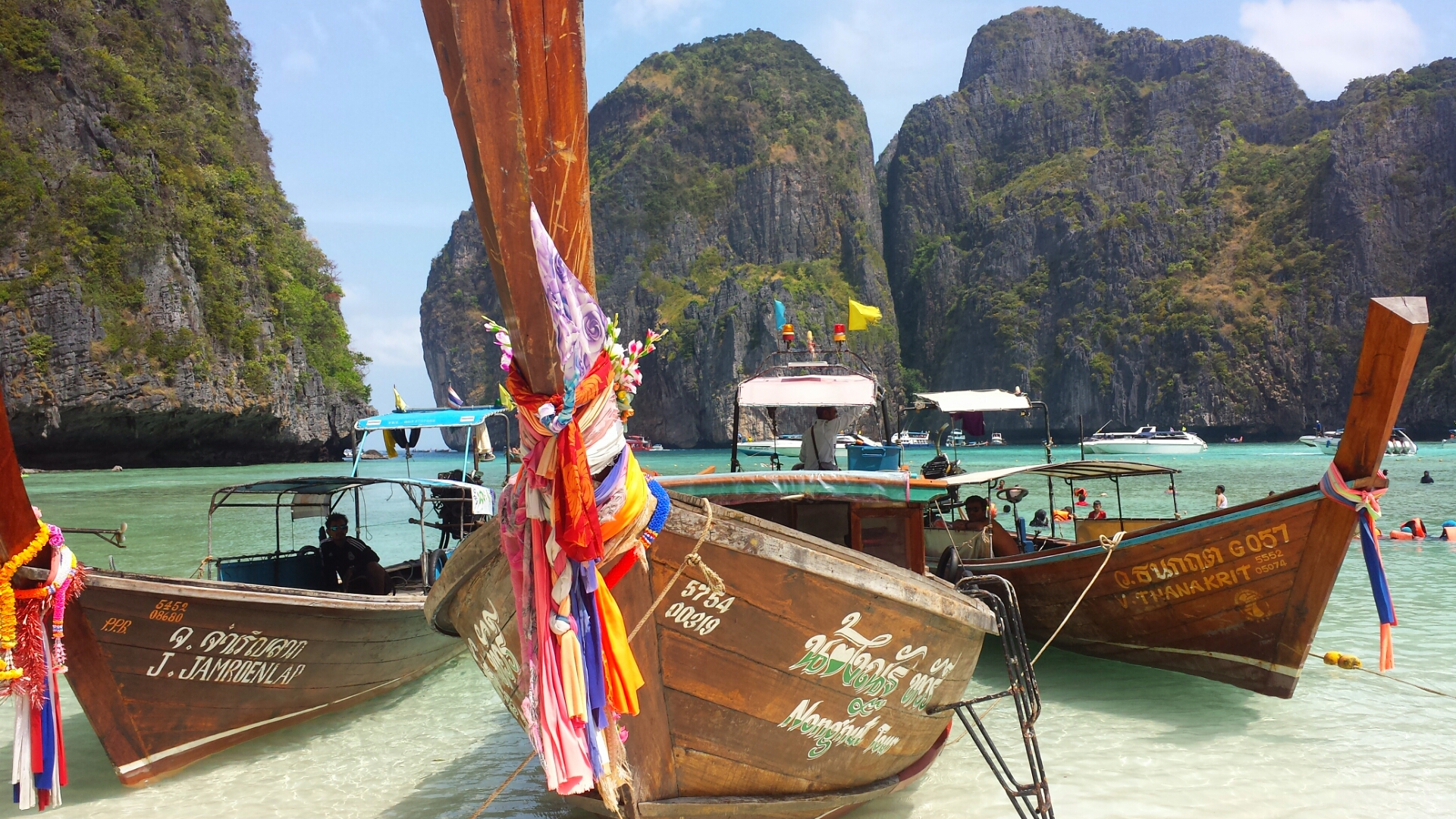 Tuk Tuks
Riding in a tuk-tuk is absolute madness. It's as simple as that. They have no seat belts, smell like cheap gasoline, have no doors and fly around the city on three wheels while darting through traffic and dodging pedestrians. Being in one is like being in an intense game of Mario Kart. As crazy as they are, they are as authentic to Thai transportation as you'll get. Just a heads up…tuk-tuk drivers, especially in Bangkok, will usually sidetrack and bring you to local business that have nothing to do with where you want to go. For example, ours took us to a jewellery store and to a men's tailor shop. None of us wanted to buy gems, or get a men's suit made. They have side deals with local businesses with the hope that bringing tourists to their shops, will gain business for them. If they bring the tourists there, the tuk-tuk driver gets a gas card from the business. It's as simple as "you help me, I help you". You simply just go in the shop, look around, don't buy anything and carry on to your destination. It's a little weird, but it's a pretty common thing, so don't be alarmed in you are heading to a temple and you end up at a men's tailor shop. Just saying.
Incredible Scenery & Nature
Filled with dense lush jungles, jagged cliffs rising high from the sea and numerous national parks, Thailand has some of the most stunning scenery I've ever seen. As you hop into a long tail boat and make your way towards secluded beaches while floating by towering limestone cliffs that jut out from the glistening turquoise water below, you'll be in awe of the sheer beauty of it all. Make sure to bring your camera to snap loads of pictures of the beautiful and unique limestone formations.
Colourful Culture
Thai culture is largely based around the older ethnic Thai people and much of their people identify as Buddhist, specifically Theravada Buddhism. The surrounding countries of Myanmar, Laos, Cambodia and China played a large role in shaping the Thai culture over the years as well. The Buddhist religion practiced in Thailand is very unique to other Buddhist nations, having been influenced by these other countries. Hindu and traditional Chinese beliefs have influenced local beliefs to a degree, with animist (Animism) beliefs playing a large role in making Thai Buddhism what we know it as today. The Thai people take part in many rituals and visit some form of a temple daily. The Monarchy and royal institution are very much looked upon highly and should never be talked bad about. Whether it's religion, table manners, traditional dress, or prayer, Thailand is a fantastic place to observe some of the most colourful culture in Southeast Asia.
The Weather
Thailand has tropical weather that is broken up into three main seasons: a hot season (March to mid-May), a rainy season (mid-May to October) and a dry season (November to February). Thailand is frequented by sun-loving individuals that want to escape the cold snowy weather of the winter months, so the busiest season would be the hot season. I visited in the month of March and it was disgustingly hot – way too hot for my liking. If I visit again, I'd probably try to travel in November to avoid tourists and to have a bit of relief from the blistering heat, day in and day out.
Bizarre Street Finds
While walking through the streets of Thailand, you're sure to come across some weird and bizarre things. Just embrace the weirdness and don't question it. Trust me.

Have any of you guys ever visited Thailand? If you have, where did you go and what was your favourite thing about the Land of Smiles? Let me know in the comments below. xo
Let's get social!