This post contains affiliate links to products and or services.  I may receive a small commission for purchases made through these links, but with no additional costs to you.
How would you guess that the Polish city of Rzeszów is pronounced?
Is it pronounced Rez-zhow? How about Resh-zov? I know…it's Rez-shoove, right?
Nope, nope and most definitely not.
What if I told you Rzeszów doesn't even sound like it starts with the letter R?
Just like the equally confusing and most often phonetically butchered city of Wrocław, Rzeszów's pronunciation is actually more like, get ready for this one…
"ZHESH-oof," or even "ZHESH-ohv."
Read more: Poland Travel Costs – A Budget Friendly European Destination
Read more: Getting Around Poland By Public Transit – A Comprehensive Guide To Polish Trains & Buses
Is your mind blown as much as mine was when I found out how it was properly pronounced as well? Yea, I thought it would be.
Well, enough of the Polish language lessons from me (and trust me, I'm no expert, not even a novice), so let's get into it and let me introduce you to this up and coming Polish city near the Ukrainian and Slovakian borders.
Rzeszów is the largest city in southeastern Poland, with a population of just under 200,000 and is the capital of the Subcarpathian Voivodeship and one of the largest cities within the region.
Read more: Discovering Beautiful Zakopane – Poland's Most Popular Mountain Village
Read more: 2 Days In The Quaint Mountain Village Of Poronin, Poland
Read more: Travelling Internationally During Covid-19: My Experience & What To Expect
When I was researching cities to visit, I came across Rzeszów online and looked up some photos, since I had never heard of it before. It didn't take long to sell me on Rzeszów after seeing the first photo that popped up. I immediately fell in love with the Rynek and its cute little Ratusz, or Town Hall in English, that looked like a tiny castle out of a fairy tale and it also reminded me of the Town Hall that I saw in the small town of Gouda in the Netherlands a few years back. Rzeszów was also home to a very umm, interesting looking monument (more on that later) and I was drawn to Rzeszów's mix of old and new, so I knew I had to visit. Rzeszów was also the furthest east in Europe that I've travelled, so that was pretty cool too!

Oh, and while I was in Zakopane, I'd learn that one of the owner's of the chalet I stayed in actually called Rzeszów her hometown! Small world!
During my visit, the city was adorned with hundreds of chrysanthemum flowers that cities around Poland had purchased from vendors to support their businesses when the government decided to "cancel" All Saints Day. Not only did the cities support the locals by doing this, but it beautified the streets as well in an array of colours that gave the otherwise dark, grey and rainy day in Rzeszów a burst of vibrancy and happiness.
Like the rest of Poland, Rzeszów experienced harsh and terrifying events during both World Wars.
During WWI, Rzeszów was taken over twice by the Russians and then liberated by the Austrian army. The end of the Austrian rule in Rzeszów was marked by the Polish Liquidation Committee in Kraków. Finally, on November 1st, 1918, the city of Rzeszów became free.
Between the years 1937-1939, Rzeszów became a crucial part of the machine-building industry turning the city into a major player within the local trade and academic world.
Then on September 9th, 1939, Rzeszów's world would be flipped upside down once again and see the ugly head of the start of WWII. During World War II, German occupation reared its violence until sunrise the next day and caused absolute chaos. From 1939-1945, both opposing groups, The German Nazis and the Polish Underground State went at it until the Red Army eventually marched into Rzeszów.
Read more: A Present Walk Through Yesterday's History – A Visit To Auschwitz-Birkenau
Read more: How To Spend One Day Exploring Gdańsk, Poland
Read more: What Will The Future Hold For Travel After 2020
Read more: The Ultimate City Guide To Visiting Warsaw, Poland
Rzeszów's large Jewish community perished in the Holocaust, murdered in the town or in various killing camps around the country. The only remaining noticeable traces left of the Jewish community from back then are two synagogues, the Jewish cemetery and the names of several streets.
After WWII, Rzeszów became the administrative and cultural centre of southeast Poland. In 1944, Rzeszów was established as the capital of the Rzeszowskie Voivodeship and the city could finally start to rebuild after a tumultuous six years.
The water system within Rzeszów was built in 1956 and also during that time, the gas grid, telephone network, sewer system and electric network were reinvented. In 1965 a new bus station was built and the railway line between Kraków and Przemyśl underwent electrification and even the PKP Central Station was extended and modernized.
A lot was done in the years following WWII, which now makes Rzeszów one of the most elite cities within Poland and has a developed aviation sector with many global aviation companies. In 2011 Forbes awarded Rzeszów with the second place in the ranking of the most attractive semi-large cities for business.
If you enjoy learning about history, seeing a mix of old and new and looking for a city that is truly off the tourist route, why not considering giving Rzeszów a visit?
Here is how you can spend a day visiting Rzeszów, Poland.
Getting To Rzeszów
Arriving in Rzeszów is easy and accessible by rail, bus or plane from all over Poland. Taking the train to Rzeszów is quick, comfortable and efficient. If you are coming from Warsaw, it will take just under four hours to arrive in Rzeszów. If you are arriving from Kraków, the trip will take about two hours, which is where I arrived from. Rzeszów Główny is a short walk from the city centre and to all the attractions, restaurants and shops. Rzeszów Główny is located right in the heart of the city, making it the transit hub for everyone arriving and departing. The station offers connections to all major cities of Poland and also to Kiev and Lviv in Ukraine. Rzeszów Główny was built in 1858 and even though it was destroyed twice and then modernized, it has kept its historical shape, which is quite Soviet looking in my opinion. During World War I, the station was destroyed by the retreating Russian Imperial troops and was rebuilt afterwards. It was destroyed once again in 1944 during WWII by the Wehrmacht, which were the unified armed forces of Nazi Germany from 1935 to 1945 and consisted of the Heer (army), the Kriegsmarine (navy) and the Luftwaffe (air force). The current station was built after 1945 and since 2018, the station is undergoing a major upgrade. To buy train tickets, you can buy them in the station at machines, at kiosks run by salespeople, or even online at PKP Intercity's website.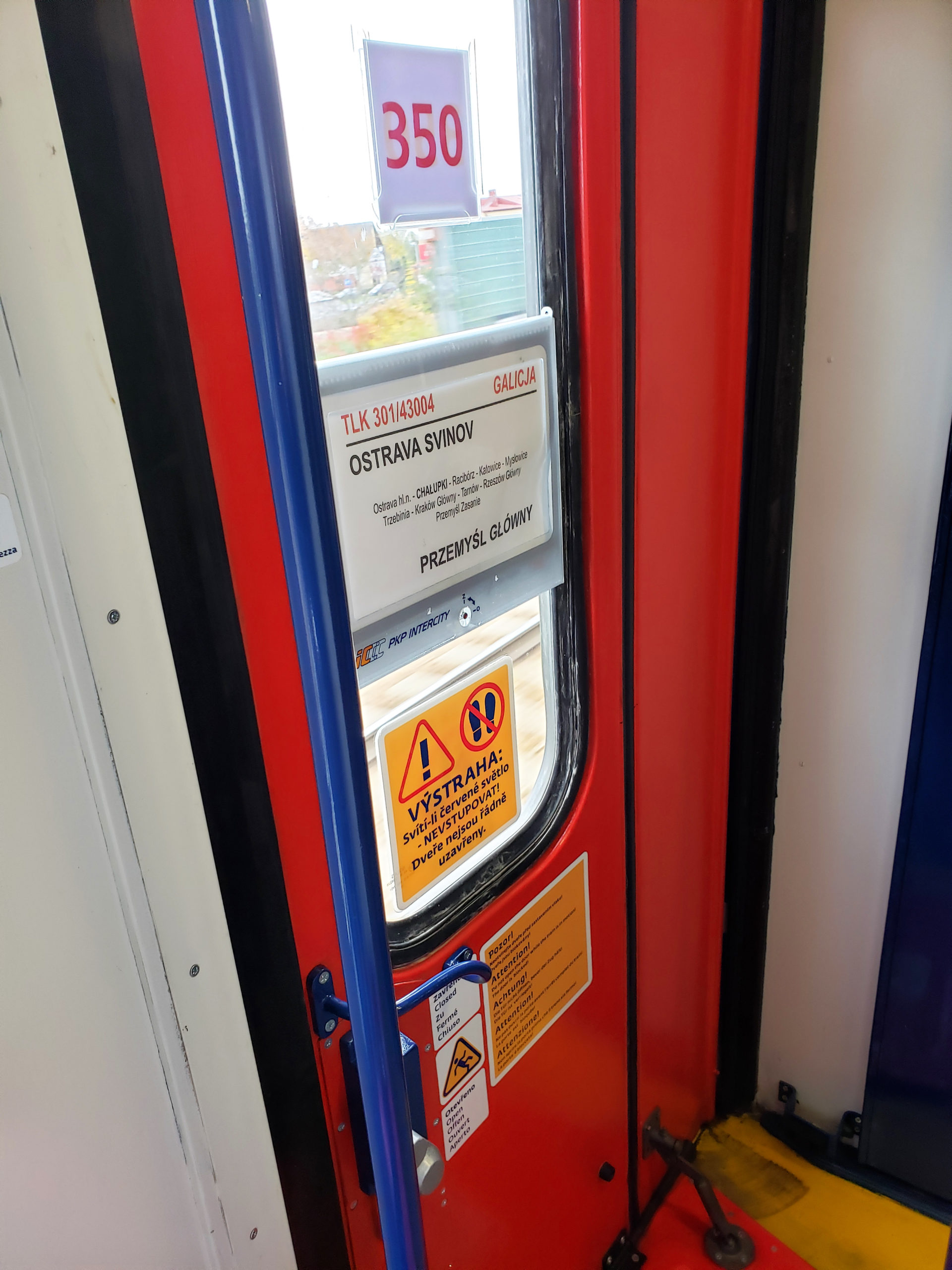 Read more: Essential Things To Remember Before You Travel
Read more: Tips For Travelling Within Europe
Getting Around Rzeszów
Making your way around Rzeszów is easily accessible on foot. The city is also equipped with an extensive bus line, which is available all throughout the day to whisk you away to the outer suburban and business areas of Rzeszów. The best part of walking around Rzeszów is getting lost in the streets and exploring the many parks, picturesque side streets and taking in the architecture that ranges from Neo-Gothic and Renaissance Revival styles, to the Soviet Era style of apartment complexes and grey block buildings situated throughout the city. Most of your time will likely be within the Old Town, but make sure you venture a little outside of the lovely historic area and head to the outer parts as well.

Read more: How I Spent 3 Weeks Travelling Solo Around Poland
Read more: The 5 W's Of Travelling Internationally
Admire The Rynek
Like most places in Poland, heading to the historical Stary Rynek, or Old Market Square is a must for any tourist. Smack dab in the middle of the Rynek, you'll see the adorable Ratusz, or Town Hall that looks like a miniature castle that has been plucked right out of a story book. Originally built in 1591, the Ratusz is built in the Neo-Gothic and Renaissance Revival styles. Along with the Ratusz, you'll find a covered well from the second half of the 16th century. Three sides of the market square are built up with tenement houses which through centuries were remodelled many times due to fires and wars. The Rynek is the place to come for dining, live events and to sit and relax with a beer, or coffee and is always bustling with people. During my stay, I went for an evening walk in the rain and the colourful reflections on the cobblestones made for some awesome shots.

Walk The Length Of Ulica 3 Maja
Just a short walk from the Rynek , sits the gorgeous pedestrian friendly Ulica 3 Maja. This shopping street is the oldest street in the city and is filled with cute ice cream shops, restaurants, stunning architecture that ranges from 18th – 20th century buildings and is the main street to take to the Rzeszów Castle. You'll also find the monument of Tadeusz Nalepa who is considered the Father of Polish Blues and was a famous composer, harmonica player, guitarist and vocalist. Another really cool display on Ulica 3 Maja is the glass display case showcasing the old historical pieces of the street that date back to the 16th century. Even during the rainy evening, I was in awe of Ulica 3 Maja and its beauty.

Roman Catholic Church Of The Holy Cross
While walking along Ulica 3 Maja, stop in to admire the interior of Kościół Rzymskokatolicki pw. Świętego Krzyża, or Roman Catholic Church of the Holy Cross. The details of the interior are intricate and beautiful, making it a must see if you're passing by. The church dates back to 1645 and became a Parish Church in 1989.
Read more: The Ultimate City Guide To Visiting Kraków, Poland
Read more: How To Spend A Day In Poznań: Poland's Best Kept Secret
The Round Overpass
One of the coolest features outside of the historic area of the city, is the uber modern Round Overpass, or Okrągła Kładka Dla Pieszych. The original and the only one in Europe, the round overpass was built over the junction of Ulica Piłsudskiego and Ulica Grunwaldzka. The overpass is accessible for everyone and has a ramp, stairs and two elevators, which makes for a safe and fun way to cross the busy intersection below. I didn't get to see it at night all lit up, but the photo below shows what it looks like. Because of its unique shape and materials used for building, Okrągła Kładka Dla Pieszych is considered one of the most interesting structures of its kind within Poland. The overpass also serves as an observation deck and is a great place to get a good view of the city. There are also historic photos with descriptions (in Polish only) from over the years from earlier days in Rzeszów and during WWII.
Monument Of The Revolutionary Deed
From the top of the round overpass, you'll be able to see what is, in my opinion, the strangest looking monument I've seen throughout my travels. The Monument of the Revolutionary Deed, or Pomnik Czynu Rewolucyjnego w Rzeszowie, is widely known throughout Rzeszów as the Wielka Cipa, which literally translates to the Big Pussy, or the Giant Vagina. 😛 LOL Now, obviously the contractor that built this did not intend for it to look like that, but people just call it that because I guess when a spade is a spade, you call it like you see it. The monument was erected in 1970 and symbolizes the battles waged in the Rzeszów region. Some of the best views of the monument can be seen from the Bernardine Gardens, or Ogrody Bernardyńskie in Polish.
Read more: How To Spend The Perfect Day In Wrocław, Poland
Read more: Spending A Day In Opole, Poland
Rzeszów Castle
The one thing I missed out on (I had to rush back to the Rynek to get my lunch I ordered 😛 ) was the Rzeszów Castle, or Zamek Lubomirskich w Rzeszowie. If you make your way all the way to the end of Ulica 3 Maja, you'll come across this majestic walled beauty. The original fortress was built in the 1458 and in 1820 the castle complex was sold to the Austrian authorities and they adapted the building to be used as a courthouse and a prison, which was still used during WWII. The castle was later renovated at the beginning of the 20th century. I was bummed out that I didn't get to visit, but hey, when you're hungry, you're hungry. 😉
Where To Eat
I was pleasantly surprised with the amount of food choices that Rzeszów had to offer. Even during the restaurant lock down for dining indoors, I was able to get some really great food, treats and coffee. While walking the streets, I came across sushi restaurants, pubs serving up craft beer and traditional Polish cuisine and healthy vegan shops for all you non meat eaters. During my visit, here are the places that I was able to give a try.
Kawiarnia Hola Lola: Located just on the outskirts of the Rynek at Ulica Adama Mickiewicza 3, this tiny, cute and cozy coffee shop was the perfect introduction to the many cafés that were to be found around Rzeszów. I ordered a flat white and it was the ideal companion to have with me during a cool, brisk day.

Stary Browar Rzeszowski: I always try to get myself a local beer and Stary Browar Rzeszowski was the place to get it. Located right in the heart of the bustling Rynek, this pub/restaurant/brewery was at the top of my list of places to check out while in Rzeszów. I ordered up a massive golonka, or pork knuckle, which came with a side of gnocchi and braised cabbage, mustard and horseradish and got myself a bottle of beer for about 56 PLN, which is approximately $18 CAD. This may seem pricey to Polish standards, but to Canadians, this is a bargain! My only issue was the way the golonka was wrapped with plastic wrap, which caused the crispiness of the skin to get a bit soft from condensation. Other than that, the meal was absolutely stellar!

Restauracja Niebieskie Migdały: Do you have a sweet tooth? Look no further than Restauracja Niebieskie Migdały located at Ulica 3 Maja 8. This small bakery/ice cream shop/café is the place to grab a delicious slice of homemade cake, or a scoop of ice cream. Cakes are displayed beautifully in a spinning glass display case and the staff are super friendly too! Prices are cheap and the choices are vast. Stop in while making your way along Ulica 3 Maja and trust me, you won't regret it!

Read more: Solo Female Traveller Safety Tips
Read more: How To Create The Perfect Travel Itinerary
Read more: How To Find Great Places To Eat While Travelling
Where To Stay
Whether you are travelling on a small budget, or have the extra money to spend, Rzeszów has hotels, hostels and apartments to suit everyone's needs. I had an early morning train ride back to Warsaw the next day, so I wanted to be very close to the train station. I went on Booking.com and absolutely did not hesitate to book a night at B&B HOTEL RZESZÓW CENTRUM. The rooms were luxurious and complete with a massive bed loaded with comfy pristine white bedding and fluffy pillows and you guys know I am a stickler when it comes to pillows. The economy rooms come complete with a robe and slippers in case you are feeling bougie, a coffee maker, kettle, fridge, a massive shower with great water pressure, a huge desk and an insanely large TV. I was pleasantly surprised that the price of the room was only $62 CAD (at the time of my stay) and the best part? The staff was absolutely incredible. Some of the friendliest hotel staff I've had the pleasure of interacting with. They were all so kind and I definitely recommend staying at B&B HOTEL RZESZÓW CENTRUM if you ever find yourself travelling to Rzeszów.

Despite being unheard of amongst travellers, there is so much to see and do in Rzeszów. If you have more than a day in Rzeszów, you could also check out the Church Of St. Wojciech, watch a Rzeszów Speedway Team race at the stadium, hang out in numerous green spaces and parks, or visit one of many museums. There is also a prestigious street called Avenue Under The Chestnuts, or Aleja Pod Kasztanami, which have mansions built in a baroque style. The name of the avenue came from the chestnut trees that are growing there. For history buffs, make sure to visit the Underground Tourist Route. This unique complex of underground cellars and corridors was used by citizens in the past as shops and storage spaces, or as shelter during times of crisis such as during the war.
Rzeszów was a city that completely shocked me… in a good way. It went from a city that I was skeptical to visit, since I never knew what to expect, to a city that I wanted to spend more time in.
Have you guys ever heard of Rzeszów? Do you guys ever give unknown destinations a chance? If you have, which city did you visit that surprised you? Let me know in the comments below. xo
Read more: The Complete Guide To Hiking To Morskie Oko – Poland's Most Beautiful Lake In The Tatra Mountains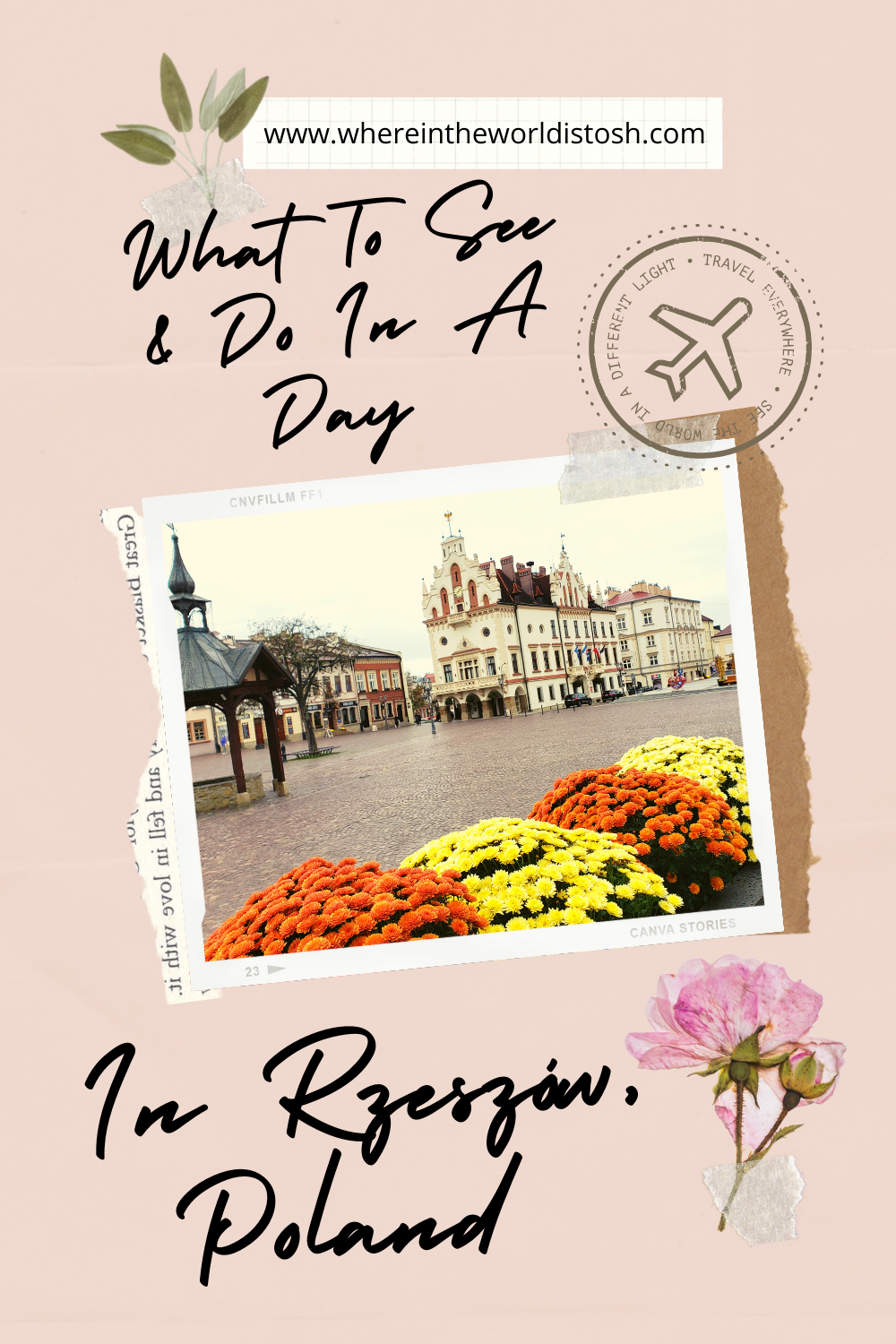 Let's get social!