This post contains affiliate links to products and or services.  I may receive a small commission for purchases made through these links, but with no additional costs to you.
Warning: As with all my food posts I write, I must add a disclaimer… do not read this post if you are hungry, or on a diet. You've been warned. 😉
When you think of Polish food, what comes to mind? If you said pierogi, you aren't wrong. Although pierogi and Poland go together like Italy and pasta, there are so many other traditional and not so well known traditional Polish foods that are equally as delicious and mouthwatering.
Polish food is typically quite heavy, hearty and definitely filling. There is a slim chance that you'll be walking around Poland hungry and maybe an even slimmer chance of staying, well…not so thin. 😉 That being said, Polish food is extremely delicious and I can't recommend it enough.
Read more: How To Find Great Places To Eat While Travelling
Traditional Polish food is also centered around the almighty vegetable God…also known as cabbage, which is a very typical ingredient in a lot of Slavic Central and Eastern European countries. If you aren't a fan of cabbage (and I know quite a few people that aren't), don't fret; Polish food isn't all cabbage-centric.
Read more: Poland Travel Costs – A Budget Friendly European Destination
Poland is extremely proud of their traditional dishes, but they have been successfully diversifying their gastronomic range over the years with veggie and vegan restaurants, Indian and Asian cuisine and even Middle Eastern kabobs, which are also very popular throughout Central Europe more and more these days.
Poland is also excellent at brewing (and drinking) beer and some of my favourites, which can also be found in Canada, are brewed right in Poland. I even visited some towns that my favourite beer is brewed, such as Żywiec.
Read more: Discover This Hidden Gem In Poland – Welcome To Żywiec
Another thing that Poles do well is dessert. Whether they are traditional, or not, the Poles know how to turn flour, sugar, butter and fruits, or nuts into something truly delectable and addicting to satisfy even the sweetest tooth.
Breakfasts in Poland are usually like most European breakfasts; simple and of continental style. Cold cuts of various kinds, cheeses, toast, fruits, veggies and coffee, tea, or juice. A lunch, or mid-day meal was usually the heaviest meal of the day, but over the years, supper/dinner has now been noted as the main meal within most working class households.
Read more: The Complete Guide To Hiking To Morskie Oko – Poland's Most Beautiful Lake In The Tatra Mountains
Read more: What Solo Travel has Taught Me
To me, the best way to discover a country's traditions and culture is through what the locals eat, so if you find yourself in Poland and are curious as to what foods and drinks to try, I've got you covered. Here is a list of traditional Polish foods and drinks you need to try.
Pierogi
Pierogi is unequivocally the most famous Polish food around the globe. Chances are these pillowy soft, deliciously filled bundles of goodness are what most people think of when they hear someone utter the words, "Polish food." The word pierogi is actually the plural word for pieróg, which is why when I hear people mention pierogis with an "s" I can't help but chuckle. I'm sure my Polish friends think the same. Pierogi are actually a common food even within my Croatian/Slovenian household and I grew up eating them quite often. Pierogi can be sweet, or savory and eaten for an appetizer, main, or dessert. Commonly boiled and fried and filled with fillings such as potato, cheese, cabbage, mushroom and meat, pierogi are actually a pretty diverse Polish food. The most popular pierogi listed on all menus are Pierogi ruskie, which are filled with mashed potatoes mixed with cottage cheese and fried onions. They are incredibly simple, but oh so delicious and filling too! A plateful of those babies heavily doused in sour cream and you're good to go! Some other common pierogi combinations are: Pierogi z kapustą i grzybami – filled with cooked sauerkraut, dried mushrooms and onions. Pierogi z mięsem – filled with cooked soup vegetables with cooked pork/beef as well as bay leaves and allspice. Pierogi z jagodami – filled with sweet blueberries. Pierogi z kapustą – filled with sauerkraut and cabbage, is another popular choice. Pierogi can be served boiled, fried and even baked. I had all three versions and I have to say that the common boiled version covered in bacon bits was my favourite. 🙂
Gołąbki

Another popular Polish meal that I grew up eating within my household are cabbage rolls, or in Polish, Gołąbki. Poles are famous for incorporating cabbage into almost every main dish, and Gołąbki is quite literally rolled up with a cabbage leaf. The fillings consists of minced meat, rice, spices, onions, mushrooms and then stewed to perfection. Gołąbki is traditionally served alongside boiled potatoes and then drenched in a rich tomato sauce. Gołąbki is definitely the Polish version of comfort food.
Bigos
Poles are known for warm hearty and rich soups and Bigos, otherwise known as Hunter's Stew, is one of many that can be found on restaurant menus around the country. Bigos is made with different chopped meats, sauerkraut and shredded fresh cabbage, which is typically made within a rich tomato broth, or base. If you want to instantly warm up, order yourself a bowl of Bigos and let it warm your insides during a chilly day. Some restaurants will even serve Bigos within a hollowed out bread bowl that can be eaten afterwards. Yum!
Buraczki
Buraczki, or beetroot is a staple amongst Polish cuisine. Chalk full of vitamins and minerals, the Polish beetroot dish is made with just a few ingredients, but packs a punch with a mouthful of flavour and is very healthy! Serve it cold as buraczki, or serve it warm as buraczki zasmażane, which was my preferred method of eating it.

Read more: How To Spend One Day Exploring Gdańsk, Poland
Read more: What Will The Future Hold For Travel After 2020
Read more: The Ultimate City Guide To Visiting Warsaw, Poland
Kotlet Schabowy
This is my absolute favourite Polish dish that I had during my travels. So much so, I ordered it a few times because I couldn't get enough of it. Kotlet Schabowy is a thinly pounded pork cutlet that is breaded and fried and served golden brown, crispy and is undeniably delicious. It is typically served with mashed, or boiled potatoes alongside a bed of sauerkraut, or beets. This is the Polish version of the famous German/Austrian schnitzel and is just as amazing as it sounds. Give it a squeeze of lemon and smacznego!
Kotlet Mielony
These little fried cutlets are essentially tiny Polish hamburger patties. Kotlet Mielony literally means "ground cutlets" and they can be made with any combination of pork, veal, or beef. Typically, they are made with just pork and beef. Frying the kotlet mielony is the common preparation method, but you can also bake them if you're worried about using too much oil. They can be served with mashed potatoes and gravy for a full meal, or they can be served with a slice of rye bread, sliced pickles, sliced onions and tomatoes as a smaller dish, or appetizer.
Studzienina
If you're feeling brave, then this dish may be for you. This must be an acquired taste because just knowing how it's made just wasn't for me. Sorry, Poland! Also known as galareta, or zimne nóżki (cold feet), Studzienina is made of boiled pig's feet and veggies that are covered with gelatin and served cold. I had this served alongside my breakfast in one place, but I couldn't bring myself to try it. It just reminded me of a gelatinous cube of cold soup, which almost makes me gag just thinking about it. LOL Again, sorry Poland!

Read more: Essential Things To Remember Before You Travel
Read more: What To See & Do In A Day In Rzeszów, Poland
Gulasz
Like most Central and Eastern European countries, Goulash, or Gulasz in Polish, is a very popular stew made of meat (typically beef), noodles and vegetables (mainly potato), seasoned heavily with paprika and other spices. Every country has their own version of goulash and each version I've tried has been incredible in their own way. I grew up eating this as well in my household, but we typically ate it served upon a bed of soft mashed potatoes and was considered thicker than a stew. In Poland, gulasz is traditionally served with some pieces of rye bread for dipping and sopping up that delicious paprika filled sauce left in the bowl afterwards.
Kluski Śląskie z Dziurką
Hard to pronounce, but easy to love, Kluski Śląskie z Dziurką are tiny Polish potato dumplings from the Silesian region of Poland. The recipe for Kluski Śląskie z Dziurką is fairly simple and consists of eggs, mashed boiled potatoes and flour and are usually eaten with fried bacon bits, sautéed onions. Add some gravy (to fill the little holes) with some boiled red cabbage and you got yourself a great Polish meal!
Read more: A Present Walk Through Yesterday's History – A Visit To Auschwitz-Birkenau
Pyzy

Just when you think the Poles couldn't think of any other ways to prepare dumplings, they surprise you with these little puffy balls of goodness. Pyzy, or pyza (singular), are potato dumplings served by themselves, or stuffed with minced meat, or cottage cheese. The pyzy are quite large in size, so if you order them from a menu, chances are you'll only be served a couple on a plate.
Read more: The 5 W's Of Travelling Internationally
Placki Ziemniaczane
Placki ziemniaczane, or potato pancakes, had to be one of my favourite dishes that I indulged in while travelling in Poland. Placki ziemniaczane are the definition of comfort food. These thin, crispy pancakes are the best served with a piping hot mushroom sauce and covered in parsley. Poles typically eat Placki ziemniaczane all over the country, so no matter where you find yourself, you're bound to find these beauties on the menu. Another way to enjoy them is stuffed with goulash. Look for Placek po Węgiersku/Placek zbójnicki on the menu if you want to try it.
Golonka
One of the must try foods in Poland is the infamous Golonka, or pork knuckle, which isn't actually a knuckle, but the ankles of the pig. When made properly in the traditional way, golonka are fork-tender and literally fall off the bone. The outside crackling is salty, crunchy and addictive. The inside is almost melt in your mouth soft and so juicy. Served with a side of potatoes and yes, you guessed it, sauerkraut, eating one of these will fill you up for hours on end, so wear your stretchy pants if you plan on ordering one.

Sauerkraut
Since I've listed so many dishes that pair with sauerkraut, why not give the fermented cabbage its own spot on the list? Sauerkraut, or kapusta kiszona in Polish, which literally translates to sour cabbage, is not only a staple to Polish cuisine, but a necessity in most Polish kitchens. Again, I grew up eating tons of sauerkraut with many dishes, which makes sauerkraut a main star not only in Polish cuisine, but most Central and Eastern European cuisine, from Germany to Croatia and everywhere in between. Most commonly used as a side dish, Sauerkraut is seen as a digestive part of the meal and is considered very healthy for you. The best part of preserving cabbage this way? It keeps for ages on the shelf in your home, so you'll always have some on hand in your fridge.
Read more: The Ultimate City Guide To Visiting Kraków, Poland
Pickles
Speaking of pickling, another staple within Polish kitchens are Polish pickles. Ogórek kiszony (dill cucumber/pickle) and Ogórek konserwowy (sweet cucumber/pickles) are popular side dishes within Polish kitchens and restaurants. You'll also see pickles served alongside vodka shots within many Polish bars, which helps cut the alcohol taste with salty and sour notes.
Zrazy
These twisted beef rolls, or roulade are made of thin slices of beef, which are flavoured with salt and pepper and stuffed with vegetables, mushrooms, eggs, and potato and cooked in a slow cooker for hours. Sometimes you'll find chopped pickles inside them as well and on the side? Yup. Sauerkraut and potatoes. Zrazy can be traced all the way back to the Polish Commonwealth, so just know that if it's good enough for the wealthy, it's good enough for you. 😉
Barszcz z Uszkami / Barszcz Czerwony

Poles know how to do soup REALLY well and barszcz is one of many must try soups while travelling in Poland. Barszcz Czerwony, also known as red borscht, is made of beetroot sourdough and broth. Barszcz Czerwony is a traditional Polish Easter food, however, it's widely eaten in Poland all through the year. Barszcz z Uszkami is another way to enjoy this piping hot soup. Uszkami, or uszka, translates to "little ears" and are tiny little dumplings that are stuffed with cabbage, minced meat, or mushrooms and are found within the barszcz. Nothing beats a bowl of this delicious, bright red soup on a cold and dampy autumn, or winter day.
Żurek
Another delectable and unique soup has found its way onto my Polish food list. Żurek is a sour, filling soup made of fermented wholemeal rye flour, lots of garlic, spices and is creamy. It's traditionally served with boiled eggs, and meat inside the broth, which gives it a unique smokey flavour. Even though żurek may sound weird, żurek is really, really, REALLY delicious. It's kind of hard to describe how it tastes. You just have to order it and try it for yourself. Żurek is often served in a bread bowl that you can eat afterwards, making it more than just an appetizer, but an entire meal!

Read more: How To Spend The Perfect Day In Wrocław, Poland
Read more: Spending A Day In Opole, Poland
Oscypek
If you're a cheese lover, this one is for you. Oscypek is a smoked cheese made of salted sheep's milk exclusively in the Tatra Mountains (Podhale Region) of Poland. Oscypek is made using the addition of cow's or goat's milk, which is strictly regulated by the protected recipe. Unpasteurized salted sheep's milk is first turned into cottage cheese, which is then repeatedly rinsed with boiling water and squeezed. After this process is completed, the cheese mass is then pressed into wooden, spindle shaped forms in decorative shapes with folk designs. The forms are then placed in a brine filled barrel for a night or two then they are placed close to the roof in a special wooden hut and cured in hot smoke for up to 14 days, which gives it that unique and prominent smokey flavour. The cheese is often pan fried and served with cranberry jam on the side and can even be eaten from little stalls in Zakopane as street food.

Pączki 
Now, I am not a fan of doughnuts, but Polish Pączki (singular: Pączek) may have converted me…well, to Polish doughnuts at least. Pączki are traditional Polish doughnuts made of yeast dough consisting of flour, eggs, milk and butter. Pączki are formed into slightly flattened balls, injected with filling and deep fried – traditionally in lard. As a finishing touch, they're fully dipped in a thin layer of icing, which hardens up and cracks once cooled and sprinkled with candied orange peel on top. The filling can range from rose petal filling, jams, creams and Nutella. I tried a Ferrero Rocher version (more than once) and one filled with strawberry jam, which was pretty damn spectacular. Fun fact: Did you know that there is a day called Fat Thursday (Tłusty Czwartek) where pączki are sold in the millions in mere hours leading to Lent. In other countries, such as America and Canada, Poles living abroad celebrate both Fat Thursday AND Fat Tuesday (Pączki Day), which falls on Shove Tuesday.
Sernik

Step into any Polish bakery and chances are you'll see at least one variation of sernik, or cheesecake in English. This ain't your Philadelphia cream cheese kind of cheesecake though. Polish sernik is one of the most popular desserts in Poland and is made primarily of twaróg, which is a type of fresh cottage cheese. Sernik is typically reserved for special holidays, such as Christmas, or Easter, but it isn't hard to find on many menus across the country, so why not make a random Monday special to you and grab a slice of sernik. 😉
Obwarzanek Krakowski
One of the most popular streets foods in Kraków is the Obwarzanek Krakowski. Rolling blue and white carts that look as though they've been plucked right out of a history book, sell these soft, doughy rings (that resemble a mix of a bagel and a pretzel) on literally every street corner. There are approximately 170 to 180 carts located in the city of Kraków and they are said to sell at least 150,000 in a DAY!! Obwarzanek Krakowski are protected by geographical indication and on the EU Traditional Food List meaning that they may only be produced in the city of Kraków and the adjacent Kraków and Wieliczka counties. These twisted breads are usually topped with poppy seeds, sesame seeds and even cheese and are a go to snack for locals on the move around the city. At just 2 zloty each ($0.69 CAD), they make for the perfect carby snack while sightseeing around the city. I bought a cheese one and warmed it up in my apartment microwave and ya, best thing EVER!
Makowiec
Makowiec is a poppy seed roll pastry made of boiled poppy seeds, raisins (no raisins for me though), and yeast dough, the strudel is sweet and savory. An alternative filling can consist of a paste of minced walnuts, or minced chestnuts. The poppy seed roulade is traditionally served for Christmas in Poland, however, it may be eaten all year round. This was and still is, a popular dessert within my household. In Croatian it is called makovnjača and in Slovenian, it is called makova potica. In Poland, I tried the danish pastry version at a local village piekarnia (bakery) and it was fantastic! 10/10!

Naleśniki
A versatile dish that can be served sweet, or savory, Polish naleśniki are crepes which are either folded into triangles or rolled and typically served up with sweetened cottage cheese with sour cream and sugar, various fruits on top and finished with a big blob of sweetened whipped cream. The batter for naleśniki is made of flour, eggs, a pinch of salt and milk and/or water. Its texture is thinner than most pancake batters. If you aren't into sweets, then try a savoury naleśniki, filled with anything from chicken, basil and tomato, to mushroom, cheese and spinach. The possibilities are endless, so don't be afraid to get creative. I just had the Croatian version of this for Sunday dessert actually, which we call palačinke. I topped mine with Nutella, but you can even drizzle honey, or jam on top.
Read more: 2 Days In The Quaint Mountain Village Of Poronin, Poland
Read more: Travelling Internationally During Covid-19: My Experience & What To Expect
Zupa Ogórkowa
If you thought żurek sounded weird, then hold your hats for this one. Zupa Ogórkowa, or dill pickle soup, is another sour, yet savoury soup on the list of incredible soups that are popular amongst the Polish nationality. Traditional Zupa Ogórkowa ingredients include potato, carrot, onion, fresh dill and you guessed it, dill pickles. Zupa Ogórkowa tastes rich and creamy, uniquely soured with fermented dill pickle juice. This warm, healthy and hearty Polish soup is a must have after a cold night out walking around Polish cities and is guaranteed to warm you from the inside out.

Zapiekanka
In the mood for more street food? I mean, who isn't? Well, this is a food that you cannot miss while in the city of Kraków. Located in the Kazimierz District on Plac Nowy, sits an round market hall, otherwise known as Okrąglak, that houses at least 17 different built in stalls serving up the most delicious street food I've ever had. Folks, I'm talking about Zapiekanka. This incredible and cheap meal is essentially what a Polish pizza would be like. It's a toasted open-face sandwich made from a sliced toasted baguette and traditionally topped with sauteed white mushrooms, cheese and sometimes other ingredients, such as ham. Served piping hot and topped with ketchup, it's been a popular street food in Poland since the 1970's. I visited the Zapiekanki Krolewskie stall and grabbed a Greek version of the Zapiekanka for under $5 CAD, which was topped with mushrooms, melted cheese, tomatoes, cucumbers, black olives, feta and topped with a rich garlic sauce. Let's just say that if I died after eating that, I would've died happy.
Kiełbasa
Kiełbasa (sausage) is a staple of Polish cuisine and comes in dozens of varieties, such as smoked or fresh, made with pork, beef, turkey, lamb, or veal. Every region within Poland has its own special way of preparing it. Polish people take their kiełbasa very seriously and there are even official Polish government guidelines and classifications of sausages based on size, meat, ready-to-eat or uncooked varieties. Now that is dedication to the craft if you ask me! Within Poland, kiełbasa is often served alongside a bed of fried onions and a dollop of mustard. Smoked kiełbasa can be served cold, hot, boiled, baked or grilled. Grilled is my absolute favourite. I can remember my mouth watering like a beast as I cut into the grilled outer casing and was in foodie heaven as I took a bite. Kiełbasa can also be cooked in soups such as żurek (sour rye soup), kapuśniak (cabbage soup), or grochówka (pea soup), baked or cooked with sauerkraut (of course), or added to stews like bigos. Kiełbasa is also very popular served cold on a platter with cheese and other bite sized foods for an appetizer at parties. Poles are known for even eating this salty meat as a snack with a nice cold beer, or a shot of vodka.
St. Martin's Croissant (Rogal świętomarciński)
When I first heard that Poznań's claim to fame was a pastry named the St. Martin's Croissant (Rogal świętomarciński) that is protected by EU law, I knew I had to get my hands on one. I visited Rogalowe Muzeum Poznania, which is a museum completely dedicated to the tradition of baking these beauties that are over 15o years old and aims to promote Poznań's culture and history. Now, unlike the flaky French croissants we all know and love, Rogal świętomarciński is folded 81 times and is very, very dense. Between each fold, the trained and licensed bakers layer a paste-like mixture of poppy seeds, nuts, raisins, almonds, sugar and butter. It is then glazed and sprinkled with sugar and nuts. To be a true Rogal świętomarciński, it must weigh between 150 to 250 grams. If you're on a diet, or a diabetic, you might want to think twice about indulging in this decadent treat all by yourself. The Rogal świętomarciński sits at about 1200 calories, but it is oh-so-good!
Read more: How To Spend A Day In Poznań: Poland's Best Kept Secret
Rosół
If you couldn't tell, Polish people really enjoy soups. When you live in a country with cold long winters, how could you not crave a nice warm bowl of goodness though? Typically eaten on Sundays in Poland, rosół is a clear soup made of chicken and vegetables such as carrot, celery, parsley, onion, and garlic. Rosół is served with thin egg noodles with fresh parsley leaves on top. The most important thing about making rosół is that there can be no addition of pork, since that would no longer make the broth clear, so sticking to chicken is most common. Rosół is very common within my household as well and we grew up eating this almost every weekend during the winter months. Every single time I see a variation of it on a menu while travelling, I make sure to get some. It just brings back cozy memories for me.

Read more: Discovering Beautiful Zakopane – Poland's Most Popular Mountain Village
Flaki
Ok, this is another soup dish, but this one requires some guts to eat. Quite literally. Flaki, or flaczki, is beef or pork guts tripe stew with lots of spices. It is usually made out of a cow's stomach which is cut in strips. The word "flaki" means guts, so if you're in Poland and sitting at a restaurant looking at the menu and trying to decide what to eat, at least learn this word before travelling. 😉 I did NOT try this soup while in Poland. I've also heard it has a strange texture, so that was an immediate turnoff for me. I know Poles love flaki, but I can confidently say it is not for me. Sorry, Poland. 😉
Befsztyk Tatarski
Befsztyk Tatarski, or steak tartare, is an uber popular dish served at many restaurants within Poland as an appetizer. Fresh, top quality beef is minced, mixed with loads of spices and served with pickles and a raw egg yolk. It is customary to mix all the ingredients together at the table and serve with toasted bread, or even served on crackers. Befsztyk Tatarski is considered a delicacy in Poland and usually served at upscale restaurants, so eating it is a treat. Again, the texture thing and raw ingredients just isn't my thing. My mind can't get past it. 😛 I don't care if it is considered a delicacy, or not. LOL

E. Wedel Hot Chocolate
Attention chocolate lovers! If you're in Poland, make sure to visit E. Wedel for the BEST hot chocolate you'll ever have. With over 170 years of experience and shops located from Warsaw to Zakopane, E. Wedel is the leading chocolate and sweets manufacturer in Poland. Walk into any E. Wedel shop and you'll be overcome with the aroma of chocolate that is strong enough to put its patrons into a euphoric state. E. Wedel offers a wide range of chocolate treats from chocolate bars, pralines, truffles and an array of mixed chocolate boxes. You can also order up specialty chocolate drinks for dine in, or takeaway. E. Wedel's factory even operated during the siege of Warsaw and was ordered to manufacture chocolate only for the Germans. In September 1944, the remaining factory's possessions were stolen by the Russian army. Even the sweetest of places has a bitter past.
Polish Beer
Beer, or piwo in Poland has been brewed for well over a thousand years and is an important part of Polish culture. Step into a Polish grocery store, or liquor store and you'll see shelves full of different beers ranging from pilsners to stouts and even some craft beers, which are starting to gain interest in Poland over the years. Following WWII, most Polish breweries were nationalized by the Communist Government of the Polish People's Republic. After the collapse of communism in the 90's and the return to capitalism, international beer companies moved in and Poland is even now home to many microbreweries, which helped turn the economy around. The most popular Polish beers are Żywiec, Okocim, Tyskie, and Żubr and the most popular styles of Polish beer are lagers, pilsners, porters, or stouts and doppelbock. Polish beer is brewed to high standards and only use natural and pure ingredients, which is great to know. If a beer doesn't list its ingredients on the bottle, or can, chances are it is full of preservatives. During my travels through Poland, I made sure to try a different beer in every town I went to, which ranged from large cities, to small mountain villages. Some of the different beers I tried were: Żywiec, Okocim, Tyskie, Żubr, Tatra Jasne Pełne, Książęce, Lech, Wojak, Namysłów, Duch Podhala, Browar Zakopiańczyk Piwo Miodowe, Zamkowe, Žatecký Světlý Ležák, Stary Browar Rzeszowski and craft beers, such as a delicious Beer Lab Cherry Ale.
Read more: How I Spent 3 Weeks Travelling Solo Around Poland
Grzane Wino (Grzaniec Galicyjski)
Grzane Wino, or Mulled Wine, is a staple throughout all of Europe and can be found at virtually every single Christmas market and is a beverage usually made with red wine, sugar, spices such as cinnamon, cardamom, ginger, cloves, and bitter orange. You can also make it with stronger spirits such as vodka, rum or brandy. Now, I'm not a fan of wine at all, but for some reason, I wanted to try Grzane Wino, you know…just to say I gave it another shot. I tried and hated it while in Germany, so maybe it will be different in Poland? Ya, not quite. I still drank it though because I paid for it and I didn't want to be rude. 🙂 If you enjoy mulled wine, then make sure you give the Polish version a go!

Vodka



And since we're on the topic of alcohol, how could I not add vodka to the list? More often than not, vodka is thought to have originated in Russia, due to having a reputation of being heavy vodka drinkers, but, did you know that vodka actually originated in Poland? Yes, that's right! The world's first written mention of the drink and the word "vodka" was in 1405 and from Poland. Poland is part of what's known as the "Vodka Belt," which consists of Poland, Russia, Lithuania, Belarus, Estonia, Finland, Iceland, Norway, Latvia, Sweden and Ukraine. One of the most popular ways to drink vodka in Poland is freezer chilled and in a shot glass. Many brands of vodka can be found in every bar within Poland, but the most famous is Żubrówka, Chopin, Sobieski, Luksusowa and Wyborowa. The popular Żubrówka Bison Grass Vodka, which contains a bison grass blade (Hierochloe odorata) in every bottle. An easy way to tell the difference is to look for the blade of grass in the bottle. The grass is sourced from the Białowieża Forest, handpicked and dried under natural conditions. I had the chance to try a hazelnut version of the Żubrówka vodka and although I'm not a fan of vodka, the hazelnut one was actually really nice, especially when served in an ice cold chilled shot glass! Some restaurants even gave me a shot of cherry vodka at the end of my meal, which was unexpected and tasted pretty good as well.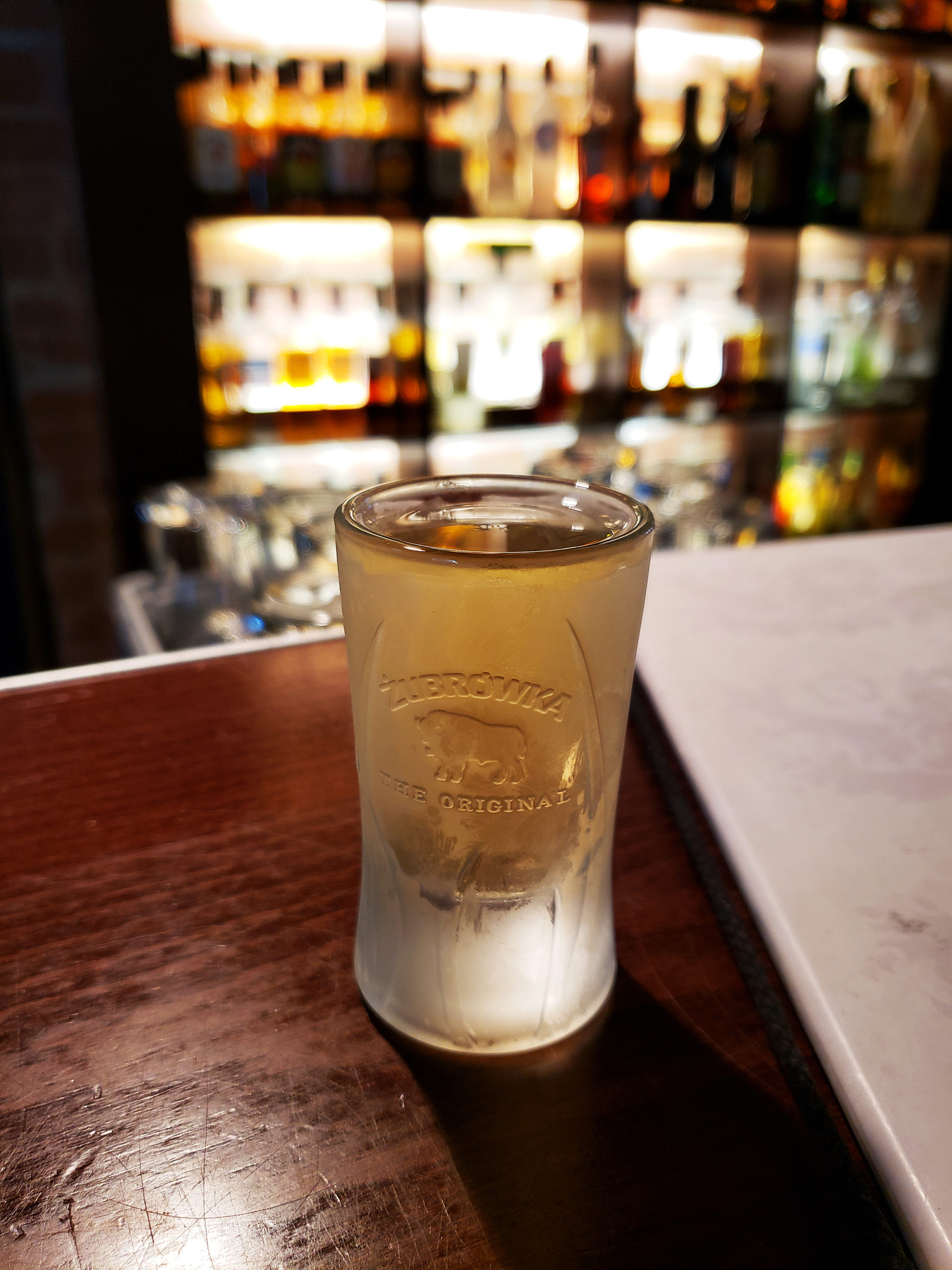 The best way to learn about any culture is to try to local foods and drinks. Some of the greatest conversations I've had while travelling were shared over a drink, or a meal and the locals really want you to try and fully enjoy what their home country has to offer, even if it is a steaming bowl of flaki. 😉
Have you guys ever had any of the Polish foods I've listed above? Chances are pretty high that you have! Which Polish food did you enjoy the best? Are there any on this list that you are curious to try? Let me know in the comments below! xo
Smacznego! Na Zdrowie!
Let's get social!