This post contains affiliate links to products and or services.  I may receive a small commission for purchases made through these links, but with no additional costs to you.
If you're from the Province of Ontario, chances are you've been to, or at least heard of the small picturesque harbour community of Tobermory. Located at the tip of the Bruce Peninsula in Bruce County, Tobermory is one of (if not the) most popular summer destination to visit within Ontario. Tobermory is situated in the traditional territory of the Saugeen Ojibway Nation and until European colonization in the mid-19th century, the Bruce Peninsula was home to the Saugeen Ojibway Nations, with their earliest ancestors reaching the area as early as 7500 years ago.
The views within this stunning region will have you in awe as the turquoise water blends into the bright blue sky above on a bright and sunny day. Even the cloudy days are gorgeous because they are accompanied by jaw dropping landscapes that the region is famous for.
Tobermory is also home to many different species of plants and animals. Ancient cedar trees hang along the cliff edges and within the vast dense forests in Tobermory and the Bruce Peninsula. Black bears and rare reptiles also find refuge in rocky areas the diverse wetlands of the area, so it's always best to be vigilant while hiking in this area.
Some of the more commonly sighted animals include black bears, raccoons, white-tailed deer, porcupines, chipmunks and a variety of snakes. The Eastern Massasauga rattlesnake can also be found in Tobermory and is now an endangered species.
Tobermory is home to the Fathom Five National Marine Park, which is Canada's first national marine conservation area and is also the final resting place of a handful of wooden shipwrecks, which lie on the water's floor and makes Tobermory the fresh water scuba diving capital of the world. The Bruce Peninsula is an outdoor enthusiast's dream and hikers of all skill levels will enjoy the world famous 895 kilometre Bruce Trail that stretches from the start in Niagara and ends in Tobermory, or vice versa depending on the direction you start at. The Bruce Trail is the longest and oldest footpath in Canada and is a bucket list hike for many hikers and is usually completed in many stages due to its vast distance.

Read more: Conquering The Crack – Hiking In Ontario's Killarney Provincial Park
Ever since I first laid my eyes on photos of the infamous flowerpots located on Flowerpot Island, I've always wanted to visit Tobermory and explore The Bruce, but for whatever reason, I just never made the four hour trek north to ever see it, that is until this year when I had the chance to go not once, but twice in less than a month.
My first time up to The Bruce and to Tobermory was during the month of September when a friend and I decided to get away for a little Ontario staycation for a couple of days to visit the beautiful Grotto, take a boat to Flower Pot Island, do some hiking and enjoy the glorious landscapes that The Bruce is famous for. After my first visit, I knew I had to come back for a few days in October to explore the region during the fall time to bask in the bright autumn leaves that would fill the area. I booked a three day solo stay at the same cabin that we had rented in September (more on that below) and luckily I did.
Read more: The Cheltenham Badlands – The Unique And Beautiful Landscape Is Now Off Limits
So long story short, when I arrived back home in September after a couple days in The Bruce, I was uploading my photos and accidentally deleted ALL OF THEM! Yup, you read that right…I deleted all my photos. I had tried to retrieve them with a software, which worked, but the quality of them was terrible and blurry, due to the fact that I deleted them from a USB connection. I was gutted. I cried. Yes, I cried over lost photos. LOL I managed to save a few screen shots from Instagram stories, but not that many. 🙁 When I re-booked the cabin for October, I knew I would just have to take more photos, better photos and enjoy my solo time while doing so and that's what I did.
Most people that visit Tobermory tend to eat, stay and play just within Tobermory and visit for a day trip usually from the Toronto area, which is approximately a solid three hour drive. If visiting Tobermory, I highly suggest staying at least three days to have a chance to drive around the surrounding areas located in The Bruce and enjoy a slow paced relaxed visit in one of Ontario's most beautiful regions.
Read more: Hiking the Acropole des Draveurs Trail within Hautes-Gorges-de-la-Rivière-Malbaie National Park
There is so much to see while visiting the Bruce Peninsula. So much so, you may find it hard to pinpoint exactly what you want to do. A trip to The Bruce does requiring some pre-planning, but regardless of how much time you have to spend exploring The Bruce, here are some ideas on what to see and do while visiting Tobermory, Ontario.
How To Get To Tobermory
Tobermory is located on Hwy 6 at the tip of the Bruce Peninsula and is a solid three hour drive northwest from Toronto, which is about 300 kilometres in distance. From where I live, it's about four hours. If you have time, I suggest taking a longer scenic route like I did and enjoy the scenery. This way you can drive through all the small villages that many Ontarians don't even know exist and it's the perfect opportunity to stop in at the many locally owned shops, restaurants and farmer's markets along the way. The most common way to get to Tobermory and the Bruce Peninsula is by car. The closest major towns and cities to Tobermory is Wiarton (home to Wiarton Willy) and is about 80 kilometres south along Hwy 6 and Owen Sound, which is about 100 kilometres south on Hwy 6 and takes a little close to one hour to reach. For a list of cities and towns in Ontario and a map, click on the link HERE for more info.
Where To Stay
Tobermory may be a small community, but there are a bunch of places to stay within the town and surrounding area. Along Hwy 6, you'll find small hotels, motels, cabins, camping grounds and bed and breakfasts. Although there are a lot of choices for accommodations in and around Tobermory, keep in mind that they book up extremely quickly and during the peak tourism season, they can be cha-ching pricey! If you don't mind driving a few kilometres into Tobermory, why not stay outside of the town limits and enjoy a plethora of other types of accommodations for a cheaper cost. All along Hwy 6, you'll find a handful of smaller communities that offer some gorgeous bed & breakfasts, cabins, cottages and home stays for tourists and day trippers to call home for a few nights. With a little research, I found my home away from home at the most beautiful cabin on Berford Lake at The Recess Inn, located in the tiny village of Mar, Ontario and just off of Hwy 6 and approximately 70 kilometres south of Tobermory, which is about a 45 minute to an hour drive. I'll write a separate post soon about my stay and share the booking info as well. 🙂

Read more: Checking In: A Staycation At The Recess Inn Cabin
What To See & Do In Tobermory
The small community of Tobermory is just that – small. You can enjoy the views of the harbour, learn about the history, have a meal at one of the many restaurants, or visit some of the locally owned shops located within the tiny town, but other than that, there isn't much else to do within the community. While there might not be much to see and do within the actually town of Tobermory, the real excitement lies a few kilometres away and is part of the beautiful nature and landscapes that The Bruce is famous for and what people come to see in the first place. After having a wander in Tobermory, here are some ways to spend your time exploring the great outdoors and see why this area is considered Canada's 8th Wonder.
Take A Boat Cruise To Flowerpot Island
The majority of tourists come to Tobermory to see the famous flowerpots on Flowerpot Island. I'm not talking about actual flowerpots, of course. Flowerpot Island is an island within Georgian Bay and is a part of Fathom Five National Marine Park. The small island has a total area of 2 square kilometres making it an easily and accessible hike for all skill levels of hikers. The flowerpots of Flowerpot Island got their name because of their unique shape. The flowerpots are a type of sea stack that has formed over many years as wind, rain, waves and ice hammered away at the cliff that once stood alongside the water's edge. The softer rock eroded more quickly, leaving the harder rock remaining in the shape of, you, you guessed it – flowerpots. The stone stacks stand brilliantly along the shore with trees and plants growing on top of them.  A third flowerpot once stood along the shore, but tumbled in 1903. The only way to access Flowerpot Island is by boat. While in Tobermory, you can book a glass bottom boat tour, or take a high speed boat to the island. There are many options for tours as well. You can book a round trip tour that takes you around the island and back to Tobermory in about an hour, or if you want to get off the boat to explore the island in its entirety, you can also disembark the boat, hop on shore and be picked back up in four hours to make your way back to Tobermory. During my visit, I opted to book with Blue Heron Cruises and disembark the boat to hike around. The cruise takes about 50 minutes to reach Flowerpot Island and you'll be able to take in the gorgeous water views, see Big Tub Lighthouse, which is located in Big Tub Harbour. The cute little 43 foot lighthouse has been around since the late 1890's and is now accessible to visitors. You can either head to the lighthouse directly, or you can view it from one the cruise. You'll also be able to see another lighthouse while approaching Flowerpot Island on the boat. The original structure was built in 1896, but in 1968 a metal structure was built next to it. When you're visiting Flowerpot Island there is an easy hiking trail that leads right up to the light station. Make sure to snag an Adirondack chair to sit in and soak up the views. Keep in mind that Tobermory is a very seasonal destination and boat tours to Flowerpot Island only run from late May to Thanksgiving weekend. Make sure to plan in advance, of course because during the summer months, boat tours fill up fast. For more tour dates, costs and routes, visit Blue Heron's website.
Hike To The Grotto
You have to be living under a rock (pun intended 😉 ) to not have heard of the famous Grotto. Located within the Bruce Peninsula National Park, a hike to the Grotto while visiting Tobermory is just as essential as eating poutine in Montreal… it just needs to happen! It's essentially the crown jewel of Ontario and one of the most picturesque landscapes I've seen. The cave itself is absolutely stunning. It's carved from ancient limestone and filled with the crystal clear, pristine turquoise waters of Georgian Bay. You can walk along the ledge to get the infamous photo, walk inside its cavity, or if you're brave enough, even take a swim inside! During my visit I saw a few people in snorkel gear climb down the cliff and swim inside. The hike to the Grotto is an easy 25 – 30 minute hike on flat ground, but to reach the Grotto, you want to make sure you have some sturdy hiking shoes, or boots on because the massive rocks can be challenging for those that aren't physically fit. The rocks can also be very slippery when wet because they are close to the water, so just make sure you step with caution. The Grotto is one, if not the most popular nature attraction in the entire region and because of this reason, you must book your parking lot pass and ticket to visit well in advance. Due to over tourism to the Grotto in the last ten years, visiting from June to August is just insanely busy, so I suggest that if visiting during peak season, make sure to reserve an early morning pass to beat the crowds. To book your pass, you must register with Parks Canada and provide the information about your car, how many people will be coming, as well as entering in your information, credit card info etc. Also make sure to bring a printed version on your ticket because internet connection within the Bruce Peninsula National Park isn't always reliable. Also make sure to have ID with you, so they can check to make sure that the person with the permit belongs to the vehicle that is registered. To get the Grotto parking lot, you must enter the park entrance from Hwy 6 and turn on Cyprus Lake Road. From there, you will drive to the ticket booth, present your ticket and continue the drive down the curvy road all the way to Parking Lot 1. There are signs along the way, so you won't get lost. The pass will also let you visit other areas such as Indian Head Cove, Boulder Beach and a bunch of other hiking trails such as Horse Lake Trail, The Bruce Trail and Cyprus Lake Trail.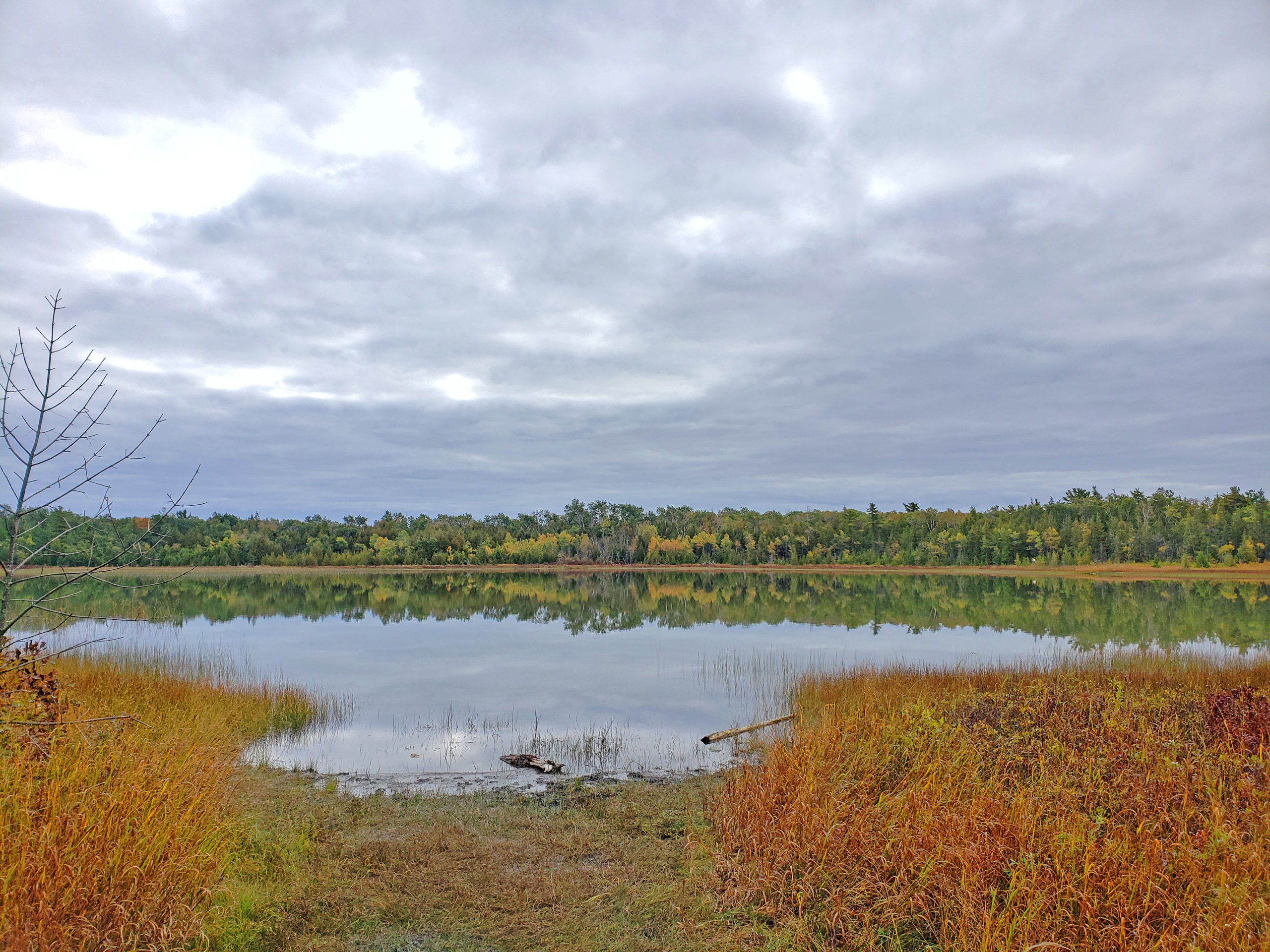 Red Bay Beach
For all you sunset seekers, listen up! Tucked into a quiet cottage area just west of Mar along Hwy 6, Red Bay Beach is the best place to kick back, relax and watch the most gorgeous sunset on Lake Huron. In the summer months, the beach gets very busy with visitors from all over Ontario, as well as local cottage goers. There is limited parking at the beach, so make sure to arrive well before sunset in order to snag a spot. Since I was visiting in off season, I was the only car there and had the entire boardwalk to myself. There is a picnic table at the end of the long boardwalk, so pack a snack, have a seat and enjoy the views as Lake Huron takes on beautiful pastel hues when the sun starts to set. To get to Red Bay Beach from Hwy 6, head west down Red Bay Road and once you get to Huron Road at the end, turn right and then left on Sandy Lane and right on Symon Ave. Got it? Good! You'll see the tiny parking lot, which you can park at for free. Keep in mind that because it's a small cottage community, be respectful and quiet and as always, pick up your trash.

Lion's Head
Lion's Head is a tiny community in the municipality of Northern Bruce Peninsula and is located at the midway point of the Bruce Peninsula, which is about halfway between Owen Sound and Tobermory. To get to Lion's Head off of Hwy 6, just head east in Ferndale on Bruce Road 9. Lion's Head is located on the 45th parallel north, which is halfway between the Equator and the North Pole. Cool, huh? The town is named after the resemblance of a lion's head profile in the rock formation of the Niagara Escarpment. Lion's Head is another popular destination for visitors to the Bruce Peninsula and gets very busy during the summer months. I didn't have the time to do the famous Lion's Head hike, but I made sure to stop in town, chat with the locals, eat lunch on the beach and walk along the harbour to see the famous small white lighthouse along the rocky shores, which is the replica of the 1903, 28 foot high white lighthouse that was rebuilt from existing blueprints by a group of high school students in 1983, due to the high winds and rough weather it endured from the fierce Georgian Bay over the years.
Spirit Rock Conservation Area
Spirit Rock Conservation Area draws visitors from all over Ontario for its local history, legends and incredible view of Colpoy's Bay in the Southern Bruce Peninsula. Spirit Rock Conservation Area sits on 214 acres in Wiarton, Ontario and is the site of the historical "Corran," which is the home of Alexander McNeill, who was a Federal member of Parliament from 1881-1901. The Corran was a massive 17 room mansion adorned with oriental carvings, books, ancient weapons and tapestries. Make sure to explore the ghostly old stone ruins and follow the spiral staircase down to the water's edge.
Petrel Point Nature Reserve
Located just a short drive from Red Bay Beach, you'll find the Ontario Nature Park called Petrel Point Nature Reserve. Commonly referred to as a "garden of wildflowers," Petrel Point Nature Reserve is a magnificent 91 acre meadow wet-field marsh filled with colourful rare flora and is home to quite a few wild animals as well, such as cranes and foxes. Petrel Point Nature Reserve is home to many unusual wildflowers due to its high pH groundwater. A dense white cedar swamp surrounds the reserve and the meadow marshes support a very diverse community of carnivorous plants, which include horned bladderworts, sundews and pitcher plants. You'll also find orchids such as lady's-slippers, rose pogonia, grass-pink, small purple-fringed orchids and broad-leaved twayblade scattered throughout the entire reserve. Due to the fragility of the flora, there is a boardwalk for visitors to walk on throughout the reserve.
Devil's Monument
Part of the Bruce Peninsula National Park, the Devil's Monument stands a dominating 14 metres high and is an inland flowerpot that resembles the flowerpots you'd see on Flowerpot Island. Created by waves from a post-glacial lake over 6,000 years ago, the Devil's Monument is a site to see while exploring The Bruce. This rock formation is composed of layers of dolomite cap rock, which is a type of limestone that was formed about 440 million years ago from the skeletal remains of marine animals at the bottom of a shallow inland sea. Devil's Monument can be accessed by foot along The Bruce Trail at Dyer's Bay.
Halfway Log Dump
Don't let the name of this site turn you off. There's nothing dumpy about it. 😉 Halfway Log Dump is another beautiful area along the Bruce Peninsula National Park trail with stellar views of Georgian Bay. This portion of the trail is known to be quite difficult due to the steepness and rocky ledges that hikers need to maneuver on. This place gets uber packed during the summer months, since tourists flock to the turquoise waters for a dip in the cool Georgian Bay after a long and strenuous hike. To access Halfway Log Dump from Hwy 6, head down Emmett Lake Road, then head to the parking lot on Halfway Log Dump Road. You do need to book your parking and park pass in advance, so head to Bruce Peninsula National Park website to book a time slot. You can also hike to the Grotto from here if you're up for the one way 4.5 km trek.

Little Cove Provincial Park
Little Cove Provincial Park is part of the Niagara Escarpment Parks System and the Niagara Escarpment Biosphere Reserve, which is located within the boundaries of the Bruce Peninsula National Park. There are scenic overhangs, high rocky cliffs, sea caves and stone covered beaches for visitors to explore. To gain access to Little Cove, head down Little Cove Road off of Hwy 6 and there will be a small parking lot towards the water that fills up extremely quickly during peak season, so get there early to avoid the crowds.
Drive Around And Explore The Back Roads
Part of the beauty of exploring The Bruce, especially in the fall time, is driving down random back roads and discovering tiny hamlets, hidden lakes and picturesque dirt roads lined with stunning colourful trees. Just make sure to fill up on gas at the first station you see, since gas stations are far and few between out in The Bruce.
Where To Eat
Whether you're looking for a dining out extravaganza, or just grabbing a bite to eat before your next outdoor adventure, Tobermory has a handful of places to get your hunger taken care of. From local fish and chips to sweet desserts and even craft beer breweries, you'll be spoiled with choices while in and around Tobermory and the Bruce Peninsula. Keep in mind that a LOT of the restaurants, coffee shops and food stalls are seasonal in the area, so some do close in early September. Some places you should try and check out are: Wellness Refinery (Sauble Beach), Tacomory, Beaver Tails, Tobermory Sweet Shop, Tobermory Brewing Company, Dude Bro Potato Co., The Taste Kitchen (Lion's Head), Shipwreck Lee's, and Crow's Nest Pub. If you're heading out on a hike, or to Flowerpot Island, you can always stop in at the local Foodland grocery store, grab some snacks and have a makeshift picnic to save some money.

Exploring The Bruce Peninsula and visiting Tobermory has always been high on my Ontario "to do list" for so many years. Having the chance to visit twice, albeit losing all my photos of the first trip :P, offered me a chance to visit during the tail end of summer and in the gorgeous autumn season, which had me surrounded by bright crimson red, golden yellow and fiery orange leaves. If you have the chance to visit during off season, I'd totally recommended coming before the Canadian Thanksgiving weekend, since that is usually when all the boat tours and even some accommodations close up for the season.
Have you guys ever been to Tobermory, or to the incredible Bruce Peninsula? If you have, let me know in the comments below of any secret gems that you may have visited! xo
Let's get social!