This post contains affiliate links to products and or services.  I may receive a small commission for purchases made through these links, but with no additional costs to you.
"One travels to run away from routine, that dreadful routine that kills all imagination and all our capacity for enthusiasm." – Ella Maillart
From the initial planning process and booking of this South African journey, I knew it was going to be a trip that would change my outlook on life. As the countdown to take-off inched closer, day by day…hour by hour, it started to become real, I was going to South Africa.
From the moment I was dropped off at the airport in Toronto, it felt surreal to me. This is a continent I thought I wouldn't have the opportunity to visit for quite some time, let alone be joined by two of my best friends and 24 others, most of whom I've never met. Since I'm usually used to planning all my trips, excursions and activities all on my own, not to mention my love for travelling solo, this was daunting to me at first, mainly because I was not used to being around that large of a group, for that amount of time.
I've been back home for a couple of weeks now and have had time to process everything that I've seen, heard, felt, tasted and even smelt over the two weeks on the road. My senses were in full over drive in South Africa. As I sat and looked through all of my photos and videos that I've accumulated over the two weeks abroad, I realized that this trip meant more to me in the end than a stamp in my passport. I had full intentions on travelling to South Africa and to get fully immersed in their culture and get to know South Africa and its people as a whole. I can confidently say that I believe these goals were achieved, even if we just scratched the surface as to what this beautiful country and their people have to offer.
I've had to explain and tell my travel story to numerous people over the last couple of weeks. I can tell you this, every time I tell the story, I tell it differently. I could be vague and say, "The trip was amazing, thanks for asking," but I cannot encapsulate to people who haven't had the opportunity to go there how I FELT being there, seeing the sights that I saw, hearing the riveting, awe-inspiring stories that I had the pleasure of hearing daily from Dawid, our amazing, cool and rugged fearless tour guide, our hilarious and vivacious bus driver, Ernest and last, but not least, the wise words and amazing stories from South African journalist, Gerrit Rautenbach, who joined us on our two week journey.
I don't want to just tell the story of all the cool things that I got to see and do, but I want to tell the story of how this trip has affected me on an emotional level as well. Visit South Africa for the sights, the sounds, or lack thereof in the middle of the bush, the animals and nature. Visit for the joyful, warm people that greet you with a smile almost everywhere you turn. South Africa has a way of getting deep into your soul, which is why I'll definitely be going back for years to come.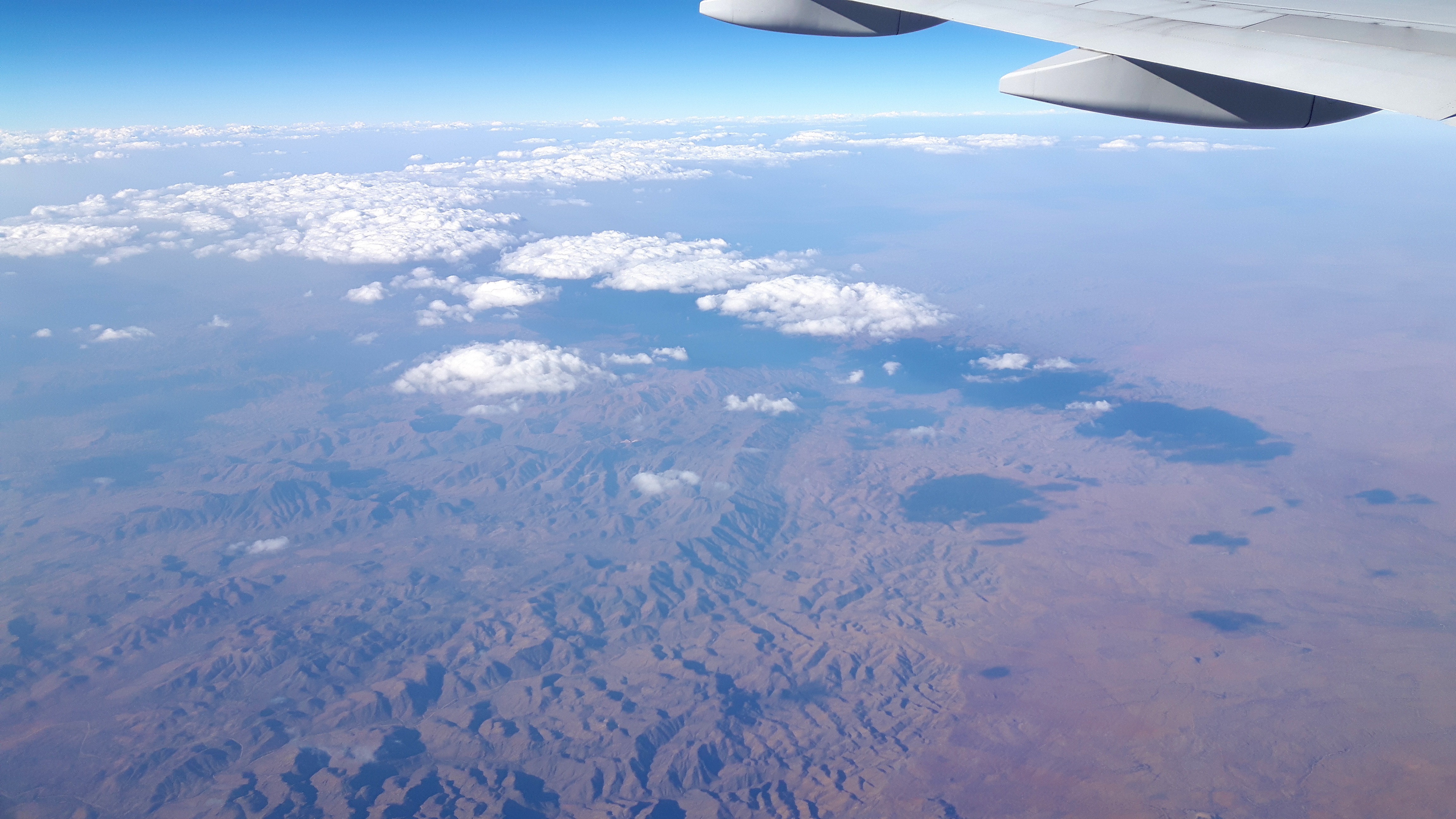 After being delayed in Atlanta for over an hour and a solid 16 hour flight to Jo'Burg, it felt like an eternity getting to our destination. I couldn't sleep for more than an hour or two at a time, probably due to the fact that I was just amped on arriving and getting right into the adventure. At the 15 hour mark, our pilot came on the PA system to tell us that we are making our initial descent into Jo'Burg airport. FINALLY! Two others from our group just happened to be on my flight, so we met up at the baggage claim area, went through customs and carried on our way to meet Willem from Toerboer at the arrivals section of the terminal. From the moment we met Willem, the famous South African hospitality stood out. After poking fun at me for trying to get into the van on the driver's side (they drive on the opposite side of North America), we all had a laugh and headed out to the welcome reception at Moyo restaurant to meet everyone. Little did I know that the group of people I was about to meet, would become some of my newest friends.
Once we arrived, fashionably late, of course, we were greeted with open arms…literally! Everyone was hugging everyone and saying hello with a smile. Everyone was so nice. I felt at ease with the group from the very beginning. Once the welcome reception was done, we headed off to our first night's accommodations to get a good night's sleep and prepare for the long 9 hour drive the next morning, bright and early.
It's officially day 2 and my alarm blazes at 5:30am. My eyes fling open as I lie in bed and for a minute I forget where the hell I am. Oh ya, South Africa! Amazing! Luckily, I'm a morning person, so I jump out of bed and get ready for the day, then head down to an amazing breakfast with everyone. We all say good morning to each other and chat during breakfast as if we've known each other for years already. "This is so easy," I thought to myself, as I sipped on my coffee and took it all in, while quietly observing people around me. I stop stuffing my face for a few minutes to pose for a few photos, then get the signal that it's time to pack our bags into the bus (our new home for the next 9 hours) and head out.
As we started our drive to Moholoholo Rehabilitation Centre and Forest Camp in Hoedspruit, the scenery changes dramatically every few miles along the road. From the sprawling metropolis of Jo'Burg, to the rural landscapes along the highway, I was on a visual sensory high. As most people chatted along the drive, I became quiet after awhile and just stared out the window, just thinking about where we were and what activities were in store for us within a few hours from that point.
Our first stop of the road trip was to the Nan Hua Buddhist Temple, which is the largest in the Southern Hemisphere. This place lived up to its name; it was massive. The architecture was something that reminded me of being in Thailand all over again. It was beautiful, intricate and vibrant in colour against the blue skies above. Every step I took echoed in the long hallways that surrounded the temple. Even though there were 26 of us roaming around the grounds, plus other tourists as well, you wouldn't see a soul around you at times. It was definitely a breathtaking sight to see.

After lunch at the Dullstroom Inn, we hit the road and headed towards the Panorama Route. We were supposed to go see Bourke's Luck Potholes, Three Rondavels Viewpoint and the Blyde River Canyon, but due to some time issues and losing light, we were told we'd have to visit these places on the way back the last day. Works for me. Onward to Moholoholo we went.
When we arrived at Moholoholo's long entryway, which was surrounded by bush, I remember thinking, "How the hell is this bus going to maneuver through this tight space?" Well, leave it to Ernest to drive that bus like a boss through the bush and to the Forest Camp. On our way to the Camp, we drove past zebras, nyala, kudu and even spotted a tiny monkey jumping from branch to branch. This was our first vision of South African wildlife in the bush.
Once we've met the amazing staff and checked into our gorgeous huts, we all met for a delicious dinner and chatted with the Moholoholo staff about what we could expect the next couple of days to be like. After dinner, we had an option of doing a night drive around the premises, or choose to do the sunset drive the next night. Since I was totally exhausted, I opted for the sunset drive the next night and take it easy, have a shower and hit my bed. Best decision in my books.
Bright and early the next morning, we head up to the Rehab Centre at Moholoholo. As we walked through the thick bush to get there, we came out at a clearing in the forest. We were then greeted by the amazing, jaw dropping views of the Drakensberg mountain range. This must be what heaven looks like. Mountain landscapes are by far, my favourite, so seeing this first thing in the morning was definitely a treat for me.
As we made our way past a lion's cage, we then headed into a seating area and met Mr. Brian Jones. Moholoholo Wildlife Rehabilitation Centre was established in 1992 by Mr. Johan Strijdom, along with Brian. Animals that were either orphaned or injured and needed help were being brought to Moholoholo. Brian brought the first resident, a Crowned Eagle named Queen. As Brian chatted with us for over an hour about his work and dedication to the animals, his passion as a pioneer for saving wildlife was truly seen. Getting emotional a few times as he spoke, it became evident that this man was serious about saving animals and making sure they were safe and taken care of if they were injured, or abandoned.
After Brian's spellbinding talk, we headed to breakfast before diving right into our daily chores and duties at The Rehab Centre. We met with a few staff members that helped navigate our large group around the premises and to show us the ropes. The staff are all fairly young in age, but they have to be some of the most dedicated and professional group of people I have ever met. Their love for their job shone through as they taught and educated us on what they do and why they do it. No two days at Moholoholo are alike. The animals don't work on your schedule, you work on theirs. Some of the tasks we were shown to do included cleaning out the animal cages, refilling water, and even assisting in bringing some food to the lions and leopards. As cliché as it is to say, it's a dirty job, but someone's got to do it. We even got to join Brian as he fed three large hippos, a bunch of zebras and even watched in awe as staff members fed a flock of vultures. It was so cool to watch these people in their element. You can tell there is a special bond between humans and animals at Moholoholo. 
As the sun started to set, we headed out on a gorgeous sunset drive in the two open air vehicles. Once parked, we got out and watched the sunset kiss the top of the Drakensberg mountain range as we enjoyed drinks and each others' company. It was a magical site to see and everyone was having a fantastic time. Once the sun set, we made our way back to the Camp as the full moon brightened the dark sky above us. When we arrived back at the Camp, we were ecstatic to see that our dinner was being served under the stars this time. A beautiful table setting, surrounded by a roaring fire was the ultimate way to enjoy the rest of the night. Once dinner was complete, we all sat by the fire and exchanged stories about travel, life and everything in between. The intimate setting was a great place to get to know people better and it was definitely a night that stood out in my mind.
The following morning, we rose early, had breakfast and completed our daily tasks. It was our final day of our short stay at Moholoholo, and what a jam packed, educationally filled two days it was. The agenda on the last day required us to feed some hungry lions and leopards, clean some cages and refill water. We also had the treat of giving the local rhino a mud bath. He may be small, but he can still bowl you over, so watch your back. Once our chores and tasks were complete, we had some time to freshen up, shower and get ready to hit the road. We said our goodbyes to the Moholoholo staff, which in two days have taught me so much about the care and dedication that goes into saving and rehabilitating the animals of South Africa. It was refreshing to see, that even though the staff is fairly young, they treated us and animals with the same kind of respect. It was such a special experience being granted the opportunity to take part in such an amazing two days, but we were just getting started on this two week journey. We all boarded the bus and waved frantically at the staff as we pulled away and Ernest navigated the bus back through the bushy path back to the main road. Once we hit the pavement, we were en route to our next adventure; five full days of teaching at Daktari Bush School.
The drive to Daktari was short (not to mention bumpy), but I managed to find time to reflect on what I had just been able to be a part of and had the privilege to take part in at Moholoholo. We were told that at Daktari, there would be no service, or WiFi for five days. What seemed like an absolute nightmare to everyone else, seemed like heaven to me. No dinging notifications, no texting, no emails…nothing. Nothing to distract me from being totally 100% present in the moment. I'll take it! Daktari Bush School is a registered non-profit organization, which is located in the Limpopo Provence. It is a secluded school on a private nature reserve, which is located in the bush that takes a different set of grade 8 children each week from the local area schools, with the hope to educate and inspire them to care for their environment and the animals that share the same land as them and their families. Each week, volunteers, like our group, come in and help educate the children and help teach classes such as environmental studies, geography and even social issues that deal with drugs, alcohol and even safe sex practices. There are some lighter classes as well, such as arts and crafts and I even had the opportunity to help teach the game of Pictionary to them. When we arrived, we were greeted by the vivacious owner, Michele. Her personality was infectious, as she was so lighthearted and a treat to talk to, as she held her dear dog, Gucci in her arms. She sat us down in the Lapa, which is an open-sided enclosure that usually has a thatched roof and is used as an outdoor entertainment and eating area, and explained what is to be expected of us on a day to day basis, and also to remind us to shake our shoes in the morning because a scorpion might decide to make its way into it. Some of the people in the group looked like they were sweating with nerves, but Michele said it with a smile, of course, and carried on telling us about Daktari. She then introduced us to the brains that take care of all the program planning, teaching duties and animal care, Patience, Will and Erica. These three young souls are the most amazing people I've ever met. Such a love for what they do and they show their passion and dedication every hour of the day. Seeing them work was inspiring to me.
The next morning, my alarm goes off at 5:30am, yet again. Time to get up and get rolling on the first full day at Daktari. The students would be arriving around 9am to meet with us and go through the program with us as well. Before anything, as the famous saying goes, "But first, coffee!" I head down to the Lapa and make myself a strong coffee. There's only two of us up at this point, and we happen to notice a cute marmoset jumping around, while curiously looking at us. Michele then gave us some little dried fruit snacks to give him, but of course, I end up eating one to myself, before realizing they were for the monkey, not us. Oops! It was early, give me a break! What started off as feeding the cute little bugger, turned into a mischievous attack. Picture the movie Gremlins, in the famous scene when Gizmo eats after midnight and turns into a havoc wrecking disaster, ya, well, that was the marmoset when we ran out of snacks for him. He nipped at my friend's face and then jumped onto my shoulder and dug his little claws right into my neck then went right for my jugular with his sharp little razor teeth! "Get him off me!! Rip him off!!" I remember screaming. When he finally loosened his grip, I realized I was bleeding. Not a lot, but enough to notice. All this excitement and it wasn't even 6:30am yet. Go figure. Once I cleaned up and disinfected the area with the help of my trusty first-aid kit, I was good to go. 
It was approaching 9am when the children had arrived. I was excited, but still apprehensive, since I've never had to deal with younger kids before, let alone ones that may not understand me. I was slightly nervous to be honest. I didn't want to give off a bad impression as a stupid foreigner and I wanted to be able to educate them the best I could. We all stood in a circle with Patience, the children and a big board that had some "get to know you" points on them. We went around the circle and said our bits. One thing I noticed, was how quiet and shy the kids were. I could tell that getting them to come out of their shells was going to be harder than I anticipated.

Because of the enormity of our group, we were divided equally into two smaller groups, probably to make things more manageable and less overwhelming for the staff and students. My group gathered with the children and we took them around to the cages to explain, show and educate them on some of the native animals to South Africa that they may have never even seen before that day. 
I had some free time one afternoon and went for a walk around the premises and came across the boys playing soccer around their bunking accommodations. I asked if I could take a video of them playing and they eagerly agreed. They hammed it up for me, which I thought was amazing. Finally, they were starting to open up a bit. They asked me to take a selfie of all of us, so I obliged and they loved the photo.
The next day we headed out to two local schools to help plant 30 trees alongside the school's Eco-Clubs. This was one of the most emotionally rewarding days of my five day stint at Daktari, and quite possibly my life to date. It was also slightly heartbreaking as well. As we pulled up to the first school, I noticed how chaotic it seemed. Kids hanging out of classroom windows, running around the yard. It was something I've never seen before. A few of us went to use the outdoor washrooms and let me tell you, the difference between the girl's and boy's washroom was atrocious. I couldn't believe my eyes. The girl's washroom was in shambles and totally unsanitary. We opted to use the men's washroom as our friend watched the door for us and as soon as I walked into the boy's washroom and saw how clean it was, I was shocked. I felt an overwhelming sadness and almost anger come over me. Why was there such a difference in the cleanliness? I felt sorry for the poor, young girls at that point. Once we rejoined the group, we dove right into the tree planting process. Breaking ground, digging holes, getting down and dirty. I grabbed a huge pick and slammed it into the ground. Smash, smash, smash. I loved it. Such a stress buster. I felt like a viking(ette). Some of the students helped us plant, others wanted to take tons of photos with us. It was an amazing feeling to see them smile.

As we got on the bus and started to drive to the second school, the ride was eerily quiet. I think we were all just shocked at the school system we had just witnessed, but I was also a bit overwhelmed at that point, for the first time the whole trip. I just kept thinking to myself how lucky and fortunate the youth in Canada are and I couldn't help but think how spoiled they are as well. These children we had just spent time with, have next to nothing when it comes to resources, a playground etc, but they were all SO happy, singing songs and dancing, whereas a lot of children in North America tend to whine and complain for not having the latest iPad. I was just blown away. It was disheartening, but also incredibly rewarding and a privilege to be able to visit and engage with these children while planting trees at their school. The second school we went to plant at seemed more orderly. We planted another 15 trees there alongside the Eco-Club and of course, took more selfies with the students. After all our hard work, we hopped back into the bus and headed to lunch.
The last night at Daktari was one that stood out in my mind, still to this day. After dinner, we all gathered around a massive campfire in the field and sang campfire songs, danced around and enjoyed each others company. I even tried fried termites. Yup, you read that right. Do you want to kiss me now, or later? Kidding! Once the children headed to bed, a few of us "adults" stayed up and drank around the fire, sharing stories and had a hilarious, drunken game of "Never Have I Ever." Good times. The following morning we realized it was our last day with the kids. We all gathered around in a circle, the same way we did in the beginning and read the same set of points on the board to each other. This time was different though. The children were more responsive to us, since we were together for the whole week. They started to open up more, some even started to cry. I've never really been emotionally affected by saying goodbye to people that I wasn't close with, but listening to everyone's voice quiver as they spoke and said their goodbyes, struck a chord with me. It was incredibly hard to leave these kids behind. We got to know them, teach them and watch them grow. I can only hope that we left them with the power and knowledge to know that if they put their mind, heart and soul into anything they want to achieve, it can be done. I wish them all the best in everything their life has to offer going forward.
After five days of volunteering, teaching and not washing my hair, it was time to move on and head to the town of Phalabowra. We checked into the Bushveld Terrace, which was a chic hotel just 200 metres from the gates of Kruger Park. I hoped to have a shower after we checked in, but we had to meet up at the bus in less than an hour. It was time to head down to the Olifants River for a gorgeous, sunset cruise. When we arrived at the Olifants River, we were greeted with a glass of Amarula on ice. It was perfect. We boarded the double decker boat, cracked some cold beers and socialized with each other as we cruised along the river, while looking for buffalo, hippos, crocodiles and other wildlife that live along the river.
As the sun started to set and the sky started to change into a cotton candy pink hue, I took a few more photos then put my camera away. I found a solitary area in a corner of the boat and held my beer in my hand, sipping it slowly as I watched the sun dip below the horizon. I wasn't frantically snapping photos, or socializing at that point in time. I just wanted to enjoy the moment and take it all in. No gadgets, no cameras, no chatting…just watching and listening to the sounds of the humming boat motor and the nature around us. Once night fell, the lights and motor were turned off completely for two minutes of pure silence. I'll never forget the sounds I heard as we graciously floated in the river. Croaking frogs, water gently hitting the sides of the boat and not a word being spoken. Everyone had turned off for those two minutes and it was pure magic. Once the lights and boat were turned back on, we made our way to the dinner venue for a delicious and filling meal, while enjoying a beautiful night time view of the river. After the amazing meal, we made our way back to the hotel and a few of us gathered outside for a nightcap before finally turning in for the night. We had a very exciting day ahead of us because the next day was when we would be wild camping outside in tents within Kruger National Park! 
The next morning, I didn't want to leave my bed. It was quite the change in comfort levels compared to the bed I had at Daktari, plus my feet didn't hang off the edge of this one. As I lazily got out of bed, it dawned on me that tonight we were camping outside in tents within The Kruger. No fences, wild animals around us, armed rangers…I was stoked and couldn't wait to get to the campsite.  Before we headed to The Kruger, we made a stop at the Amarula Lapa, where they produce the famous cream liqueur, Amarula from the marula tree fruit. Marula trees were actually some of the trees we had planted just a few days prior at the schools. When we pulled up to the Amarula Lapa and stepped off the bus, an overwhelming blast of heat just hit me in the face. The temperature was scorching. After a light lunch, we headed back to Bushveld Terrace to meet up with our Kruger rangers and their two massive, open-air 4×4 vehicles. I opted to ride with Dawid in his truck this day, since the sun and my skin do not get along. We are not friends, the sun and I. Plus there was A/C in his truck and I was all about that! We hit the Malompheni Eco Trail, which is a 4×4 trail that took us through remote areas of The Kruger. This was one of my favourite parts of the trip so far. I love off-roading and grew up doing a lot of it on the weekends with my family. As we inched through dry river beds, over massive rocks and hills and through tight, bushy areas, Dawid stopped the truck and turned the engine off. The truck instantly heats up and I start to feel like I am going to die. The ranger's 4×4's are stopped up ahead, which usually means that there is an animal sighting. As we drive closer, I can see that there is a massive elephant roaming around the bush. This would mark my first sighting of an elephant in the wild. I was captivated by the way it moved around, blending into its surroundings, but not making a sound, regardless of its size. This moment is forever etched in my memory bank. I'll never forget it. 
The next stop along the route is along the Letaba River. Even though the river is mostly dried up due to the drought, it's still a beautiful sight. The sky is getting a bit darker and there's an echoing rumble in the distance. Could there finally be some rain? As the sun pokes through the cloud break, the landscape transforms into a gorgeous golden hue. A few rumbles later, there is a sprinkling of rain. Although it didn't last long, the cool droplets felt amazing against my warm skin.
As we approach our campsite, I see a couple of familiar faces already making themselves at home. It's Gerrit, Willem and now Tiann, who has joined us for the night. We all jump out of the vehicles and say our hellos and I couldn't believe my eyes. They had arrived to the site earlier to set up all of our tents, start a fire and even set up a makeshift kitchen, where Gerrit was whipping up some pumpkin curry while drinking a beer. This was too good to be true. The campsite looked amazing and it made me more excited to be in these elements. Our rangers sat us down to give us a briefing on the rules of camping within The Kruger. Knowing that they were with us, made me feel at total ease. Once nightfall came, the scent of braii filled the air, cold beer was flowing and great conversation and laughs were being had around the roaring fire. Again, we had two minutes of total silence to totally bask in the moment and to experience the sounds, or lack thereof in the bush. I remember just looking up at the dark sky, filled with stars and thinking, "Is this real? I can't believe I am here, experiencing this unique moment that so few in their lives get to experience." I'm also pretty sure I had a slight tear form in the corner of my eye, because just being in the presence of this raw and untouched piece of nature was mind blowingly beautiful.
Upon waking up from a comfortable and restful sleep, we all made some coffee and tea and headed down to the river with our ranger to enjoy the calm, serene surroundings. After my coffee was finished, I walked back up to the campsite and started to pack my bags, grabbed some breakfast and made myself useful by helping to load the truck with all of our overnight bags. After all the guys have done for us, it was the least I could do. Once everyone is fed, packed up and ready to go, we headed back onto the trails in the 4×4's and made our way back to Bushveld Terrace, where we met up with Ernest and our trusty bus again. We were about to make our way deeper into The Kruger to reach our destination at Satara Rest Camp, where we would sleep the night in circular shaped huts. We saw a few elephants, some giraffes, zebras and a hippo in the far distance during this drive. Seeing all these animals in the wild was honestly, the most beautiful thing.
We started our morning bright and early after a good night's sleep to head out on a game drive and make our way out of The Kruger and head onward to Hazyview. During the game drive, we came across the most elephants I've ever seen on this whole trip. It was fascinating watching them in their wild environment. Some were digging a well in a dry river to access the water below. Every time I saw an elephant, I'd get just as excited as the first one I saw that day we took the 4×4 through The Kruger. We even saw a baby elephant after hoping to see one the entire journey through the park. The two days that we spent in and around Kruger were my favourite parts of the trip. I got to see and experience so many great things there, with a group of amazing individuals, which I am forever grateful for.

Once we arrived at Hazyview after a long five hour drive, we got to check into our rooms and relax for a couple hours, which was nice after sitting in the bus for so long. Today was the day that our group had the option of participating in the elephant interaction activity. After getting briefed on what the activity was, and after just seeing groups of beautiful elephants in their natural habitat, I knew I made the right choice by choosing not to go. A few people went, but hey, I'm not judging. It's as much your trip as it is mine. You do you. While the others were out, I chose to have a shower and relax by the pool with a beer before heading back out for the night with the group. Later on in the evening, we went to the Shangana Cultural Village, which is a traditional South African village owned by the Mapulana community. As soon as we arrived, we were welcomed with a warm greeting and some snacks. Some of the snacks consisted of corn, impala meat with salt and grubs…yes, grubs. I decided to give everything a taste because, why the hell not? When in Rome, or South Africa, I guess? As I jabbed a toothpick into the jerky styled grub and counted to three, I popped it in my mouth and began chewing. Crunch, crunch, crunch. Surprisingly, it didn't taste all that bad. I even went back for seconds. After all the snacking, we visited the local artist's market and shopped around for some handmade souvenirs before heading down to meet the village Chief; Chief Soshangana. Upon meeting with the Chief and hearing about the Shangana culture and traditions, we were all invited to head back up to the main gathering area to witness a festival of drumming, singing and dancing. As the glow of the crackling fire lit up the area, the Shangana dancers mesmerized us with their dancing abilities and talented drumming skills, which I could feel pulse through my entire body. Our group was given the opportunity, not only to watch this entertaining show, but also to take part in it with some drumming and some dancing. I'm not really known for my stellar dance moves, but after seeing Dawid bust out his hilarious moves (I mean that in the nicest way, of course), I felt slightly better. I still watch and laugh out loud at that video footage until I have tears in my eyes. After some dancing and drumming, we were treated to a scrumptious traditional meal.
After a restful night's sleep, we pack our bags and head to the bus. Our two brilliant weeks in South Africa was coming to a close. We had a long, nine hour drive ahead of us back to Johannesburg for one last night before heading home. The weather was looking great, which I was happy to see because we were heading to the Bourke's Luck Potholes and the Blyde River Canyon today, since we didn't have a chance to visit there at the beginning of the trip. I was pretty excited, as these are the two landscapes I wanted to set eyes on as soon as I knew I was coming to South Africa. Our first stop was to the Bourke's Luck Potholes, which are a fascinating geological wonder. The landscape is the result of decades of swirling water where the Treur River meets the Blyde River. This caused extensive water erosion over time, giving the area a lunar-like look. It had a Grand Canyon-esque look to it, but on a much smaller scale. The beautiful orange coloured landscape had an amazing texturized look to them as well.
Our next stop on the way back to Jo'Burg was the Blyde River Canyon. This canyon is the third largest canyon in the world and its dramatic green scenery make it one of South Africa's must see places. As I walked to the first viewing area, I literally gasped out loud. It was like walking into a scene from Jurassic Park! The views were absolutely stunning. I felt like I didn't know where to look first. Each way I turned had an incredible view. It was definitely a highlight for me to finally be able to see these scenic vistas with my own eyes. From the first viewing point, if you look out east , you will see the Three Rondavels, or Three Sisters. As I walked along the rocky pathway, jumping from rock to rock, I literally felt on top of the world. I found a flat area, somewhat on a ledge and perched myself there for a few minutes to just reflect and take it all in. As I sat in silence, I could hear what seemed like jet engines. It turns out that it was two massive birds swooping through the canyon. I could've stayed and hiked around there for hours. I was definitely in my happy place at that point in time.
It was now time to head back to Jo'Burg and we had quite some time before we got there still. Since a bunch of people were getting ill, it took us much longer than expected. I was starting to get claustrophobic on the bus at this point and my knees were killing me from sitting for so long. Oh well, that's life on the road. It was already nightfall by the time we reached Jo'Burg and there were still plans on hitting up a jazz club for dinner and one last hurrah together. For the most part, people were exhausted, or sick, but the troopers made it out that night and we had a blast. After a great dinner and some jazz music, we had to get escorted to some Ubers quite early in the night, as there was a student protest/riot happening outside and we thought it was better and safer just to go back to the area that the guesthouse was at. Once we all arrived safety, we headed out to some local bars around the neighbourhood and had more than a few drinks to end the trip on a fun note! The rest of the evening was spent laughing, chatting and drinking. What a memorable night.
It was now the last day of our two weeks in South Africa. I woke up in the morning in a somewhat somber mood, knowing that I had to leave these amazing people I have just had the pleasure of spending two weeks with. Learning, laughing and growing as individuals. As we boarded the bus with all of our luggage and headed to the airport, all I could do was sit in silence and look out the window, while watching the scenery and people go by. Once at the airport, we all started to say our farewells, since most of us were on different flights, connecting to other countries before finally making our final stops at home. As we all hugged each other, I didn't get emotional because for some reason, I knew I'd see these people again. Maybe not soon, but in the near future for sure. The two weeks that were spent together partaking in the activities and challenges, made us all have a strong connection to each other, compassion for others and one another and also the courage to step out of our comfort zones and try new things in a new and foreign land. At the beginning of this post, I mentioned how South Africa has a way of making its way into your soul and how I knew I'd be coming back. I meant every word.
"I cannot even imagine where I would be today were it not for that handful of friends who have given me a heart full of joy. Let's face it, friends make life a lot more fun." – Charles R. Swindoll
A HUGE thank you from the bottom of my heart to my amazing friend, Shayne Traviss, owner and founder of VividLife and to Dawid de Wet of Toerboer for all your knowledge, guidance, good company and friendship. xoxox
Let's get social!