This post contains affiliate links to products and or services.  I may receive a small commission for purchases made through these links, but with no additional costs to you.
In the centre of The Netherlands, sits a beautiful historic medieval city with picturesque canals and a unique vibe that would even make Amsterdam slightly jealous. I'm talking about Utrecht, folks. It's a town that boasts an iconic 14th century bell tower, The Dom Toren (Tower) and the main canal that runs through the city centre called the Oudegracht, which is lined with shops, restaurants and bakeries. I spent 48 hours exploring Utrecht, since I felt it was one of the cities I had to visit for a couple days just to soak it all in and enjoy the ambiance of. Utrecht should definitely be on your list of places to go if you want to enjoy peaceful strolls along the canals at night with lights glittering in the water and an array of great restaurants to try. Here's what I got up to while in Utrecht.
Read more: 10 Amazing Days Exploring The Netherlands
Arriving In Utrecht
Utrecht, like most other cities in The Netherlands, is easily reached by train and takes just over an hour from Amsterdam Centraal Station, so it makes for an easy day trip if you're only planning on basing yourself within the capital. I do suggest at least staying for a whole day to fully appreciate all that Utrecht has to offer. I chose to take the train from Delft (which connected in Rotterdam and took about 56 minutes), book a hotel and stay for two full days. Once you arrive in Utrecht, you'll find that it's very easy to get around on foot and see all the main attractions, which are mainly situated within the Old Town and around the Dom Toren (Tower). For all train fares and schedules, visit the Dutch Railway website for more info.
Read more: Tips for travelling within Europe
Read more: Getting Around The Netherlands by Train
Exploring Utrecht – Things To See & Do
Utrecht is a cool, hip city with a younger university aged population that is easily explored on foot. With most of the attractions situated in the Old Town, you can definitely see everything within a full day. I decided to stay for two full days, and experience the city as the locals would. Shopping along the main canal in town, the Oudegracht, which is over 800 years old, sipping coffee in cute bakeries and eating in some amazingly cool restaurants. The coolest part about the Oudegracht is that it runs through the main city centre on a two-tiered level. With old warehouses along the canals that are now turned into hip restaurants and even houses, there are sets of stairs that go up to the main sidewalks and down to the canal level to view the city at a whole new perspective. Another must do while in Utrecht is to climb the Dom Toren (Tower), which was built from 1321-1382 to get commanding views over the city. The Dom Toren stands tall at 112.5 metres high and to get rewarded with the panoramic views up top, you'll need to climb a punishing 465 feet to the top. Eat your Wheaties and give it a try. You must do the climb with a guided tour, but the guides are very informative and you will learn quite a few interesting facts about the bells inside the tower, the construction of the tower and even learn about the storm that devastated the church's nave in 1674 and is where the Domplein square sits today. If you cross Domplein square and head to the DomKerk, make sure to check out the beautifully manicured Pandhof Van de Dom gardens tucked in the back of the church's yard. As the birds chirp and you walk around, you'll be able to enjoy a moment of peace and quiet.

Read more: A Complete City Guide to Amsterdam, Netherlands
Read more: 24 Hours in Delft, Netherlands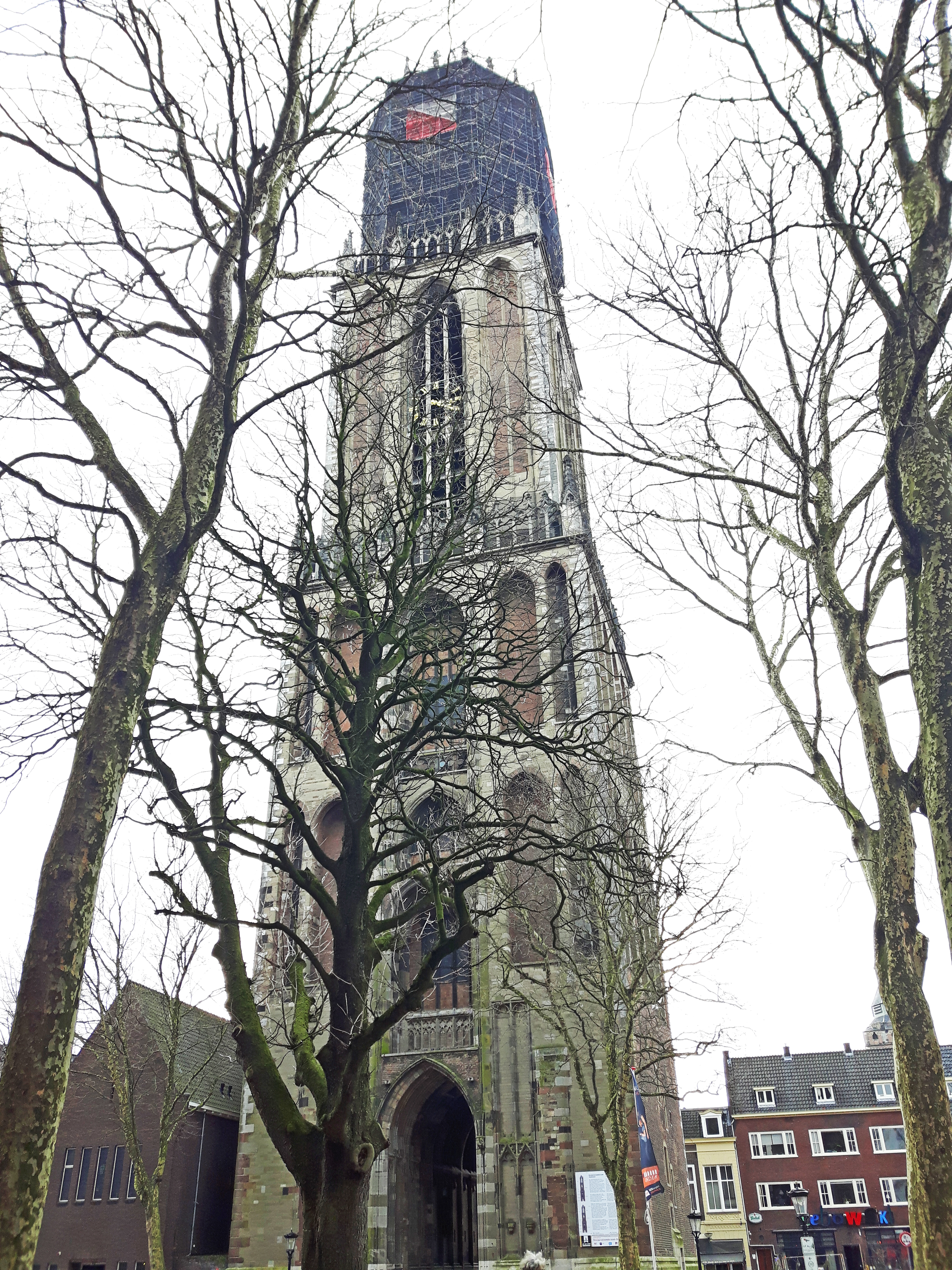 Take A Day Trip
The Netherlands is one of the most easily travelled countries that I've ever been too. All major cities are just a short train ride away, so the possibilities are endless. From Utrecht, I decided to take a little morning trip to the sleepy town of Gouda…yes, a city that shares its name with famous cheese. Gouda isn't only known for its "cheesy" reputation though, it's also home to an absolutely impressive 15th century Gothic Town Hall that dominates the main square and the 17th century Goudse Waag, which was once a cheese weighing station and now home to the Gouda Cheese Museum. The main square regularly holds a cheese market that draws quite the crowd. Gouda is also home to beautiful canals that are lined with cute shops that are run by smiling employees. One of the main reasons why I wanted to visit a small Dutch town was to immerse myself within the culture and visit places where cheese shops were run by local farmers that not only run the business themselves, but raise the cows and make the cheese with their own natural methods. I wanted to support the mom and pop shops, rather than the big name shops found in larger Dutch cities. My trip to Gouda felt pretty rewarding and the best part? I got to chat to local shop owners about their products and about their lives in Gouda. Oh, and Gouda's name? It's pronounced "How-da." The more you know! 😉
Read more: A Day Trip to Gouda – A Quick City Guide
Places To Eat And Drink
Utrecht is a hot spot for cool coffee joints (no pun intended 😉 ), unique restaurants and if you have a couple days to spend in the city, I highly suggest you try as many places as possible! Here are a few suggestions for your next trip to Utrecht and some of my favourites.
Coffee & Snacks – If you're in the mood for some good coffee and a sweet treat, than look no further than Stach. This place is tiny, but jam packed with choices and they even have a menacing looking spiral staircase that leads to an upstairs seating area if you choose to stay in to enjoy your snack. They have an array of cold drinks on the wall and amazing cookies, cakes and even sandwiches to choose from. Located right on the corner on Choorstraat, Stach is located steps away from the Dom Toren, so it's the perfect place to grab a bite and a cold drink before making your way to climb the tower.
Burgers – This one is definitely for the meat lovers (sorry veggies 🙁 ). While wandering down restaurant alley as I dubbed it, or Drieharingstraat, you'll come across Firma Pickles Burgers & Wines. This place knows how to do burgers right! This ain't no McDonalds, folks! They are all homemade, so getting your food fast here won't happen and that's not a bad thing in my eyes. It's worth the wait. The burgers are juicy, delicious and full of flavour. If you're a burger lover, I can't recommend this place more. I went around 8pm and it was still packed with people enjoying their meals. The servers are cool and friendly and can help you choose your burger if you are having an indecisive moment while ordering. 
Comfort Food With A Cozy Atmosphere – If you're looking for a place to escape the cold, cozy up and enjoy a large dose of comfort food, then Restaurant Kartoffel is the place to check out. Located along the Oudegracht on the lower canal level at 145, Oudegracht aan de Werf, Kartoffel is a German restaurant after my own heart. The portions are massive, the food is delicious and the beer is a great price and of course, you can't beat German quality. The restaurant looks as if it's located inside a cave, which gives off a cozy and warm vibe. Kartoffel is a must visit for sure if you find yourself in Utrecht.
Read more: How to Find Great Places to Eat While Travelling
Read more: 5 Solo Travel Myths That Need To Be Debunked
Read more: Table for one, please – How to feel confident eating alone while travelling solo
Spending a couple of days in Utrecht is definitely the best way to discover this great city at your own leisure. With so many day trips close by, a great restaurant scene and beautiful canals to wander along, Utrecht is a great city to have as a base for your travels through The Netherlands. Have any of you been to Utrecht? Would you climb the Dom Toren if you visited? Let me know in the comments below! xo
Read more: 25 Photos That Will Inspire You To Book A Trip To The Netherlands
Let's get social!