This post contains affiliate links to products and or services.  I may receive a small commission for purchases made through these links, but with no additional costs to you.
So, you're heading to Thailand? Amazing! More than likely, your first stop after that long overseas flight will be to the hub and pulse of Thailand…You're heading to Bangkok, baby.
Most people say that a full day in Bangkok is usually enough for them to hop in a tuk-tuk and boot around the city, stopping off at the must see sites and then making their way to the famous beaches that Thailand is most known for.
Bangkok definitely deserves at least 72 hours of your time to see and really appreciate what what the city has to offer. From intricate, colourful temples that resemble pieces of art, to amazing street food that will fuel you as you complete your temple run throughout the city, you'll definitely want to take your time and enjoy every minute.

Bangkok is not for everyone. It is busy, quite smoggy and can be daunting as you're being followed by girls trying to lead you into bars to watch a ping-pong show, which I have seen and will not be able to unsee. It's etched in my mind forever, guys.
Anyway, Bangkok is full of amazing sites and things to do and deserves a chance to be fully explored. Once you've been to and experienced Bangkok, you'll see why it's so famous with travellers and backpackers alike. I've compiled a list of the must see spots and what to experience within 72 hours.
Read more: A guide to Phuket, Thailand – What to see and do around the Pearl of the Andaman Sea
Hire A Tuk-Tuk And Driver For A Half Day Tour
Tuk-tuks are crazy. It's as simple as that. They have no seat belts, no doors and fly around the city, while darting through traffic and dodging pedestrians. Being in one is like an intense game of Mario Kart. As crazy as they are, they are as authentic to Thai transportation as you'll get. Just a heads up…tuk-tuk drivers will usually sidetrack and bring you to local business that have nothing to do with where you want to go. For example, ours took us to a jewellery store and to a men's tailor shop. None of us wanted to buy gems, or get a men's suit made. They have side deals with local businesses with the hope that bringing tourists to their shops, will gain business for them. If they bring the tourists there, the tuk-tuk driver gets a gas card from the business. It's as simple as "you help me, I help you". You simply just go in the shop, look around, don't buy anything and carry on to your destination. It's a little weird, but it's a pretty common thing, so don't be alarmed in you are heading to a temple and you end up at a men's tailor shop. Just saying.
Visit Damnoen Saduak Floating Market
Like numerous floating markets in Bangkok, the Damnoen Saduak market is organized almost exclusively for tourists. Younger Thai generations actually visit this market because floating markets are a dying thing in Thailand, and some may never get to see how their ancestors used to live, thrive and buy, or trade items. Located about 100km southwest of Bangkok City, the market is filled with narrow canals and tons of wooden long boats, mainly paddled by female traders selling everything and anything. You can find anything from coconuts and fruit, to spices and little knick knack souvenirs. All of the fruits and vegetables are some of the nicest and freshest I've ever seen. This is because all the produce comes from the local farms and Thailand has some great soil for growing. Market hours are from 4am to 11am, but the best time to arrive is between 7am and 9am when the place is in full swing. It's chaotic, colourful, full of life and noisy, but it's authentic Thailand and is something everyone must see.

Read more: 6 Ways Travelling Will Change You
Maeklong Train Market
This was a site I wanted to see from the minute I knew I was heading to Bangkok. It looked crazy and intense and I knew I had to experience and see it with my own eyes. As you make your way through a smelly indoor market while trying not to gag, you come to a clearing to an outdoor style market, but with tracks running through it. Most people might think that it's an unused railway that the locals took advantage of to have their market stands on. Well, most people would be wrong then. This track is still a full functioning railway that runs THROUGH the market. Yes, a commuter train runs through this place. This commuter train has been running through this risky market for almost 30 years. It runs 8 times a day and an alarm sound and announcement comes over a PA system to warn the vendors and customers that a train is coming any minute. As the train sounds its horn, the vendors roll up their tent awnings and everyone moves to the sides allowing the train to slowly pass through, while skimming, but not even grazing the products below. It's something you'll never forget once you experience it. Once the train passes through, the vendors roll their awnings down and business resumes as normal, until the next alarm goes off. It's wild!
Visit The Gorgeous Temple Of Wat Pho – Home Of The Reclining Buddha
Wat Pho is one of the oldest temples in Bangkok, not to mention one of the most beautiful. It dates back to the 16th century and is home to the massive Reclining Buddha. It is also famous for containing the respected Institute of Massage. Pretty cool! The Reclining Buddha is famous for its size. It measures 46 metres long and is covered in gold leaf. It's stunning. Take your time and wander around the grounds of the Wat Pho complex once you're finished in the temple. You will stumble upon an area that has a bunch of large, intricate and colourful pagodas and statues. It was one of my favourite spots in Bangkok, for sure!

Check Out The Grounds Of The Grand Palace
The grounds around the Grand Palace are heavily guarded by militia with big 'ol guns. It's super busy as well, with thousands of tourists a day. The grounds are meticulously groomed, which make it a beautiful site to see. Construction of the Grand Palace began in 1782 to mark the founding of the new capital city and provide a resting place for the Emerald Buddha, or otherwise known as Phra Kaeo. It was also made to be a residence for the King. Even though the Royal family no longer lives in the Grand Palace, it is still considered the most holiest temple in Bangkok. Visitors must cover their knees, shoulders and even heels to show respect, yes, even it's 45 degrees outside, hot and extremely humid.
Take A Boat Cruise Along The Chao Phraya River
The Chao Phraya River is still one of Bangkok's leading waterways to get to other parts of the city. A boat cruise along this legendary river is definitely something one must experience while visiting Bangkok. Boats of all sizes zip and float by. Whether it's a water taxi to get from one end of the city to another, or large shipping containers coming from China filled with goods, this river sees it all on a daily basis. Tourists can take a Chao Phraya Express Boat which offers short tours with some commentary by the boat's driver. It is a great way to get from downtown Bangkok, to the Grand Palace and Wat Pho temple area. For more information regarding the Chao River Express boats and a time schedule, click here.
Read more: Exploring the surrounding islands of Phuket by speed boat
Stroll Around The Grounds Of Wat Benchamabophit
Wat Benchamabophi was the last major temple to be built in central Bangkok. This temple has a slight European influence to it, as the design was commissioned to an Italian architect by the name of Hercules Manfredi. The nickname for this temple is the Marble Temple, which comes from the use of marble on walls. The temple is beautifully laid out and is still used to this day to witness monastic rituals such as Buddhist holiday processions. Step inside the stunning temple to have a moment of silence and reflection, but just remember to cover your knees, shoulders and take your shoes off as a sign of respect.
Read more: What is Responsible Tourism & why is it so important?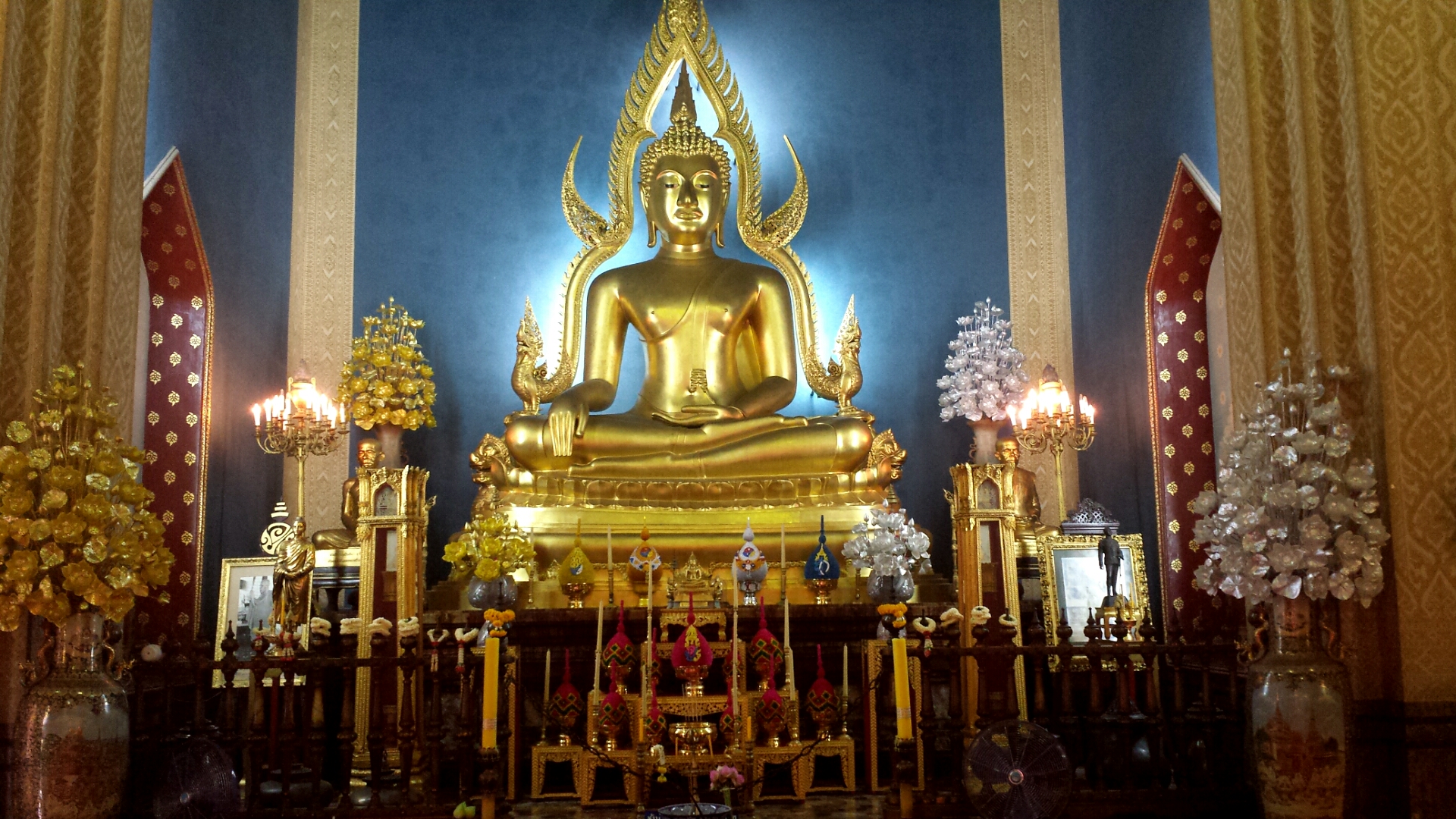 Hop On The Subway And Head To An Open-Air Market
Thailand is known for its outdoor markets and insanely cheap and bustling shopping districts. Hop on the Bangkok Subway system, which is very easy to use and not to mention spotless, and head from the downtown core to the Chatuchak Market, the country's largest open-air market. Make sure you grab a map, because one can easily get lost making their way through the many different areas of the market. You won't be able to see it all in one day, so be selective as to what you want to see and do. Grab an ice cream, or a cold drink, visit the local street food vendors, or try your hand at some good 'ol fashioned bartering with the locals. It's a rush and slightly overwhelming to be surrounded by the hustle and bustle of the market, but it's a way of life for the Thai people and it's something that one should get to experience while visiting.

Read more: How To Find Great Places To Eat While Travelling
Read more: The Ultimate Guide to Street Photography – Tips & Tricks
Visit The Massive Buddha At Wat

Indraviharn



Standing under the Wat Indraviharn Buddha will make you feel tiny…very, very tiny! Wat Intharawihan or Wat Indraviharn is a Third Class Royal wat located in the Phra Nakhon District of Bangkok. The massive golden Buddha called, Luang Pho To or "Phra Si Ariyamettrai" is approximately 32 metres high and a has a staggering weight of 5.5 tonnes. Remember how I mentioned the tuk-tuk drivers taking you to strange and unexpected tailor shops and locations? Well this, surprisingly, is one of the stops. It's beautiful, so I didn't mind stopping here, since I never even saw it in the travel book that I bought. It turns out, Wat Indraviharn is a local hangout for some sketchy tuk-tuk drivers, who will offer you tours of Bangkok for only 20 Baht, but will lead you to a few unexpected stops at jewellery and tailor shops as I mentioned earlier in the post. Seeing this Buddha was worth the stop though in my opinion.
Experience The Nightlife
I can't stress to you enough when I say this: The nightlife in Bangkok is absolutely, positively, without a doubt the craziest! It's in your face all the time and for those experiencing it for the first time, more than likely it'll be overwhelming. Don't be afraid if you see weird shit, because you probably will see a LOT of that. You'll be uncomfortable during some points, but remember the number one rule of travelling to foreign lands…they aren't there to make YOU feel comfortable in THEIR country. Good news though, you can literally buy a Chang beer for about $1 CAD. You can have a good night out for about $10 CAD. Seriously, don't be put off by the craziness of Bangkok's nightlife. It is some of the most famous in the world and once you experience it, you'll see what I mean!

I hope this list gives you some ideas for what to see and do while in Bangkok. If you have any ideas, or places to see that I've left out and I know I have, let me know in the comments below!! xo
Let's get social!