This post contains affiliate links to products and or services.  I may receive a small commission for purchases made through these links, but with no additional costs to you.
So, you've landed in Germany and chances are that your first city stop will be in Munich, or München as it's known as by most Europeans. Munich is the third largest city in Germany, after Berlin and Hamburg, and the 12th biggest city of the European Union. If you love great beer, history, architecture and not to mention, carbs galore, then Munich is a definitely must see. I absolutely fell in love with Munich while I was there and I'm more than certain you will too.

Germany was the second country I decided to do completely solo. I arrived late in the afternoon to my hotel in Munich and had a quick nap then woke up and had dinner and went to bed, as I had to be up super early the next day, but I still managed to get a lot of activities and sightseeing done in two full days. 
Here is how I spent a full 48 hours in Munich.
Take A Day Trip To Neuschwanstein Castle
The most famous of all Europe's castles, Neuschwanstein Castle is a magical sight to see and looks like something straight out of a fairy tale. This beautiful castle was the inspiration behind Cinderella's castle in Disneyland. Constructed in 1869, this magnificent castle wasn't built for defense purposes, but as the private summer retreat for the eccentric King Ludwig II. The setting of the castle couldn't be more perfect. It is perched over one of southern Bavaria's most beautiful valleys and is placed within some of the most picturesque sweeping landscapes that the Alps have to offer, making it one of the most photographed sites in all of Germany.

I arrived via train from Munich's main station to Füssen station. From there, I took a bus up to the base of the walkway, which then required a 30 minute hike up hill to the castle's entrance. I booked my trip through Viator and had a blast with the guide and the people I met. 
Read more: Spending a gorgeous autumn day visiting Neuschwanstein Castle
Stroll Around Old Town And Admire The Architecture
Marienplatz, or Mary's Square, is the heart of Munich's Old Town and is the best place to grab breakfast and people watch while in Munich. Marienplatz offers many interesting things to see and do, and it is in walking distance to even more must-see attractions of Munich.
Dating back to the 12th century, Marienplatz used to be home to medieval markets, celebrations and tournaments, but now the square is a popular meeting point for locals and tourists alike. Old Town is jam packed with architectural delights, such as the New Town Hall, or Neues Rathaus, which has a Gothic Revival influence.
Read more: The Ultimate Guide to Street Photography – Tips & Tricks
Climb The Stairway In St. Peterskirche For Great City Views
Eat your Wheaties and climb the 300 step stairway up to the steeple viewing platform of St. Peterskirche, which is located in Marienplatz. For a low cost of about 2 Euro, this is definitely one of the highlights within Munich. The view of the entire city centre and beyond can be seen from the outdoor viewing platform. Once you reach the top, the panoramic view of Munich's centre makes for some amazing photos. When the weather is very good, the view even reaches to the Alps.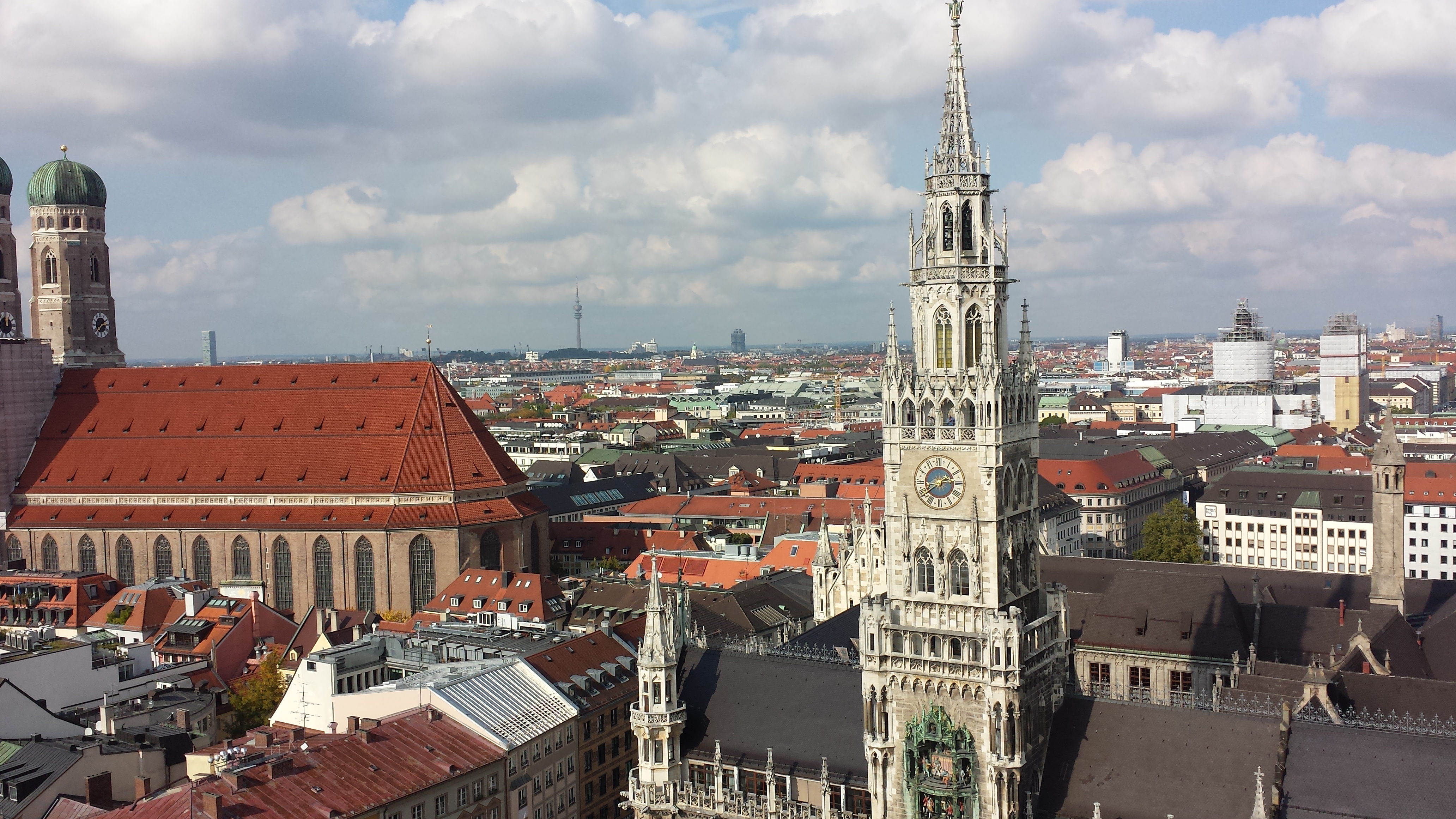 Take The Elevator Up To The Viewing Deck Of The Neues Rathaus
After walking up the 300 stairs of St. Peterskirche, give your feet a break and take the elevator up to the top of the Neues Rathaus for stunning views as far as the eye can see. There is also a vertigo inducing view into the courtyard below. Once you've had your time up above, head down to the courtyard restaurant where you can grab a delicious fresh pretzel and a cold refreshing beer.
Buy A Treat, Or Two At Maelu Bakery
Just go. Enough said. You wont regret it!
Have A Stein Of Beer At Hofbräuhaus
If you're lucky enough to actually get a seat at the Hofbräuhaus, then I envy you. I wasn't fortunate enough, since I did arrive quite late into the evening when the party was already underway. The Hofbräuhaus is one of Munich's oldest beer halls. It was originally founded as the brewery to the old Royal Residence, which at that time was situated just around the corner from where the beer hall stands today. Once inside of the Hofbräuhaus, you can't help but think about the craziness that ensued within these walls during WW2. The flags that are now painted upon the ceiling, used to be swastika symbols surrounding the light fixtures. This place oozes history! Reinheitsgebot, also known as the Bavarian Beer Purity Law and Bavarian Beer Ingredient Law, was enacted in 1516. This law means that beers made with just three ingredients; hops, barley malt and water (yeast was unknown at the time) in order for it to be labeled a "pure" German beer.  Beer was considered a food staple at the time.​, so it HAD to be made to precise measures. This purity law is still in tact to this very day.

Read more: Some Of My Most Awkward Travel Moments
Take A Walk Through The Viktualienmarkt
Over the years, this market has evolved from a farmers' market to a popular market for fresh food and delicatessen of all kinds. It offers exotic ingredients that you can't find anywhere else in the area, and it is known for its diversity and size. With approximately 140 stalls and shops offering anything and everything ranging from flowers, fruits and vegetables, eggs, butter, honey, fish, sausages, herbs, spices, wine, tea AND even a biergarten, are assembled on an area covering 22,000 square metres. This place is massive and a lot of fun to snoop around in.
Grab A Gourmet Hot Chocolate At Chocolaterie Beluga
This will be the BEST hot chocolate of your life. I've sent numerous people here from my Instagram account and they've all raved about it, naturally, of course! It's amazing! Located right in the heart of Munich's Old Town, go and enjoy a tasty experience in a delicious chocolate cafe, right at the Viktualienmarkt. Their best selling hot chocolate, which is essentially "a chocolate-on-a-spoon" experience, that is served in 32 different flavours. The chocolate cubes are located on the shelf and once you choose your flavour, the employees will bring you out a steaming cup of milk. Place the chocolate-on-a-spoon into the milk and wait for it to dissolve. I opted for a toffee flavoured chocolate. Once it is melted to perfection, give it a stir and enjoy. It's definitely an indulgence after walking around town all day and is even more perfect during a cool, autumn night.
Have you guys ever been to Munich? What were some of your favourite things to do and see? Let me know in the comments below! xo
Read more: 7 German cities I fell in love with
Let's get social!