This post contains affiliate links to products and or services.  I may receive a small commission for purchases made through these links, but with no additional costs to you.
I spent my first full day in Malta discovering and exploring Valletta-the walled fortress city made of golden sandstone and steep streets made almost entirely of stairs. The city as a whole is recognized as a UNESCO World Heritage Site and has recently been awarded the prestigious title of European Capital of Culture for 2018. Valletta was built for the Knights after the Great Siege of 1565, so I could only imagine the layers of undisturbed history to be found wandering its ancient streets.
I walked to the Sliema-Valletta ferry port just a short 10 minute walk away from my hotel and paid the fare and boarded. The ferry ride took a short 10 minutes across the harbour. As we approached Valletta, getting closer and closer, you realize that for a small capital city, it had a grandiose presence to it that immediately demanded the attention of all the passengers on board.
Read more: Valletta, Malta – 2018 European Capital of Culture
The walled city of Valletta was standing tall and strong in the early morning sun, with parts of the walls having a sun-kissed glow to it. I felt as though I was being shipped into the pages of a history book, or an open aired museum of some sort. It felt THAT ancient. It was incredible.
As I stepped off the ferry and made my way up the massive hill that would lead me into the city centre, I got my first taste of just how steep Valletta is. Definitely a cardio boost first thing in the morning. As I made my way into the city and within its golden walls, the Renaissance style streets started to come into full view. Walking through Valletta and looking up at the architectural elegance and jaw dropping details was something else. The only way I can really describe the moment is this…imagine you walk into someone's house that just had thousands of dollars of insanely beautiful crown molding done inside their home and you are just oohing and ahhing as you walk around every corner of their house.
Ya, it's kind of like that.
Read more: The quirky and beautiful doors of Malta
Valletta is built on a grid system, so it's very easy to navigate, especially since the entire city is only about one square kilometre in size. Valletta felt everything and anything, but small to me. I was the one that felt small. Massive churches and impressive buildings looming overhead as I walked aimlessly around the miniature capital city. I felt as if I was alone in the city and had entire streets to myself. Mind you, it was early in the morning, but still, it was calm, quiet and you could possibly hear a pin drop. It's hard to believe that there was an incredible amount of war within these quiet walls during WWII and for centuries before that.
The streets of Valletta have many different personalities to them. The main pedestrian street, Triq- Ir-Repubblika, or Republic Street in English, is immaculately clean, full of touristy shops and restaurants. If you turn down a much less used side street, you'll find abandoned and neglected buildings, crumbling sidewalks and visual reminders of the past years of war, but you'll also find old historic beauty. I personally loved exploring the side streets more so than the busy areas due to the character within them, with both the people and the buildings. Old colourful wooden Maltese balconies jutted out from the buildings, high up over the streets. Some balconies had elderly women shouting to each other from each others' balconies, probably gossiping about something , or someone. It felt like an authentic blast from the past to me.  I was hooked on Valletta from that moment.
Read more: The colourful wooden balconies of Malta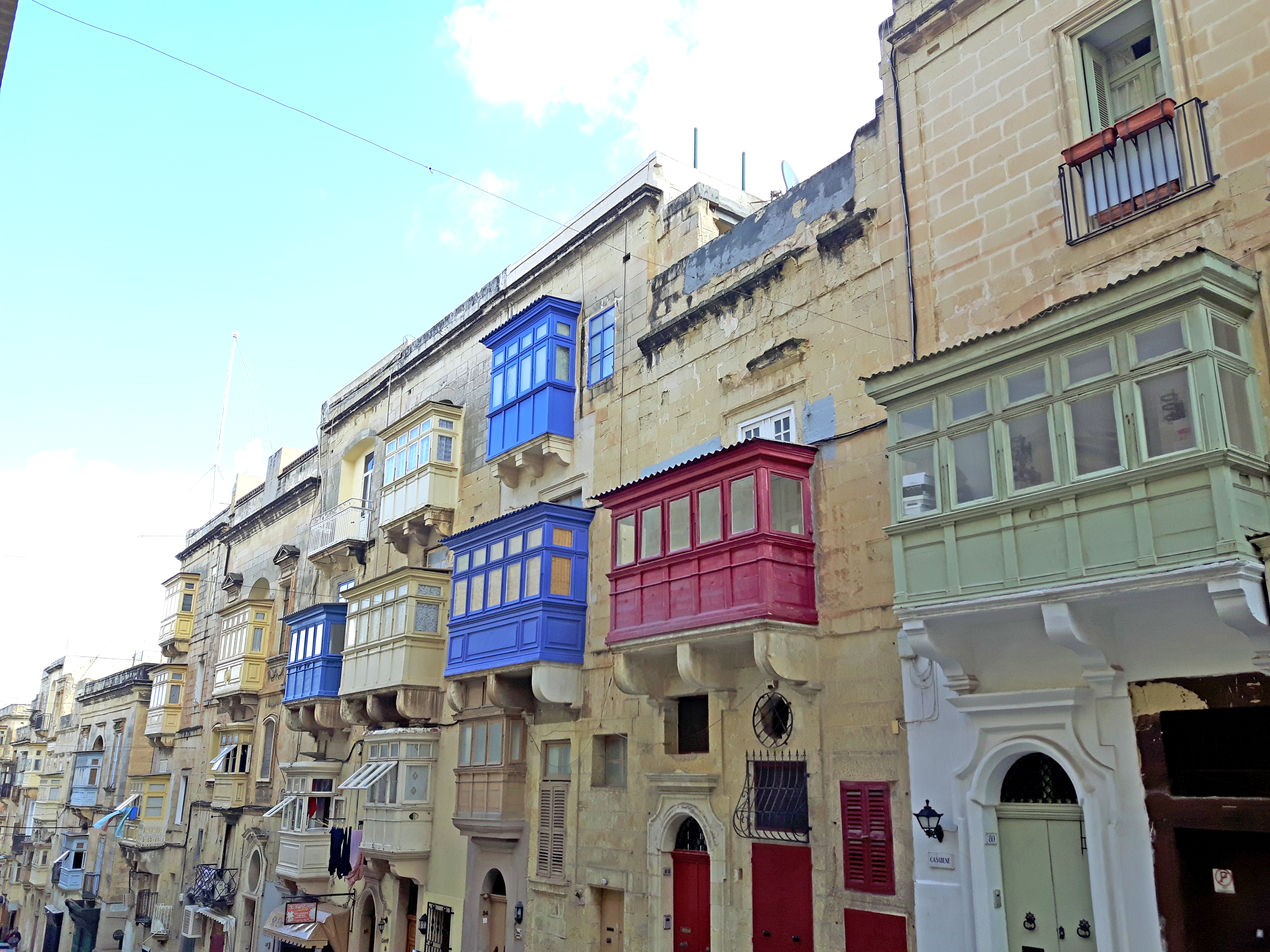 After roaming around for a bit, I was off to indulge in a little treat and coffee at Caffe Cordina. This is no ordinary coffee shop though. It is world renowned and famous for its decadent cakes and desserts. Caffe Cordina was founded in 1837, but then relocated to Valletta in 1944 by the the late Mr. Cesare Cordina, forefather of the present family. Caffe Cordina's location is right in the heart of Valletta. It faces Piazza Regina and the impressive Biblioteca and has a massive outdoor seating area that welcomes hundreds of people daily. Definitely a must see for any sweet tooth fanatic, or coffee lover!
Read more: How To Find Great Places to Eat While Travelling
My first impression of Valletta was off the charts and I had only been there for under two hours. It wasn't even noon yet, and I was stunned at the beauty. I knew I was going to have to come back during my week in Malta, since I figured I wasn't going to see all the things I wanted to see in just one day. I was right. I ended up briefly coming back two other days, while passing through to the bus station going to explore other cities.
Upon returning to Valletta, I visited St. John's Co. Cathedral, which is out of this world gorgeous! I'm not a religious person, but let me tell you, this cathedral is stunning. So stunning, that I'm literally going to write a post dedicated to it. Stay tuned for that!!
Read more: The dazzling beauty of St. John's Co. Cathedral – A self guided tour
I also came back to explore the Upper Barrakka Gardens, which is a small, but beautifully manicured garden situated  on the highest point of Valletta and overlooks the Grand Harbour towards the Three Cities. The gardens date back to 1661 and used to be a private garden for the Knights. Every day at noon, members of the Malta Heritage Society (dressed in British Artillery uniforms) fire off a salute from the cannons.
Read more: Exploring the intriguing streets of The Three Cities – Cospicua, Vittoriosa and Senglea
Oh, and I also made sure to come back to Valletta twice to grab some crazy good gelato from Amorino Gelateria on Republic Street as well. Go…you will NOT regret it.
Exploring Valletta by foot is the best way to see the city. Slowly maneuvering your way through tiny alleyways, up steep streets made entirely of stairs, or relaxing on a patio while sipping a coffee, or local Cisk beer while people watching. However you decide to spend your day(s) in Valletta will be nothing short of memorable. It's one small capital city, but you can bet it'll leave a big impression in your heart.
Read more: A One Week Itinerary For Visiting Malta During Off Season
Read more: How to Create the Perfect Travel Itinerary
I travelled to Valletta via the Sliema-Valletta ferry, located along the Promenade in Sliema. Printable timetables and ticket prices can be found HERE on their website.
For more info on what to see and do in Valletta, make sure to check out Visit Malta.
Let's get social!