This post contains affiliate links to products and or services.  I may receive a small commission for purchases made through these links, but with no additional costs to you.
Saying that travelling in India can be overwhelming, may be putting it lightly. The sights, the sounds, the smells and everything in between can be a lot to handle, especially for your first time visit.
A little over a year ago, when my long time friend, Shayne, who runs VividLife Journeys, came to me with the idea of visiting India in partnership with Toerboer (who I travelled to South Africa with), I knew I wanted to go as soon as I heard his vision for the most epic itinerary. It did incorporate the tourist spots, but those spots are a must-see to me, so I immediately said yes to going. It also incorporated some local experiences, which most tourists may not do during their first time visit to India, which appealed to me even more.  I wanted to get a local's perspective on things while in India and get some real local experiences, not just the typical touristy stuff. We had local guides along the way from Ashoka Holidays based in Jaipur, which made all the experiences epic and moments unforgettable.
Read more: The Spirit Of India – Expectations Versus Reality
It also helped to have a local with us during our market walks, to ensure we weren't getting hustled to hard when making a purchase. 😉 Just sayin'!
As most of you know, I typically travel solo and much prefer it actually, but every so often I will jump on a group trip if it appeals to me in a way that I just can't turn it down.
This was one of those trips. An experience like none other was awaiting me halfway around the globe to a place as misunderstood as India. Here we go.
If you are heading to India, or are curious as to how I spent my two weeks abroad, here is a brief rundown of the itinerary that was followed, which included the popular Golden Triangle route (Jaipur, Delhi and Agra), as well as a trip north to the foothills of the Himalayas and Rishikesh.
JAIPUR
Day 1 to Day 3
Once I arrived into Jaipur, I had my private transfer from the airport to the beautiful Shahpura House, which would be my accommodations for the duration of my stay in Jaipur. Day 1 was spent at leisure familiarizing ourselves with the beautiful hotel grounds and in the evening, we were treated to a rooftop dinner and a nightly show by some dancers and performers.
Day 2 started bright and early and we headed into The Pink City with our guides and visited the impressive Hawa Mahal (Wind Palace) and stopped along the shores of the Man Sagar Lake to admire the Jal Mahal (Water Palace). We hopped into a tuk tuk, which whisked us up to the commanding Amer (Amber) Fort located in Amer, Rajasthan and to be fully immersed in the intricacy of the 16th century architecture from years gone by. After a long morning exploring the palaces, we headed out for a delicious Indian buffet lunch. Once we gorged on all the curry and chapatis we could handle, we were off to visit Eleday, which wasn't my favourite place to be (more on that in a separate blog post later) because they provided elephant rides to visitors and allowed people to paint the animals with gaudy rainbow coloured paints. It just wasn't my cup of tea at all. Next! Once we arrived back at the hotel, we were able to freshen up and relax the rest of the evening until dinner time. On this evening, we were treated to an incredible traditional cooking class where we got the opportunity to see a chef, a true artist, make us some spectacular dishes to eat. I've never seen so many spices together on one table in my life!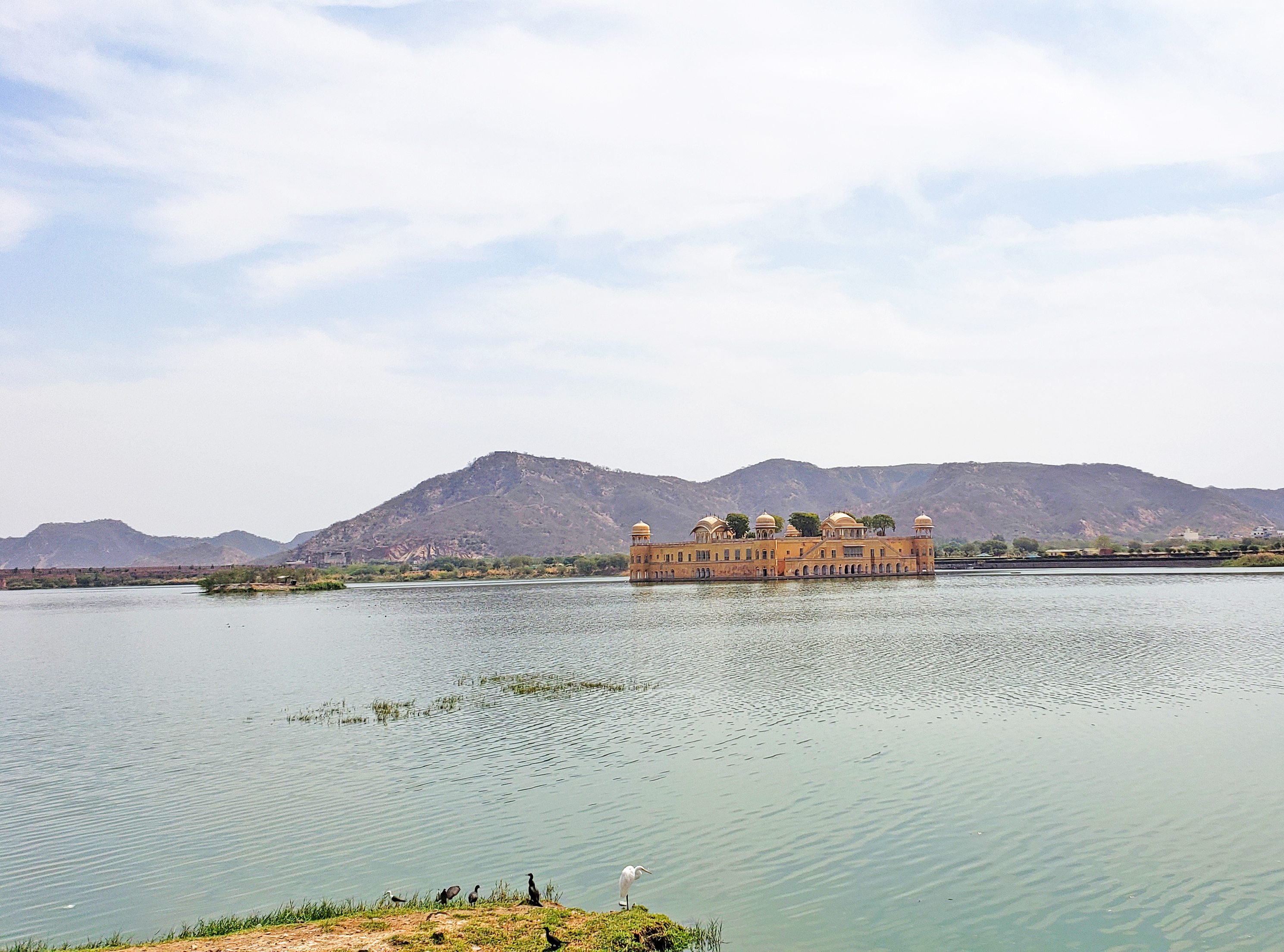 On Day 3, our last day in Jaipur, we set out into the Old City to take a wonderful heritage walk through the narrow and grid-like streets to experience the local markets. We got a bird's eye view of the hustle and bustle from above by taking a walk on the rooftops of the city and we navigated our way through the chaotic traffic, which consisted of buzzing tuk tuks and motorcycles zipping by at lightning speeds. We made our way over to The Jantar Mantar, which is a massive monument consisting of a collection of nineteen architectural astronomical instruments and completed in 1734. It features the world's largest stone sundial and is a UNESCO World Heritage Site. From Jantar Mantar, we then made our way to the stunning City Palace to admire the breathtaking details of the doorways, courtyards and the surroundings. We took a quick break for lunch and then had the opportunity to visit a traditional Indian carpet shop and warehouse where we not only got to have an inside peek at the hard word and dedication that goes into making the rugs, but then also treated to a rum tasting within the shop itself to have a private viewing of the final products. To cap off the night, we had dinner and then went to enjoy a traditional dance performance put on by the local girls in their dance studio.
Read more: Exploring Jaipur, India – A Guide To The Pink City
Rishikesh 
Day 4 to Day 11
Early on Day 4, we hopped on two flights, which departed from Jaipur to Delhi, then connected in Delhi to head to our stop in Dehradun situated in the Himalayas. We were now on our way to Rishikesh; the birthplace of yoga, home to all things mediation and relaxation and stunning mountain views. Upon arriving in Dehradun, we were picked up by a private bus transfer and driven to our accommodations at Ell Bee Ganga View, which boasted beautiful views of the surrounding mountains and the mighty Ganges River. Since Day 4 was a long travel day, after lunch and checking in was completed, we had the rest of the day at our own leisure to relax.
Day 5 started early and we were off to visit the Chandi Devi Temple, which sits atop a large summit in the holy city of Haridwar. We took a cable car to the top, which was a nice mix of terrifying and fun. 😉 We then made our way to Har Ki Pauri, which is a famous area on the banks of the Ganges in Haridwar in the Indian state of Uttarakhand. This place is the major landmark of the holy city of Haridwar and where you can enter the Ganges if you wish to do so. After spending some time at Har Ki Pauri, we headed off to lunch via tuk tuks, walked along the Laxman Jhula (iron suspension bridge) and took a relaxing river cruise within an old traditional wooden boat. To cap off the night, we attended the Ganga River Aarti, which is a daily ritual that uses fire as an offering.
Days 6 to Day 11 were spent at the Parmarth Niketan Ashram, which is located in the lap of the Himalayan Mountains and along the banks of the Ganges River. Over the course of the six days at the Ashram we took part in nightly Aarti celebrations, yoga classes, meditation classes, visited the famous Beatles Ashram where John Lennon wrote almost forty songs during a nine day stay, went on a jeep safari, had lunch served to us by monks in training at another Ashram within Rishikesh, visited Vashisha Guffa; a meditation cave near the banks of the Ganga River, had traditional Shirodhara and Potli massages and last, but not least, celebrated the arrival of Spring with the colourful and happy Holi Festival while walking the streets of Rishikesh.
Read more: Visiting Rishikesh – Everything You Need To Know Before You Go
New Delhi
Day 12 to Day 13
Day 12 was a long and tiring bus ride from Rishikesh to New Delhi. Despite being prepared for a six hour bus ride, it ended up being closer to nine hours due to the fact the our new bus driver got us lost and stuck in some crazy traffic. When we finally got to our accommodations at the luxurious hotel The Surya, we had a hot minute to freshen up and head out the door to attend the Qawwali music session by the Sufi Muslims at Nizamuddin Dargah in Delhi. The mosque is visited by thousands of Muslims every week, and also sees a fair share of Hindus, Christians and people from other religions too enjoying the music and festivities among the crowd.
Read more: Two Days In Delhi – Exploring India's Capital City
Day 13 was a jam packed day and had us on the go from early in the morning to early in the evening because we had missed visiting a few sites due to our late arrival the night before. We visited the impressive Humayun's Tomb, which is a large World Heritage Monument that slightly resembles the Taj Mahal with beautiful grounds and it holds a large part of a cultural significance in India. After spending some time wandering the grounds, we then headed into Old Delhi, hopped onto some rickshaws and careened our way through the tight and narrow bustling streets. We then made our way by foot through the Chandni Chowk neighbourhood and spice market, coughing and sneezing as the spices filled our nostrils and throats, then hopped back on our rickshaw and went to visit the Jama Masjid of Delhi, which is one of the largest mosques in India and can hold a capacity of 25,000 people. You had to pay a fee to bring your camera inside, so I decided just to enjoy the complex and leave my camera behind in the bus for this particular site. We visited the commanding 73 metre high Qutab Minar and Quwwat-ul-Islam Mosque, the first mosque to be built in India.

Agra
Day 14
After a filling breakfast at The Surya, we gathered our bags, headed to our new bus (complete with a new competent driver) and drove 200 kilometres to the city of Agra; home of the Taj Mahal. We checked into a luxury boutique style hotel called The Trident Agra, which boasted incredibly beautiful grounds complete with a large pool and hot pink bougainvillea flowers. We had the afternoon to ourselves to chill out, relax and get ready for the evening. When dusk hit, we loaded onto our bus and drove a short distance to see the Taj Mahal at sunset. Despite all of the people there, it was one of the most amazing places I've ever seen with my own eyes. To be in the presence of such an iconic man made world wonder was nothing short of spectacular. After spending quite some time at the Taj Mahal, we then headed to Kalakriti Cultural Centre to watch a live performance of the Mohabbat Taj Show, which depicts the story of the Taj Mahal. The remainder of the evening was spent at the hotel where our group had our final farewell dinner.
Read more: Visiting The Taj Mahal – Everything You Need To Know Before You Go
Agra & Delhi
Day 15 (Final Day)
Our final day in India had us up at 4am. Early, yes, but we were going back to the Taj Mahal to visit during sunrise this time. Sleepy eyed and barely awake, our group made their way to the bus and headed to the Taj Mahal. We had an hour to ourselves to explore the grounds and I immediately took off from the group to scout some locations that I wanted to see the day before, but didn't quite have the chance to get to. Seeing the Taj Mahal twice in less than twelve hours still had the same effect on me as if seeing it for the first time; a sublime sense of sheer awe. After saying goodbye to the Taj Mahal one last time, we headed back to our hotel to have breakfast, pack our bags and check out of our rooms before heading back onto the bus to make the four hour drive to Delhi's International Airport to catch our flights back home. My flight was changed (once again) last minute two days prior to leaving India, so since my flight was the first to leave, we had to skip going to visit the Agra Fort due to timing, traffic and distance. 
As I sat in the Delhi airport, sipping a much needed ice cold beer after a less than amusing run in with a security guard outside of the terminal carrying an AK-47 (see my Instagram story highlights for that info), I had some time to reflect on my two week journey through India and process everything that I've seen, heard and experienced. Every time I conjured up another thought, I'd frantically reach for my notebook and my pen to jot things down that I wanted to share within the numerous blog posts that I would be writing about this once in a lifetime journey.
Yes, I know that I only saw a small portion of India, how could I possibly see more than I did within a two week stint? Would I go back to explore more of Mama India? Yes, in a heartbeat! Would I recommend fellow travellers to visit India and experience a culture as misunderstood as it is? Yes, most definitely! Would I tell others to fear visiting India? Hell no!
India was a place that I never in my life even imagined setting foot in, but there I was, walking on Indian soil for the first time and absolutely loving it; the chaos, the people, the food, the kindness, the hustle and the unfamiliarity of it all. I'm extremely glad that I jumped aboard this group trip and branched away from my "solo travel girl" mentality, even if it is only once every few years. 😉
I travelled to India with Vivid Life Journeys in partnership with Toerboer based in South Africa and Ashoka Holidays based in Jaipur, India.

Let's get social!