This post contains affiliate links to products and or services.  I may receive a small commission for purchases made through these links, but with no additional costs to you.
For those travellers visiting Croatia that are typically drawn to the coastal area with azure coloured water, pebbled beaches and picturesque views from towns made of what seems to be completely of stone, have I got a surprise for you. You may never have heard of this place if you're not from Croatia, but I can tell you one thing…it is absolutely worth visiting.
Welcome to Šibenik.
Located in the heart of the Dalmatia region of Croatia, Šibenik is the oldest Slavic town on the Croatian coast and the only city in the region that was founded by Croats. Šibenik possibly dates from the 11th century, or even as far back to 1066 and switched between Croatian and Venetian rule over the following few centuries, with the longest period being under the Venetians from 1412 to 1797.
During this time, the town grew in importance and for a while during the 16th century, it became the largest town in Dalmatia. After the fall of Venice, Šibenik briefly became French for eight years, before becoming part of the Austro-Hungarian Empire until its break up after World War I. At this point, Šibenik became part of newly-formed Yugoslavia. During the horrible Balkan war in Croatia in the early 1990's, Šibenik was heavily shelled and a number of buildings were damaged, including some historic ones, which were all eventually repaired in the following years.
As soon as I got off the bus and made my way along the long seaside promenade, I instantly fell in love with Šibenik. It was my first time visiting and I quickly knew that I had to come back again. Everyone said hello, or dobar dan specifically, as I passed. As I strolled along the promenade with my luggage along my side, I could feel a smile starting to form on my face.

Upon making my way to the grandiose staircase that leads up to the Cathedral of St. James, I was in absolute awe. In true Tosh fashion, after being in a beautiful European city for under an hour, I was already thinking to myself, "Should I move here?" Technically, as a Canadian-Croatian dual citizen now, I very well could keep that dream in the back of my mind for future. 😉
Read more: 25 Photos That Will Inspire You To Book A Trip To Croatia
I spent an amazing two days exploring Šibenik. I enjoyed its historic medieval streets made entirely of stairs, ate delicious traditional Croatian food that gave me a sense of home while away travelling and of course, basked in the beauty of the Adriatic Sea, which was the perfect place to wander aimlessly after a few cheeky beers.
If you are travelling to the coast of Croatia and are looking for a place that isn't filled to the edges with tourists (I'm looking at you, Dubrovnik), why not visit the town of Šibenik?
Here's my extensive two day guide for visiting Šibenik.
Read more: 12 Reasons Why You Should Visit Croatia
Getting to Šibenik
Whether you have a rental car, or would rather take local buses around during your trip, getting to Šibenik is easy and convenient. If arriving by bus, you can grab one to take you to Šibenik's own main bus station called Autobusni Kolodvor Šibenik, or Šibenik Main Bus Station. If you'd rather rent a car, you can get to Šibenik from Split in an hour, Zadar in under an hour, Zagreb in about 3.5 hours and well, you get the point. Šibenik is easy to get to from all corners of Croatia. Alternatively, if you are visiting nearby Knin, Unešić or Perković, you can grab a train that services Šibenik's train station a few times per day.
Cathedral of St. James
The magnificent Gothic-Renaissance styled Cathedral of St. James (Katedrala sv. Jakov), is the most dominating building within Šibenik and is on the UNESCO World Heritage list. This grand cathedral was built between 1431 and 1536 from limestone and marble. The early stages of the cathedral were designed and built by Italian architectural masters, but between 1444 and 1447, construction work was under the direction of the famous Croatian sculptor Juraj Dalmatinac. The exterior is made of gleaming white stone and adorned with 70+ lifelike looking head sculptures of men, women and children, which there is no true background on whom they represent. Make sure to take a few moments to walk around the perimeter of the cathedral to truly appreciate the beauty of it all. Step inside to marvel at the massive cathedral and make your way downstairs to the Baptistry, which has a very intricately carved ceiling.  Yes, you will need to pay a small fee to enter the cathedral if you're not there for mass, however, your fee also gets you free entry to a museum about the history of the cathedral, which I'll cover shortly. For all the Game of Throne fans out there, the Cathedral of St. James is the setting for the Iron Bank in the City of Bravos. Although beautiful, this cathedral has seen its fair share of war. The interlocking stone slabs of the cathedral's dome roof were heavily damaged when the city was shelled by Yugoslav forces in 1991. The damage has since been repaired between the years of 1992 – 1997.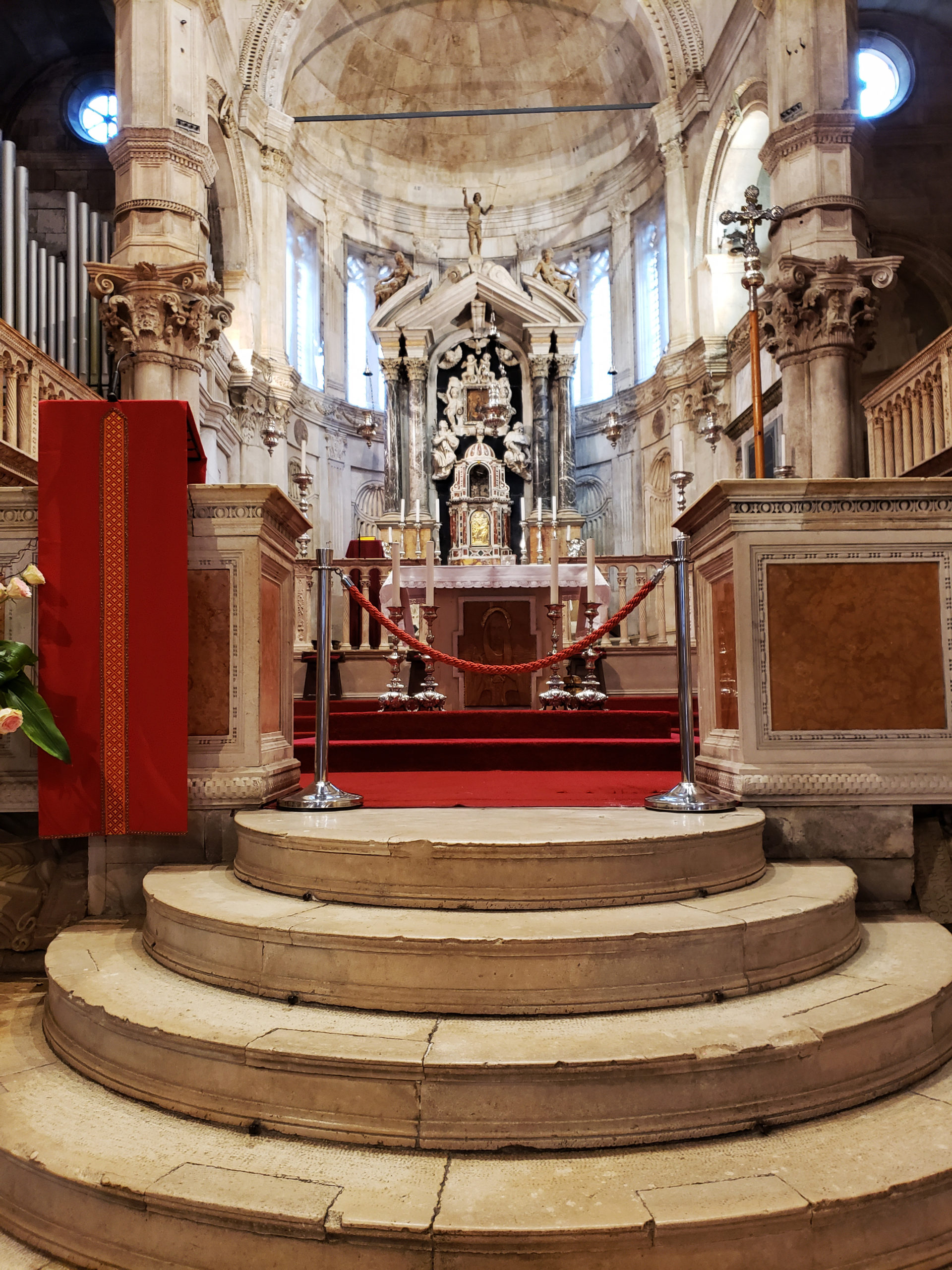 The Interpretation Centre of St. James Cathedral
After spending a bit of time in St. James Cathedral, make your way to the Interpretation Centre, or Civitas Sacra, to get some insight on the history of Šibenik and the cathedral itself. It is free to enter if you paid to see the cathedral, so make sure you don't lose your ticket, as you will need to show it as proof to enter for free. I feel that a lot of people skip this museum, but I found it quite interesting and I spent a little over an hour inside during an extremely rainy and windy day. It made for the perfect indoor activity. The permanent exhibition consists of three floors that showcase everything from valuable paintings from Croatian history, the history of the completion of St. James Cathedral, interactive videos, as well as a room dedicated to the destruction and rebuilding of the dome roof during the Balkan War in the 90's.
Church of Saint Barbara
The little Gothic-Renaissance beauty situated behind St. James Cathedral is the Church of St. Barbara, or Crkva sv. Barbare, which was built around the 15th century. On the front of the building, there is a large clock with 24 numerals. The clock has its own bell tower and bell. The second Baroque period bell from 1775 is larger. Today there is a little museum in the Church of St. Barbara, housing some very important artworks from the periods between the 14th and the 17th century.
St. Michael's Fortress
Want to grab one of the best views in Šibenik? Then head to St. Michael's Fortress, or Tvrđava sv. Mihovila. During the medieval times, the fortress became a source point of the defense fortification system of walls and fortresses of Šibenik. The fortress owes its name to the Church of St. Michael, which was located within its walls since the 12th century. Situated on a steep hill overlooking the historic city centre, St. Michael's Fortress is the core around, which Šibenik was created. As you make your way to the fortress, you will be presented with commanding views while standing 60 metres above sea level and granted views of the mouth of the Krka River and Šibenik down below. The fortress was revitalized in 2014 and has a unique open-air summer stage, which holds concerts with a pretty epic view if you ask me! Šibenik is a town built with fortresses surrounding it. The other fortresses; St. Nicholas' Fortress, St. John's Fortress and Barone Fortress are all worthy of a visit as well if you have the time. The easiest way to reach St Michael's Fortress is through the marked path in the Old Town, but the path is quite steep, filled with stairs and might not suit everyone, so keep that in mind when visiting as well. At the time of my visit (Nov 2022), the cost to enter the fortress was 75,35 HRK, or now, the updated cost of 10 €. The cost includes free entrance to Barone and St. John's Fortresses as well. For more information on visiting Šibenik's numerous fortresses, you can visit the link here.
St. Ana Cemetery
Located directly below St. Michael's Fortress, lies the final resting place of many, St. Ana Cemetery. It might be morbid to walk around a cemetery to some, but I do love visiting beautiful centuries all throughout Europe and St. Ana's is no exception. If you glance up, you'll see the imposing St. Michael's Fortress and if you look out across the cemetery, you'll see beautiful views of the Adriatic Sea and of the town of Šibenik. It's a must visit while in Šibenik.
Cave of Our Lady of Lourdes
As you make your way through the tiny streets of Šibenik, you'll come across this very unique grotto. Built in the 1920's, this interesting grotto is dedicated to Our Lady of Lourdes and many religious folks stop here to pray and light a candle.
Church of All Saints
On my way to my rental apartment, I passed this tiny little church while heading up the staircase to the street above. This is a small, beautiful medieval church made of stone is perched above the main square, which offers a spectacular and unique view of St. James Cathedral.
Šibenik Town Hall
Did I just step into Venice for a hot second? Walking through the Square of the Republic of Croatia, the Šibenik Town Hall stands with its curved arches and beautiful columns, which give it a Venetian look. It was rebuilt after it was damaged during World War II, but still resembles the original one, which was built in the middle of the 16th century. It is flanked by two carved, stone staircases, which sit on opposite sides of the Town Hall. Today a restaurant occupies the ground level and cultural events take place in the upper hall.

Wander The Old Town Streets Day & Night
Like every post that I write, I'll always mention that one of the best things to do while visiting a new city, town, or village is to put away the map (or your phone) and just get lost in the streets. Šibenik is a treasure trove of beautiful sites throughout its narrow medieval streets. A maze of paved and cobbled streets connect all the major attractions; sometimes, the streets pass underneath a beautiful arch or even through a tunnel. Šibenik is a town that was built on a rocky coastal area and there are some elevation changes as well, which are conquered by, you guessed it, steep stone stairways that never seem to end. I highly suggest wandering around both during day and night because the streets of Šibenik take on a glorious golden hue as the lantern style lights create a glow unlike anything I've seen before.

Perivoj Roberta Visanija Park
This lush park was named after 19th century botanist, Roberto de Visiani who was born in Šibenik. The park was built around 1895 and is located in the centre of the city between Poljana Square and the Šibenik waterfront. It was thoroughly renovated in 1995 when the park space was mostly occupied by Mediterranean plants. The park's thick greenery makes for the perfect shady getaway from the blistering hot sun of the Dalmatian summer months.
Poljana Square
The new Šibenik main square with archaeological park and a garage and logistics centre underneath, is designed to integrate modern and medieval together as one functioning public space. The whole project is an integral part of the general redesign of the existing Poljana Square (by architects P. Simetin and I. Tutek) and was completed in the summer of 2020. There is even music playing from speakers within the square, so it's a great place to come and sit and relax while watching everyday life pass by. 
Medieval Mediterranean Garden of St Lawrence Monastery
After being forgotten for almost a hundred years (crazy, I know!), this garden was restored and reopened to the public in 2007. A fountain sits in the centre of the stone-walled garden, which is surrounded by medicinal and Mediterranean herbs. This design is said to be very similar to the way the Franciscan monks would have planted it. The garden is a little bit hidden in the Old Town, but worth the effort to find. The garden is on the same path that leads to St Michael's Fortress, so it might be a great place to visit after for a nice drink at the café located inside. Upon my visit, the site was closed for renovations, so I was unable to visit.

Stroll Along The  Promenade
No visit to Šibenik is complete without taking a lengthy stroll along its beautiful promenade. Numerous times a day, I would walk the entire length of the promenade, from the bus station, all the way to Banj Beach. There are a bunch of restaurants, pubs and shops located all along the length of the promenade, so if you're feeling hungry, or thirsty, you can easily duck into one for a quick drink and snack. Grab a seat at one of the many seating areas to watch local fishermen reel in the local catch, or to enjoy one of the best sunsets I've seen during my trip.
Grab A Beer In A Local Pub
I had the pleasure of visiting Šibenik during the FIFA World Cup and let me tell you, visiting Croatia during soccer, or futball season is unlike visiting during any other time. The bars are packed solid, even when Croatia is not playing, people are drinking, laughing, dancing and just overall having a damn good time. Nothing gives you that "live like a local" experience than grabbing a beer in a small (and smokey) local pub where you are the only tourist (and probably the only non-smoker). Šibenik is full of small bars along the promenade towards Banj Beach, which are typically cheaper and filled with locals.
Take A Day Trip To Krka National Park, Split, Trogir Or Zadar
Šibenik is a great place to base yourself during your travels if you are looking to avoid the hustle and bustle of more popular cities in the surrounding regions. Due to its great geographical position, you will be able to visit many cities south and north from Šibenik and get to know Dalmatia's rich history, culture and breathtaking nature. A day trip to Krka National Park, Split, Trogir, or Zadar can be done easily while staying here. There are daily tours that depart Šibenik for Krka National Park (if you don't have a rental car), or if you want to save on some cash, hop on a Flixbus to neighbouring cities for the day.
Read more: A Complete City Guide To Zadar, Croatia
Read more: A Complete City Guide To Zagreb, Croatia
Banj Beach and Šibenik Viewpoint

Banj beach is the main beach in Šibenik. You can reach it easily from the centre of Šibenik in about ten minutes while walking along the waterfront. This beautiful pebble beach with a handful of facilities, such as an outdoor exercise ground, is ideal for families with children, as well as for all sports enthusiasts. The water is clean and in the summer months, filled with locals and tourists trying to cool off. There is an elevated viewpoint just a few metres away that offers what is, in my opinion, the best view of Šibenik, hands down! I made sure to visit this viewpoint a few times during my two day stay, just because it was so pretty. It certainly gave off major Italian vibes similar to places like Cinque Terre, but on a smaller scale.
Where To Eat
Whether you're into meat and potatoes, seafood, or just looking for something sweet to treat yo'self with, Šibenik has anything and everything your foodie heart desires. I love a good 'ol fashioned konoba, which is a registered restaurant where the dishes of local regions are prepared with local ingredients in a very traditional manner, so I made sure to visit a couple during my visit. Local and traditional bakeries were high on my list as well and of course, I'll share my favourites with you. Here are some places that I suggest going while in c:
Konoba Marenda: I can't speak highly enough about this place. If you are looking for some homemade, traditional Croatian comfort food with massive portions at a fantastic price, look no further than Konoba Marenda. Even locals flock here for food and to sit outside and chat away with the owners. If it's good enough for the locals, then you know it's good enough for you. There is a very limited daily menu, so you have the choice of only a couple dishes, but don't let that steer you away. It will be the best meal of your entire trip, by far!

Bava: I stumbled upon this bistro by pure accident and I'm telling you, this was the best pasta I've ever eaten. I ordered the handmade pasta with steak and truffle cream sauce and if you want to experience high class taste at a great cost, you need to visit Bava. They also have an array of wine, beer and drink choices and the staff was so kind, they even offered me a free dessert that night. 10/10 recommend! 
Caffeteria Giro Espresso: Tucked away within the medieval streets of Šibenik, Giro Espresso made for a great stop for a quick coffee in the morning. Even in the cooler months, there are blankets located outside to stay warm and cozy. 
Stari Grad: Situated right along the promenade, Stari Grad had some great home cooked styled dishes that reminded me of eating back at home. Home style potatoes, a hot bowl of chicken soup and a couple of beers really hit the spot on a cool, windy and extremely rainy day. The service was extremely friendly and attentive, which made for a great lunch experience.
Buffet Šimun: Located approximately 20 minutes outside of the old town centre, is this somewhat hidden gem of a konoba with the best food and incredible prices. The restaurant is filled with local regulars chatting and drinking and the owner is absolutely amazing. He is so kind and chatty and even gave me a free shot of his family's homemade cherry liquor, which was really nice after the meal. The massive portions will make you glad that you have a long walk back to the centre to digest everything. Highly recommend this place. 10/10 for taste, service and ambiance! *chef's kiss*
Pekarna Dalma: Located across from Poljana Square, Pakarna Dalma is the best place to go for fresh baked goods at a low price. The chocolate croissants are to die for. Don't miss out on this bakery!
Where to Stay
Šibenik has an array of places to call home for a few nights that suit any budget size. Whether you want to stay at a higher end hotel right in the heart of Šibenik's medieval streets, or prefer to stay at a modest local apartment, like I prefer to do, Šibenik has everything to suit any of your accommodation needs. I spent two nights in a small apartment located in the historic city centre with an epic sea view directly outside my back door. From the patio, I also had an amazing view of St. James Cathedral and had the church bells provide me with a daily dose of music.
Šibenik was one of those places that I could seriously see myself living in the future. It provided the perfect playground for sightseeing, incredible dining and just had an all around good vibe to it. Have you ever been to Šibenik? Is it a place that you never knew about, but would visit after reading this post? Let me know in the comments below! xo
Let's get social!