This post contains affiliate links to products and or services.  I may receive a small commission for purchases made through these links, but with no additional costs to you.
"Though it be to die, we will fight. We will fight not for ourselves, but for future generations. Although we will not survive to see it, our murderers will pay for their crimes after we are gone and our deeds will live forever." – Izhak Katznelson
When you think of Warsaw, or Warszawa, what's the first thing that pops into your head? Devastation? War? Grey concrete buildings? Sad people? Whatever your initial thoughts about Warsaw may be, remember that this is a city that has literally been rebuilt from ashes after being razed to the ground, so I want you to throw those impressions about Warsaw out the window.

Read more: 2 Days In The Quaint Mountain Village Of Poronin, Poland
Read more: One Day In Bielsko-Biała – A Unique Polish City Off The Beaten Path
Warsaw was a city that surprised me unlike any other I've been to. Yes, I knew the history that Warsaw is famously known for, but what my views of the city were before arriving, drastically changed by the time I left. I was also educated on much more than I had known about Warsaw prior to my visit, which made me appreciate this city even more so.

Read more: Getting Around Poland By Public Transit – A Comprehensive Guide To Polish Trains & Buses
Read more: Spending A Day In Opole, Poland
Read more: How To Spend A Day In Poznań: Poland's Best Kept Secret
Read more: Travelling Internationally During Covid-19: My Experience & What To Expect
After spending a few days in Warsaw throughout my travels in Poland, I found Warsaw to be interesting, strong, resilient, misunderstood, cosmopolitan and extremely complex.
Read more: How I Spent 3 Weeks Travelling Solo Around Poland
Read more: The Day I Experienced True Polish Kindness
Warsaw is commonly referred to as the Phoenix that has risen from the ashes and with great reason. Warsaw was completely devastated during WWII and over 80% of the city was turned to rubble. In 1939, Warsaw was heavily bombed by the Germans and in 1944 during the Warsaw Uprising, the Germans then decimated the city as retaliation for people of Warsaw and the Polish Resistance fighting back against German Occupation. There was virtually nothing left of Warsaw after this. The city was so badly destroyed that authorities almost dismissed the idea of rebuilding Warsaw's city centre and leave it as one big war memorial. Thankfully, they decided against that idea and the rebuilding of Warsaw would commence after the war was over in 1945. 
Read more: A Present Walk Through Yesterday's History – A Visit To Auschwitz-Birkenau
Although Warsaw has a tumultuous past, the city has been rebuilt into a modern and impressive European metropolis that is popular with tourists and filled with culture, history, delicious restaurants and beautiful parks. Popular as the city may be, Warsaw can be overlooked by some visitors due to its reputation as a grey city filled with modern glass buildings that take over the streets, but it is well worth it to spend a few days exploring Warsaw and learning about its past rather than just passing through, or only spending time within its picturesque Old Town .
Read more: What To See & Do In A Day In Rzeszów, Poland
Read more: Poland Travel Costs – A Budget Friendly European Destination
Read more: The 5 W's Of Travelling Internationally
Warsaw has overcome so much during the last few decades; German Occupation, devastating destruction, Communist Rule and in the end, freedom and independence. A city that has had such a gloomy and dark past is now brimming with a bright and glorious future and definitely deserves more credit as a place to visit while in Poland. 
I wasn't expecting to enjoy Warsaw too much, if I'm being completely honest, since I'm not much into big metropolis cities and I had read a lot about it being a city that has a great Old Town and not much else, but I was completely wowed by what I discovered during my visit and what I learned about Warsaw's past and in the process, discovered some hidden gems that are unknown to many tourists.
If you are intrigued by Poland's history, there is no better place to begin your trip than the vibrant and exciting capital city. By the end of this post, I hope to change your views and impressions of Warsaw, so let's get to it! Here is my ultimate city guide to visiting Warsaw, Poland.
Getting To Warsaw
Arriving in Warsaw is easy and accessible by rail, bus or plane from all over Poland. Warsaw Chopin Airport is the main international hub for planes coming into Poland from around the world and also serves domestic flights as well. Warsaw Chopin Airport, which is the largest and busiest airport in Poland, is a short distance from the city centre and can be reached by train in a matter of 20 minutes. Ultimately, the best way to get to Warsaw is by rail in my opinion from around the country. It's relatively quick, comfortable, affordable and efficient. The main rail station in Warsaw is Warszawa Centralna and is located right in the city centre. To buy train tickets, you can buy them in the station at machines, at kiosks run by salespeople, or even online at PKP Intercity's website.
Read more: Essential Things To Remember Before You Travel
Royal Łazienki Park
Royal Łazienki Park, or Royal Baths Park, is the largest park in Warsaw and it occupies 76 hectares of the city centre. The Łazienki Palace was originally built in the 17th century as a private bathhouse for Stanisław Herakliusz Lubomirski, owner of the adjacent Ujazdowski Castle and the land around it. The bathhouse was bought by the last king of Poland, Stanisław August Poniatowski in 1766 and was converted into a private residence and was then called the Palace on the Isle. The surrounding green space and lakes are the perfect retreat from the busy city life for Varsovians (Warsaw locals) and visitors from Poland and around the world. During WWII, Łazienki Palace and Park was closed to Poles as the German Occupation took over. Before evacuating the palace towards the end of the war, the German military doused the walls with gas and lit the complex on fire. They were eventually going to blow it up with dynamite, but never had the chance to. For all the classic Chopin lovers out there, make sure to stop by the Frédéric Chopin Monument in the park during the summer months because every Sunday there are free piano concerts held here, which is a very popular attraction within the park.
Old Town
No visit to Warsaw is complete without visiting the UNESCO World Heritage Site that is Old Town, or Stare Miasto and getting lost in its tiny streets. Despite the name, Warsaw's Old Town is relatively new because it was rebuilt after WWII due to the absolute destruction of the area. The Warsaw Construction Office took six years to plan out the rebuilding of this historic centre by using old street plans from the 18th century. Spend some time walking around the colourful streets and stop into one of the many inviting cafés, shops and restaurants. Another beautiful attraction is the salmon coloured Royal Castle, or Zamek Królewski w Warszawie, which is a royal residence that formerly served throughout the centuries as the official home of Polish monarchs. It is situated in Castle Square (Plac Zamkowy) at the entrance to the Warsaw Old Town. While wandering around Plac Zamkowy, you'll come across Sigismund's Column (Kolumna Zygmunta), which was originally erected in 1644. The column and statue commemorate King Sigismund III Vasa, who in 1596 had moved Poland's capital from Kraków to Warsaw. The prettiest place in Old Town without a doubt, is the Old Town Market Square, or Rynek Starego Miasta, which is surrounded by colourful historic town homes, street performers and is normally filled with tourists during peak season. Make sure to check out the remains of medieval architecture with the Warsaw Barbican, which was erected in 1540. The Warsaw Barbican, or Barbakan Warszawski is a semicircular fortified outpost within Warsaw's Old Town and is one of the few remaining pieces of the historic fortifications that once encircled Warsaw.
Read more: How To Spend The Perfect Day In Wrocław, Poland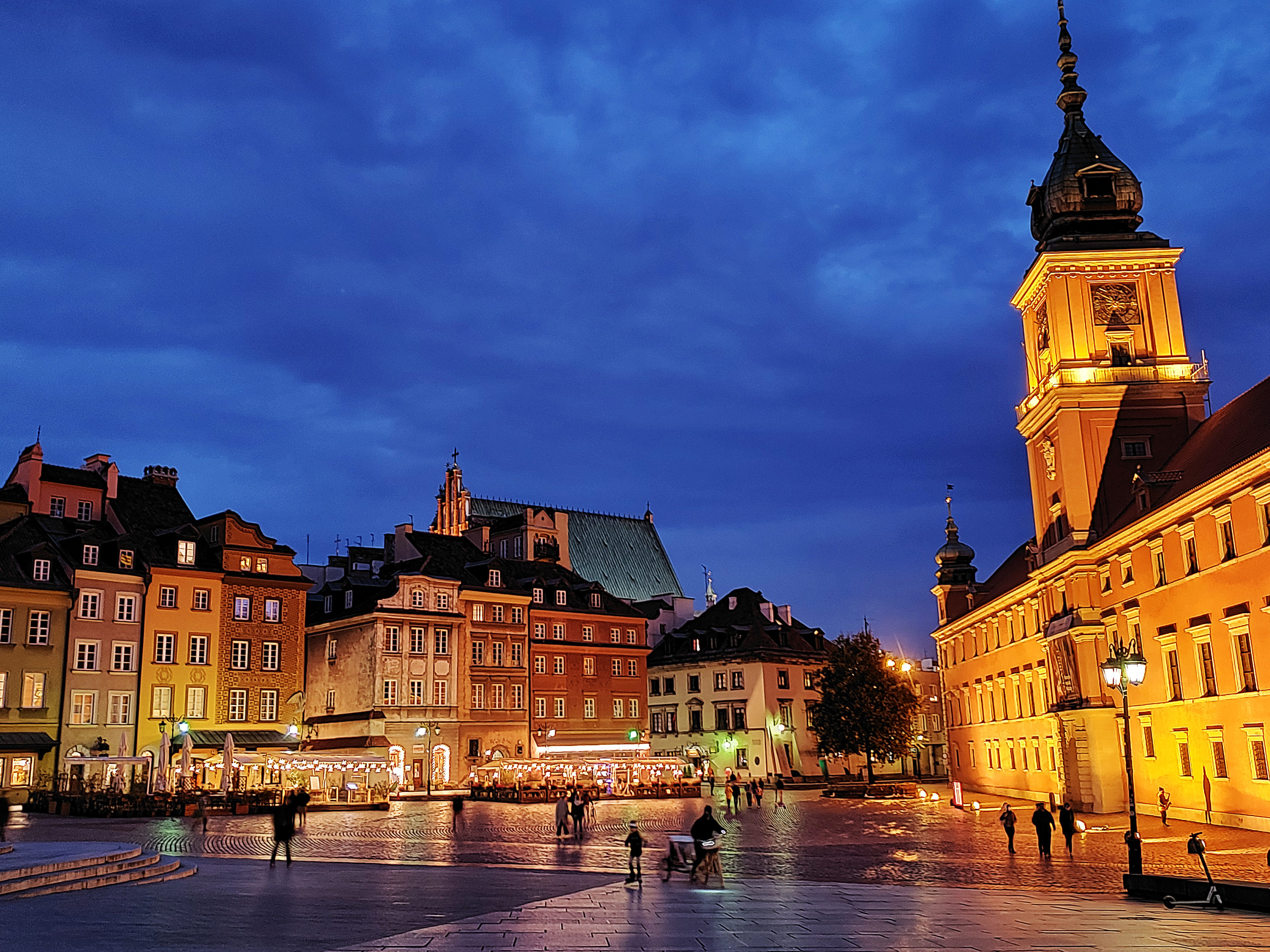 Syrenka (Mermaid Statue)

While walking through Old Town, you're bound to see the beautiful Syrenka, or Mermaid Statue proudly on display in the heart of the square. Although there are two mermaid statues in Warsaw (Old Town square and right next to Świętokrzyski Bridge), the most popular one is definitely situated within the market square. There is a famous legend that goes with Syrenka. It is said that nearby Warsaw Old Town a beautiful mermaid came out of the Vistula river to rest on its banks and she liked it so much that she decided to stay there forever. Unfortunately, the fishermen living nearby decided to lock her up because she was tangling the fishing net and let their fish go free, but when they heard the beautiful voice of Syrenka, they left her alone to enjoy her singing. Then one day, a rich merchant saw the mermaid and imprisoned her. A few days later a young fisherman heard her crying and let her free at night. The mermaid was so grateful to the fisherman for giving her freedom that she promised to defend Warsaw and its residents and this is why she is armed with a sword and shield.
City Centre

Śródmieście, meaning City Centre, or Downtown is the main artery of modern day Warsaw. Filled with shopping centres, glass buildings, constant construction, high end restaurants and so much more, this area is constantly bustling with commuters, tourists and business professionals. Śródmieście is home to the tallest building in Warsaw, the oldest public park in Warsaw, the oldest university in Warsaw and many large businesses and banks call this area home with their home offices. The major transportation hub, Warszawa Centralna can also be found in the centre of it all and will more than likely be your point of arrival and departure to and from Warsaw. Even though Śródmieście may seem overwhelming with its busy streets and uber contemporary feel, I'd recommend stay in this area when visiting Warsaw due to its close proximity to many attractions, museums, shopping districts, public transit and if you really look for them, some really unique and cozy coffee shops.
Read more: What Will The Future Hold For Travel After 2020
Warsaw Uprising Museum
As someone who enjoys learning about WWII history (I even took history as an elective course all through high school 😐 ), I cannot recommend visiting the Warsaw Uprising Museum enough. The Warsaw Uprising started on August 1st, 1944 and lasted a violent, bloody and destructive 63 days. During those 63 days, Polish military, insurgents and civilians (some were mere little children), took to the streets and tried to stand up to the German Occupation that was taking over and destroying their city and country. Unfortunately, the people of Warsaw were murdered except for a few that were able to escape the horrors. If you only have time to visit one museum while in Warsaw, make sure to visit the Warsaw Uprising Museum to learn so much about the greatest and largest underground combat operation during the German Occupation of Europe in WWII. There is a lot to see within the museum, so make sure you give yourself at least two hours to make your way through. If you are in need of a snack, or a coffee for a little pick-me-up, there is a really cute café called Kawiarnia Pół Czarnej within the museum that is decorated like an old home during the war era days complete with wooden furniture, old photos and doilies on the tables. The museum is located about a 45 minute walk from Old Town, so unless you enjoy walking, perhaps stay in the city centre, or take public transit.

Praga District
To get a feel of pre-war Warsaw, head on over to the Praga District across the Vistula River. As you make your way across the Śląsko-Dąbrowski bridge from Old Town, you'll come into the Praga neighbourhood, which was quite untouched during WWII, so the grittiness and character of the district lives on post war. The Art Nouveau buildings of Praga have peeling paint, crumbling exteriors, bullet holes from over 75 years ago during WWII and a colder vibe then that of downtown and Old Town Warsaw across the Vistula. Many tourists have been told not to venture to the area, due to its reputation of street gangs and unfavourable edgy reputation. Praga is essentially the antique district of Warsaw, which has been almost forgotten about by local authorities when it comes to financial help to upkeep the buildings. I liked Praga's gritty and edgy vibe though and I feel like tourists should definitely give this area a chance and not listen to the naysayers. Praga is filled with cool coffee shops, amazing restaurants, eclectic clothing boutiques and cool museums, such as the Neon Sign Museum, just waiting to be explored. Today, Praga is a cool, up and coming area, especially for artists, students, musicians and tourists looking to experience an alternative side of Warsaw. There are so many great street art murals located all throughout Praga, so make sure to keep your eyes peeled for them, since this district has a great art scene that is constantly growing. I wish I had more time to take some photos in Praga, but it started to get dark very early in the day.

Walk The Royal Route
The Royal Route is without a doubt, one of the most popular walking attractions in Warsaw. The Royal Route is made up into two parts; Ulica Nowy Świat (New World Street) in the south of the city then turns into Krakowskie Przedmieście (Kraków Suburb Street) towards the north. The famous route connects three former residences of Polish rulers: The Royal Castle, Łazienki Królewskie and Wilanów Palace. While walking the Royal Route, you will also pass many historic buildings, palaces, manor houses and churches, starting at Wilanów Palace and then ends at the Royal Castle within Old Town, or vice versa if you are walking the opposite way. You will also pass the Holy Cross Church, which is home to Frédéric Chopin's heart, which is placed in one of the church pillars, the Nicolaus Copernicus Monument, the Kazimierz Palace, Visitationist Church, the Presidential Palace and many more points of interest on this beautiful route in Warsaw. If you have the privilege to visit during the lead up to Christmas, the entire Royal Route is lit up with thousands of lights, which creates a magical spectacle that you must see to believe.
Eat Traditional Polish Food
If you are on a diet, DO NOT go to Poland. Poland's food is hearty, filling and oh-so-good. In my household, I grew up eating a lot of Polish inspired and slightly similar dishes, even if we are Croatian-Slovenian, so Polish cuisine definitely has a comfort food feel for me. Warsaw, being the cosmopolitan place that it is with an eclectic amount of restaurants to choose from, also has an impeccable amount of traditional restaurants just waiting for you to visit. Some of the traditional dishes you must try while visiting Warsaw are: Pierogi (Polish dumplings), Kapusta (braised sauerkraut), Kielbasa (Polish sausage), Barszcz (beetroot soup), Placki ziemniaczane (potato pancakes) and my personal favourite, Żurek (sour rye soup). That being said, Warsaw is a mecca for foodies and you should diversify your meals with amazing sushi restaurants, quaint Italian eateries and buzzing food halls filled with delectable bites to try. There are so many food options in Warsaw, so do yourself a favour and indulge a little. 😉 You can always walk everywhere if you're concerned about the calories you will consume in the process.
Read more: How To Find Great Places To Eat While Travelling
Tomb Of The Unknown Soldier
One of the monuments within the city centre and located at Plac Marszałka Józefa, is the Tomb of the Unknown Soldier. This monument is dedicated to the anonymous victims who died fighting for Poland's independence and was erected in 1925 under a fragment of the old Saxon Palace that was destroyed by the Nazis. The Tomb is constantly lit by an eternal flame and is watched in silence by two guards of the Representative Company of the Polish Army. Within Plac Marszałka Józefa, is where most official military commemorations take place in Poland and where foreign representatives lay wreaths when visiting the country. The changing of the guards takes place on the hour of every hour daily and this happens 365 days a year. You are allowed to take photos of the guards, but they will not speak to you if you try to talk to them.
Saxon Garden
Looking for a quiet place to relax with a coffee and just chill out? Look no further than Saxon Garden, or Ogród Saski in Polish. Saxon Garden dates back to the 18th century and is a Baroque style park with beautiful statues throughout its tree covered grounds. Being the first public park in Warsaw, Saxon garden is also quite the tourist attraction to visitors in Warsaw. The Garden is located right in the city centre, between Marszałkowska Street and Piłsudski Square (Plac Piłsudskiego) and is situated approximately 1 kilometre from the Old Town, making it the perfect stopping point to sit down on the many benches and take in the gorgeous greenery. If you get hungry, there is even a restaurant located right in the park.
Palace Of Culture And Science
Standing 237 metres tall in the city centre, sits the Palace of Culture and Science (Pałac Kultury i Nauki), which was a gift to Warsaw from Stalin and the Soviet people. Varsovians and Poles in general, either love it, or hate it. It's been lovingly referred to as "Stalin's Dick" due to its symbol of Russian dominance. Constructed in 1955, this massive building houses offices, museums, restaurants, sports clubs, a viewing platform on the 30th floor (114 metres) and it's even home to the Warsaw Tourism Board. During the construction of the building, over 5,000 workers were employed (for little or no pay apparently) to build the monstrous concrete structure and 16 people died in the process. Pałac Kultury i Nauki can be seen from almost every corner of Warsaw, so it does make for a great visual place holder to where you are in the city. Whether you see the Pałac Kultury i Nauki as a symbol of rebirth after the war, or a reminder of the Communist Eastern Bloc days, everyone can agree that the building is a notable symbol of Warsaw's city skyline.
Elektrownia Powiśle
Elektrownia Powiśle is a historic power plant that has been around for over 100 years and was opened in 1904 and used to power the city of Warsaw. The power plant has internal memories left from WWII, such as bullet holes that were left and can be seen in some of the structural portions of the steel beams. Elektrownia Powiśle has now been completely renovated into shops, restaurants, a hotel, offices and by far the coolest and most Instagrammable washroom I have ever seen. The amount of history within the building is mind blowing and for a WWII history lover like myself, it was a real treat to get to see this building with bits of the past still left in tact, or repurposed into its design. There was even a concrete pillbox at the front of the old gate area of the power plant that was left behind as a monument. A pillbox is a type of blockhouse, or concrete dug-in guard post, normally equipped with holes, or slits to fire weapons.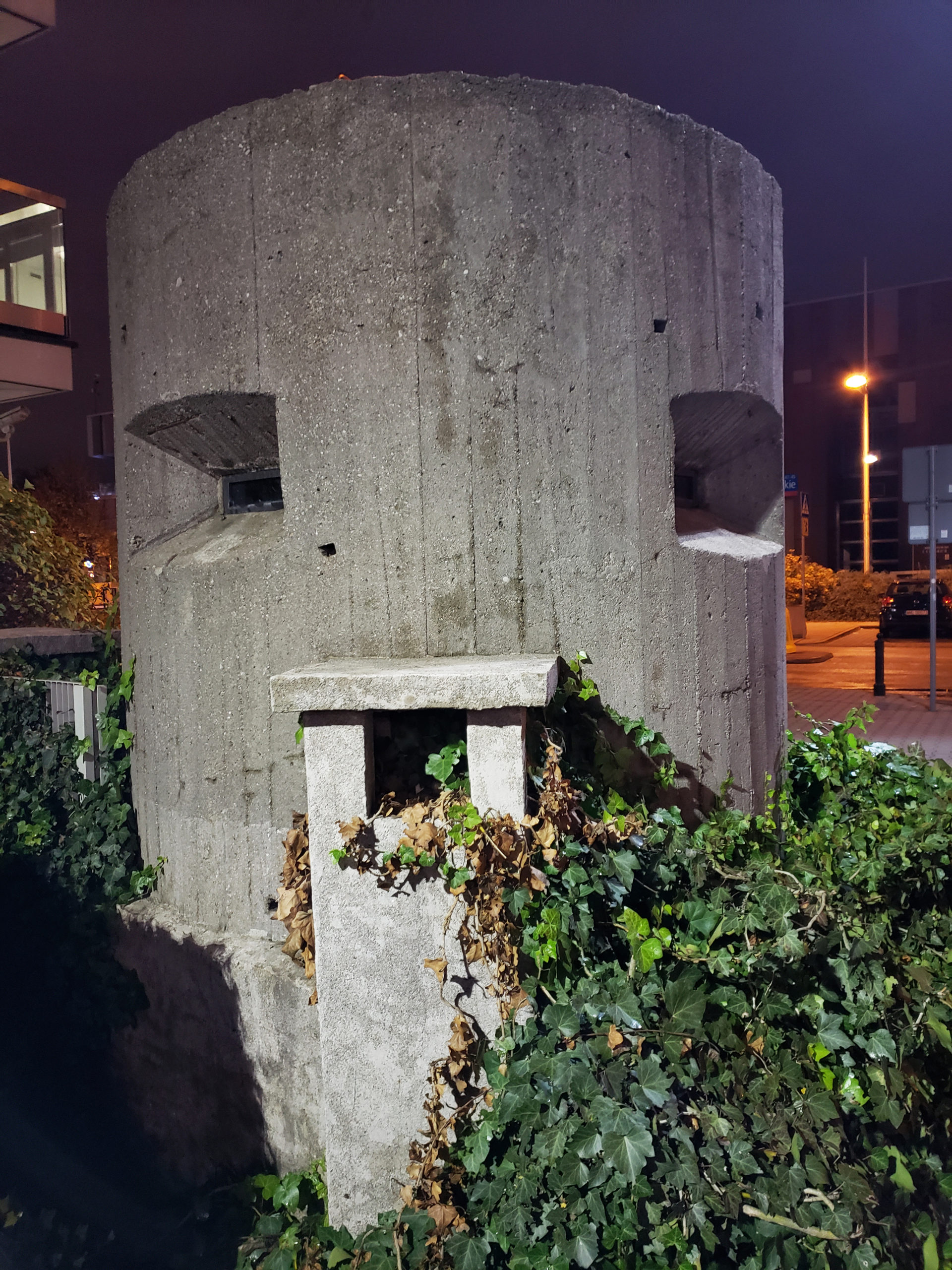 Warsaw Vodka Factory "Koneser"
If you find yourself in the Praga district, do yourself a favour and stop in at the old Koneser Vodka Factory, which produced the country's spirit of choice from 1897-2007. The massive complex is filled with 19th century Neo-Gothic buildings that was mostly used as an artist hangout over the years, but has since then been renovated into a beautiful area filled with bars, restaurants, museums, unique shops, offices and even chic modern industrial styled apartments. Oh, and even Warsaw's Google headquarters is stationed here at Koneser. For a full list of events, things to do and places to see within the complex, visit Koneser's website.
Chopin Musical Benches
These awesome musical benches combine technology with history and music from the famous composer and pianist, Frédéric Chopin and were introduced to Warsaw in 2009. There are 15 benches scattered throughout the city and placed near historical buildings, within parks and other important areas around Warsaw. Each bench has its own tune and to hear it, just press the button on the top of the bench, have a seat and enjoy the relaxing music. If the streets are busy, the music may be hard to hear, but if you play it when traffic is slower, or at night, then you'll treat your ears and surrounding area to the sound of beautiful Chopin. There is even a QR Code, which enables you to download the Chopin App with the audio mp3 guide to Chopin's music and life. To find all of the benches around Warsaw, you can find a list of locations at the Cyberparks website.
Warsaw Ghetto Wall
Although part of a darker side of Warsaw's history, the location of the Warsaw Ghetto Wall monument should be one of the areas of the city that you should visit. The corner of Ulica Świętojerska was once the busiest corners for trading pre-war in the Jewish Quarter of Warsaw. Before WWII, a staggering 300,000 Jews lived in the area and made up a 30% of the population. The Warsaw Ghetto was built in 1940 and was where all the Jewish people from Warsaw and from other areas of Poland were forced to live. Within the Ghetto, there was an elaborate system of gates and staircases, which allowed the Jewish people to move within the walls, but nobody was allowed to leave and was essentially walled in away from the rest of society. Approximately 380,000 Jews were squeezed into the small span of an 18 kilometre radius and were in less than ideal conditions. Sadly, within six years, 90% of the Jewish population would be decimated by being sent to concentration camps, or murdered during the Warsaw Ghetto Uprising, which only lasted a bit over a month, which started on April 19th 1943 and ended May 16th 1943 when the Jewish Fighting Organization (ŻOB) launched an attack on the German forces as they entered the gates. The Jewish people knew that they were destined to die, but they decided they'd rather go down fighting with dignity then to be quiet and head to be slaughtered by the Nazis.
Warsaw is a city that surprised me with its impressive rise from a horrible past. A city so thoroughly ruined and ravaged by war, has become one of the leading tourist destinations not only within Poland, but within continental Europe. If you're looking to visit a city that is a melting pot for culture, history, ambiance, shopping and food then look no further than Warszawa for your next getaway destination.
There is so much to Warsaw and you could easily spend an entire week there and not see everything. Other places of interest to me that I would've liked to see are; the Warsaw History Museum, the University Royal Gardens, Politechnika Warszawska, Muzeum Zycia PRL, Neon Sign Museum and SO much more. There is something for everyone who comes to Warsaw and I assure you that you won't be bored with nothing to do, or see during your visit.
Read more: How To Spend One Day Exploring Gdańsk, Poland
Where To Stay
Warsaw is teeming with places to stay no matter what your budget is. The city itself is quite affordable when comparing it to other European capital cities. Whether you want to stay at hostels, hotels, or rent a local's apartment for the night, You'll be spoiled with tons of choices in Warsaw. During my stay in Warsaw (spanning three days) I opted to rent apartments, or apart-hotels. All of the places I stayed were found on Booking.com for an incredible price.
Have you guys ever been to Warsaw? Is it a city that you've never thought about visiting before, but are intrigued to go? Let me know in the comments below. xo
Thank you so much to Agnieszka from the Warsaw Tourism Board who graciously showed me around Warsaw during my last day in the city.
Let's get social!