This post contains affiliate links to products and or services.  I may receive a small commission for purchases made through these links, but with no additional costs to you.
During the second half of my adventures through Poland, I made it my personal mission to visit some cities, towns and villages that were off the regular tourist's radar. I wanted to see places in Poland that many others didn't know about and show travellers from Europe and around the world that there is more to see in Poland than the big popular cities.
Welcome to Opole, Poland!
Read more: Poland Travel Costs – A Budget Friendly European Destination
Read more: Getting Around Poland By Public Transit – A Comprehensive Guide To Polish Trains & Buses
From the moment I laid my eyes on photos of Opole's stunning Old Town, which is situated along a calm canal and home to a colourful Rynek filled with inviting restaurants, shops and churches, I knew I had to visit. As I made my way from the main train station to my hotel, I crossed over old bridges and Opole's famous canal that runs just outside of the Old Town area. I could easily see why Opole had been named the Venice of Poland.
Read more: One Day In Bielsko-Biała – A Unique Polish City Off The Beaten Path
Read more: Discovering Beautiful Zakopane – Poland's Most Popular Mountain Village
Opole is located in southern Poland along the Oder (Odra) River and is the capital of the Polish province with the same name. It is also considered one of the oldest cities in Poland, which dates as far back as the 8th century. Opole is very much under the tourism radar even though it is conveniently located about halfway between Wrocław and Kraków and boasts some very picturesque streets, green spaces and a lot of history that spans many rulings over the years gone by.
Read more: The Day I Experienced True Polish Kindness
Over the years, Opole was under numerous rulings over its extensive history, which included Polish, Bohemian, Prussian, German and eventually back to Polish after WWII in 1945. Many Polish people with German ancestry still reside within the Opole region, but within the city itself today, the ethnic Germans make up less than 3% of the population following the expulsions of the Germans after the war.
Read more: A Present Walk Through Yesterday's History – A Visit To Auschwitz-Birkenau
Read more: Travelling Internationally During Covid-19: My Experience & What To Expect
Read more: How To Spend One Day Exploring Gdańsk, Poland
The day I arrived in Opole was the first day of Poland closing down all restaurants for dine in service, which sucked big time. You couldn't even get served to dine on the patio, but most restaurants were smart and still let you dine outside on their patios, so long as you had takeaway containers. Smart for business, but not the best for the environment. I'm not proclaiming to be a model environmentalist, but the amount of excess garbage and plastic from takeaway containers was pretty disheartening to see. I managed to make the best of it though and thankfully I had really nice weather during most of my travels. The only way to dine indoors was if your hotel had a restaurant and only guests were allowed to dine in. My restaurant had one of the best rated restaurants in Opole apparently, so I lucked out when it came to dinner time.
Read more: 2 Days In The Quaint Mountain Village Of Poronin, Poland
While most tourists to Poland tend to stick to the more popular cities, I highly suggest adding Opole to your Polish itinerary and if you want to spend a few days exploring the region, Opole makes for a great place to base yourself in. I was pleasantly surprised with this hidden gem of a city and found Opole to have such a relaxed vibe filled with beautiful architecture and friendly people.
Here is my guide on how to spend a day exploring Opole, Poland.
Read more: What To See & Do In A Day In Rzeszów, Poland
Read more: What Will The Future Hold For Travel After 2020
Read more: The Ultimate City Guide To Visiting Warsaw, Poland
Getting To Opole
Arriving in Opole is easy and accessible by rail, bus and car and can be reached by all major cities and towns in Poland. If you are coming from Warsaw, it will take just under three hours to arrive in Opole by train.  The main rail station is Opole Główne and is a short walk from the city centre. The first part of the station was completed in 1853, but the original building was destroyed and another one was built in around 1899 and in 1926, underground access to platforms was constructed together with the second building housing the entrance hall. The station building built in a mix of styles with Neo-Gothic, Neo-Renaissance and Neo-classical elements. Opole Główne is a crucial rail junction in the Opole Province, as it serves several connections including the major lines to Wrocław, Częstochowa, Warsaw, Kraków, and Strzelce Opolskie. Make sure to take some time and admire the old train station's interior, as well as the beautiful red brick exterior when you arrive. To buy train tickets, you can buy them in the station at kiosks run by salespeople, or even online at PKP Intercity's website.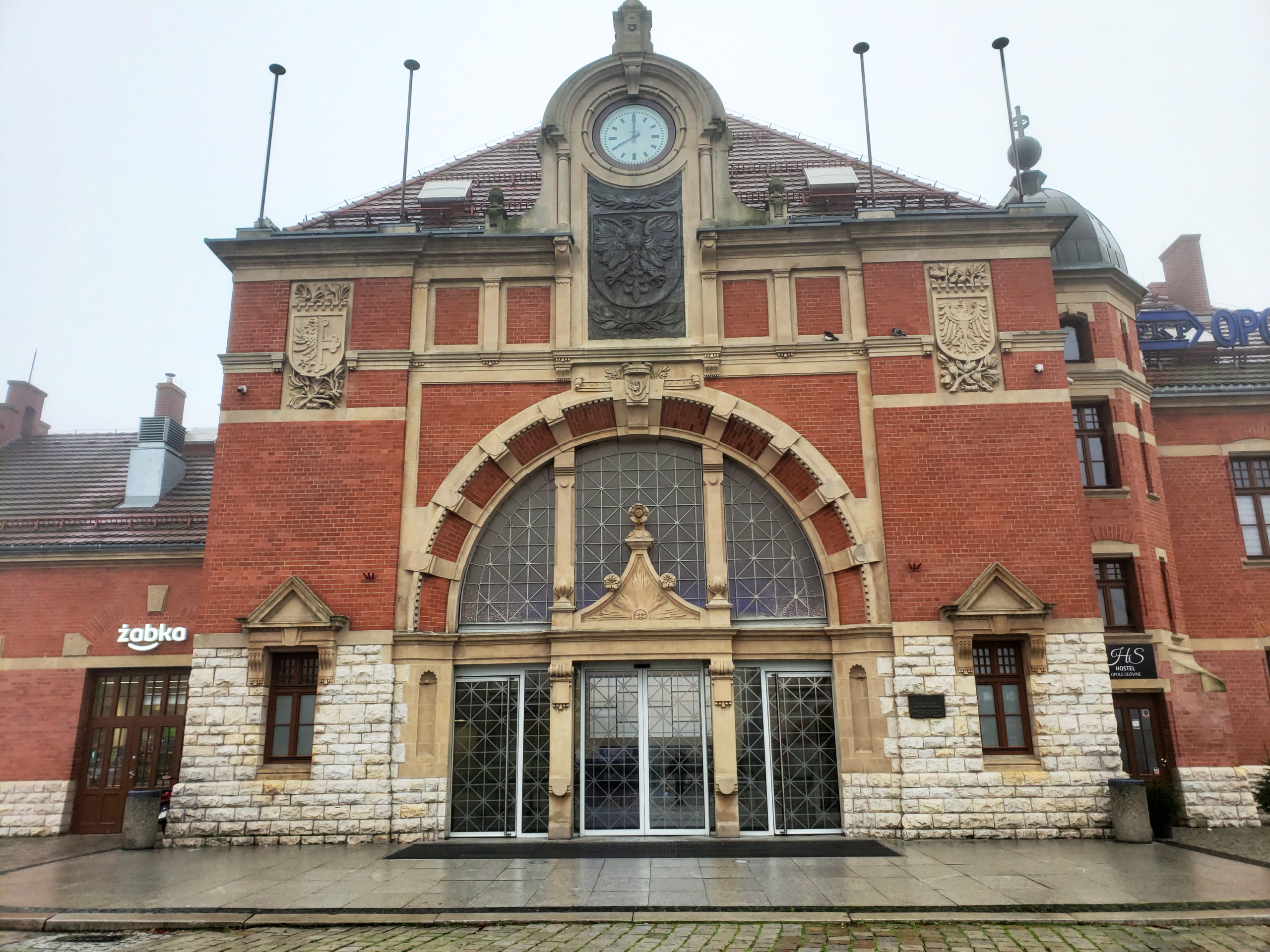 Getting Around Opole
Opole's city centre is easy to get around by foot. There are also local bus routes to take you to the outskirts of the city centre, so you'll be able to get around with ease no matter where you are looking to go. The centre of Opole is very pedestrian friendly and there is a convenient sidewalk to take you along the Młynówka Canal, which provides visitors with picturesque views of the Old Town and some epic reflections within the water. Opole is often referred to as the "Venice of Poland" because of the many bridges that are over the Młynówka Canal and connect pedestrians and vehicles to the Old Town and city centre area.
Enjoy Strolling Around The Old Town
After being heavily damaged during WWII, Opole's Old Town was rebuilt to showcase its original beauty. Opole's Old Town is a treat for those travellers that enjoy wandering around aimlessly while enjoying beautiful architecture in Baroque and Rococo styling and people watching from many of the Rynek restaurants. Opole's Rynek boasts many inviting shops, colourful pastel buildings, a gorgeous Ratusz and even the Polish Song Walk of Fame. Get lost in the small quiet side streets, grab a coffee and enjoy Opole's relaxed ambiance.
Read more: Essential Things To Remember Before You Travel
Read more: Tips For Travelling Within Europe
Cathedral Of The Holy Cross
Otherwise known as the Opole Cathedral, the Cathedral of The Holy Cross, or Bazylika Katedralna Podwyższenia Krzyża Świętego, is an exquisite Catholic church located right in the heart of Old Town Opole and can be seen from almost every corner of the city centre. The current church was erected in the 15th century on the site where the original church once stood back in the 11th and 13th century because the church had to be rebuilt many times over the years. The towers stand at 73 metres high, which makes the Cathedral of The Holy Cross the tallest building within Opole.
St. Sebastian Church
The St. Sebastian Church, or Kościół św. Sebastiana, is a teeny tiny chapel located just outside of the Rynek and can almost be missed if you aren't paying attention. The chapel was built in 1696 as a votive offering after the plague in the city died out in 1680. The baroque temple was built on the site of where the first victim of the epidemic died in 1679. The permit for the construction of the chapel was issued on November 18th, 1680 by the Bishop of Wrocław. Construction began in 1681, but numerous fires in 1682, 1684 and 1689 delayed construction works. The date "1711" on the bell indicates the completion of construction works. The chapel is open on Sundays for service and the interior has an organ and two rows of pews.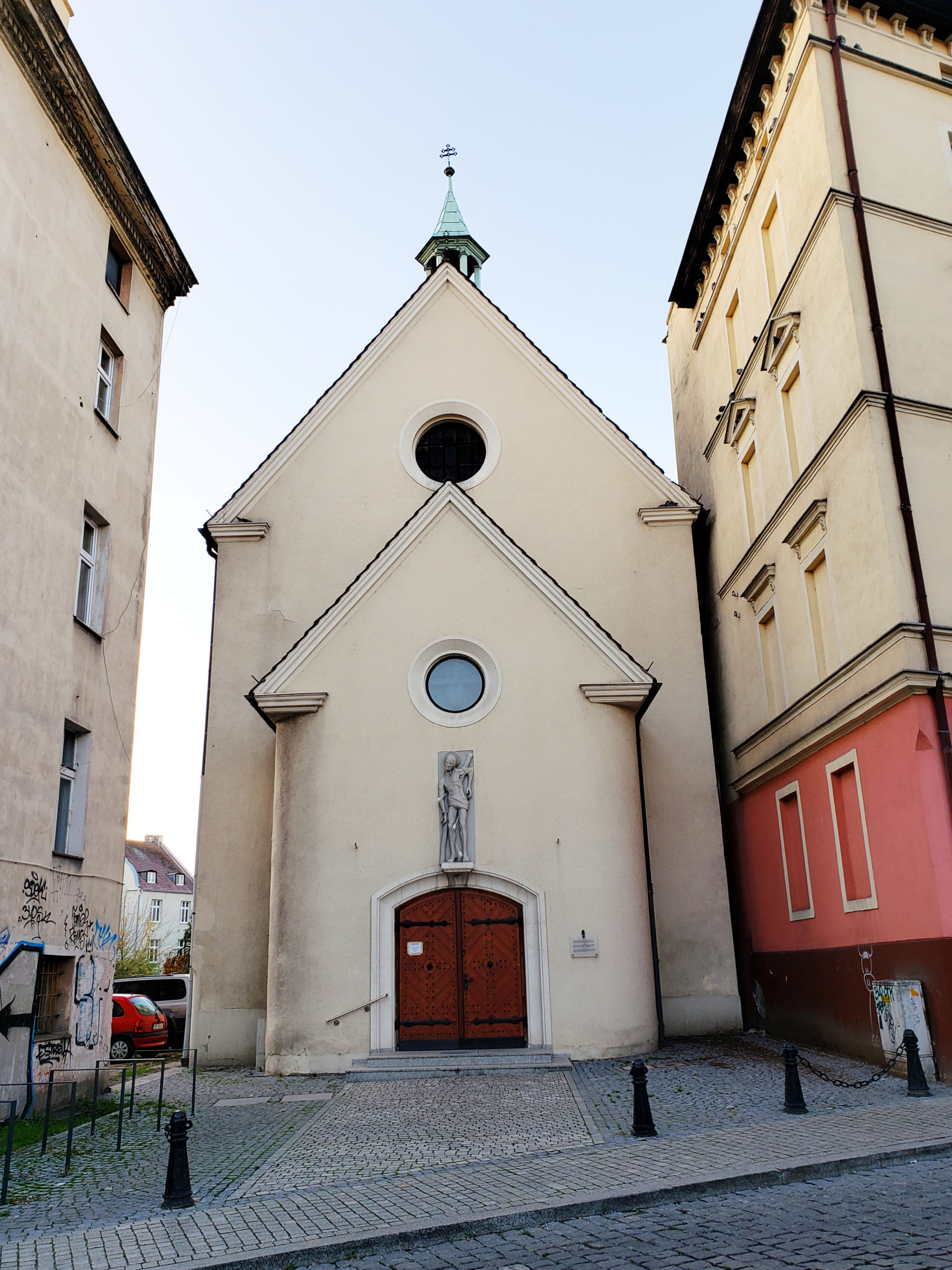 Read more: How I Spent 3 Weeks Travelling Solo Around Poland
Read more: The 5 W's Of Travelling Internationally
Holy Trinity Church
The Gothic Church of Holy Trinity, or simply referred to by the locals as the Franciscan Church, or Zakon Braci Mniejszych Franciszkanów, was originally founded as a temple of the Franciscan monastery, brought to Opole between 1238 and 1241. In 1241 after the Tatar invasion, the church's foundation was reconstructed in 1248, but then was destroyed in 1307 by a fire. The construction of the chapel began once again in 1309 and it wasn't until the second half of the 15th century that the church was yet again, destroyed by fires. Fires would continue to ravage the church over the 16th, 17th and 18th century and once again during WWII. Once the war was over, the church was renovated once again between the years of 1950-1959 and was then turned into a place for Catholic worship. Today, the Holy Trinity Church sits at the outside of the main square and is one of the first of many beautiful buildings that you'll come across before entering the Rynek.
Walk Along The Młynówka Canal
Opole is home to the Młynówka Canal, which eventually flows directly into the Oder (Odra) River. Take a leisurely stroll along Ulica Piastowska and admire the old buildings along the way. There are many benches situated along the Młynówka Canal, making it the perfect spot to perch yourself with a coffee and enjoy the sound of the water on a nice sunny day.
Green Bridge
One of the most unique looking bridges I've seen in any city, has to be the Groszowy Bridge (Most Groszowy), which is otherwise known solely as the Green Bridge (Zielony Mostek) to the locals. This beautiful green wrought iron bridge was completed in 1894 and is mainly used by pedestrians and bicyclists to cross the canal below. Crossing the bridge originally cost people 1 grosz (smallest Polish currency), hence the name. Locals also refer to the bridge as Most Zakochanych (lovers' bridge) for the padlocks that are placed on it signifying lovers' commitments.

Read more: The Ultimate City Guide To Visiting Kraków, Poland
Read more: How To Spend A Day In Poznań: Poland's Best Kept Secret
Chill Along The Oder River
If the weather is in your favour while visiting Opole, pack a lunch and head down to the banks of the Oder (Odra) River to completely chill out and enjoy watching small boats and canoes float down the river. It's a perfect spot to watch the sunset as well and the best way to end the evening. You'll often find groups of friends enjoying a drink and some music while hanging out along the river bank.
Church Of Our Lady Of Sorrows And St. Wojciech
As you walk through Old Town and come to a set of steep stairs and look up, you'll be in the presence of Kościół Matki Boskiej Bolesnej i św. Wojciecha. The Polish name is quite the mouthful to say, so locals just refer to this church as the "Church on the Hill" instead. This unique looking Roman Catholic Church in Opole is one of the oldest churches in the city. According to stories, it was built between the years of 984 and 995 in the place where sermons were preached by St. Wojciech. The top of the stairs make for a great place to be for sunset as well.

Read more: How To Spend The Perfect Day In Wrocław, Poland
Enjoy The Green Spaces

While visiting the Church on the Hill, make sure to stop and enjoy the green spaces around Opole. The beautiful small walkway that lies adjacent to the church is covered in lush greenery, tall trees and adorned with many religious and Greek inspired statues. The park is close to the University of Opole, or Uniwersytet Opolski and if you take the time to stroll around the quiet area, you'll be awarded with many parks to relax in.

Where To Eat
Starka Restaurant: Hotel Starka's restaurant boasts some of the highest reviews in all of Opole…and for good reason too. Starka Restaurant serves up delicious homemade dishes that lean towards Polish and German cuisine that is sure to fill you up. Due to dine in closures around Poland, hotels that had onsite restaurants were allowed to have their guests dine indoors and wow, Starka did not disappoint. I was able to enjoy a nice juicy steak, french fries, a side salad and a large beer for under $40 CAD. That was considered a splurge for me during my trip, but boy, was it worth every single penny. 10/10 would recommend Starka Restaurant for a fantastic night out. Make sure to arrive hungry! 😉
Bezcukrowa Café: If you love coffee and cakes, make sure to stop at Bezcukrowa Café. This tiny hidden gem is located near the Rynek and has really delicious and healthy options for a snack and lunch. I ordered a delicious toastie and ate it outside while enjoying views of the Ratusz as the bells rang through the streets. The staff was really nice and friendly and the interior was cozy and inviting. I highly suggest popping in for a little treat, or a coffee to go.

Read more: Solo Female Traveller Safety Tips
Read more: How To Create The Perfect Travel Itinerary
Read more: How To Find Great Places To Eat While Travelling
Where To Stay
If you're heading to Opole, there are many options for accommodations that range from cheap and frugal, modern and hip to traditional and cozy. I stayed at the amazing Hotel Starka located just around the corner from the Oder (Odra) River and Old Town Opole and less than one kilometre away from the Opole Główne. Built over 100 years ago, Hotel Starka offers elegant rooms with mini-bars and free Wi-Fi access. What more does a traveller need? 😉 All of the rooms at Hotel Starka are air-conditioned and feature classic interior décor with solid wooden furniture and comfy chairs. Some rooms even include uniquely shaped windows and bare brick walls. If you're a fan of breakfasts (who isn't?), you can get a fantastic buffet that has anything and everything on offer. The breakfast buffet is complimentary and there also is a room service available. Hotel Starka is also home to one of the highest rated restaurants in Opole. Starka Restaurant serves traditional Polish and German dishes. During my stay I had to catch an early morning train and the kind staff at Hotel Starka allowed me to go into the breakfast area before anyone else, to make sure I wouldn't miss breakfast, or my train. Now that's customer service!
Read more: The Complete Guide To Hiking To Morskie Oko – Poland's Most Beautiful Lake In The Tatra Mountains
For a smaller city that is not known to tourists, Opole certainly surprised me with what it had to offer visitors. I'm sure if the city had been fully opened and didn't have any Rona restrictions, the personality of this gorgeous city would've been absolutely fantastic. Regardless of restrictions and closures, I still managed to enjoy Opole and had a wonderful time. I'd definitely recommend this hidden gem to anyone planning a trip to Poland. Some other places of interest to consider during your stay in Opole would be the Piast Tower, Bolko Island and the Museum of Opole Silesia (Muzeum Śląska Opolskiego).
Have I convinced you to add Opole to your Polish travel itinerary? If you've been to Opole, what is your favourite thing to do and see there? Let me know in the comments below. xo
Let's get social!