This post contains affiliate links to products and or services.  I may receive a small commission for purchases made through these links, but with no additional costs to you.
I arrived in Kraków by train early in the afternoon to a relatively empty train station. The streets were nearly empty. I could hear the pigeons cooing and the sounds of footsteps echoing throughout the Old Town streets, which was unsettling to witness, since every photo I've ever seen of Kraków had people flooding the main streets. I felt as though I had Kraków all to myself. During any other year, this popular Polish city is usually very busy and filled with tourists, but when I visited, it felt like a ghost town.
Read more: The Day I Experienced True Polish Kindness
Read more: 2 Days In The Quaint Mountain Village Of Poronin, Poland
Read more: One Day In Bielsko-Biała – A Unique Polish City Off The Beaten Path
Read more: Travelling Internationally During Covid-19: My Experience & What To Expect
Read more: How To Spend One Day Exploring Gdańsk, Poland
Kraków, or Cracow as its traditionally known as, is a charming city in southern Poland that is situated along the Vistula River and is known for its well preserved medieval Old Town and Jewish Quarter. It is the second largest city in Poland, as well as one of the oldest cities in the country and dates as far back as the 7th century.

The city of Kraków had massive historical influence over the years and was the capital city from 1038 to 1596 and then was invaded by German Nazis in September 1939 and turned into the capital of the German General Government.
Read more: Getting Around Poland By Public Transit – A Comprehensive Guide To Polish Trains & Buses
Following the swift invasion of Poland at the beginning of World War II, Hitler made Kraków the capital of the Germany General Government due to its prime central location within Europe. The Jewish population of the city was then forced into a walled zone known as the Kraków Ghetto. From the ghetto, they were sent to Auschwitz and other nearby German extermination camps where brutality and mass executions took place. Under Nazi occupation, the Rynek Główny was changed to the Alter Markt, then eventually to Adolf Hitler Platz. The other street names were transformed from Polish names, to German names as well. Kraków was a very important city for the Nazis, so they protected it from being bombed and decimated like Warsaw was during the War.
Read more: Poland Travel Costs – A Budget Friendly European Destination
Read more: Spending A Day In Opole, Poland
Kraków is recognized by many travellers as one of Europe's most beautiful cities and I have to agree wholeheartedly. The city is alive any time of the day with locals cheerfully having a drink in a local pub, or tourists, whether they be from Poland, or abroad, standing in awe of the Rynek Główny and its incredible architecture. Although there weren't that many tourists during my visit, Kraków still managed to create an electric vibe that I could feel while making my way through the streets, the lush green parks and chatting with friendly locals.
Read more: What To See & Do In A Day In Rzeszów, Poland
Read more: What Will The Future Hold For Travel After 2020
During my travels in Poland, I stayed a total of four days in Kraków; two days at the beginning of my trip and two days towards the end of my trip. It was nice to come back to the city after a couple weeks and have a sense of familiarity while walking around and discovering more as well. If you're ever planning to come to Poland, make sure to visit Kraków for a couple days in order to see as much as possible and to truly appreciate this incredible city.
Now, without further adieu, here is my ultimate city guide to visiting Kraków, Poland.
Getting To Kraków
Arriving in Kraków is easy and accessible by rail, bus or plane from all over Poland. John Paul II Kraków-Balice International Airport (Kraków Airport im. Jana Pawła II), is the second busiest airport in Poland and was opened for civil aviation in 1964. It is located eleven kilometres west of Kraków's city centre. The best way to get to Kraków, like many cities in Poland, is by rail in my opinion. It's relatively quick, comfortable, efficient and can be reached directly from the airport as well as by bus direct to Kraków Główny. Kraków can be reached by all major cities and towns in Poland. If you are coming from Warsaw, it will take just under 2.5 hours to arrive in Kraków. The main rail station is Kraków Główny and is a short walk from the city centre. To buy train tickets, you can buy them in the station at machines, at kiosks run by salespeople, or even online at PKP Intercity's website.
Kraków Główny
If arriving by train, you'll be arriving into Kraków Główny. This state of the art train station has been transformed into a mall, train station and major shopping haven for locals and tourists alike. The original Kraków Główny, which opened back in 1847, sits in the rear of the new Galeria Krakowska, which opened back in 2006. Some tourists say that the Galeria Krakowska and Kraków Główny are quite confusing when they arrive, but there are plenty of signs listed overhead as you're walking through the mall and I found it quite easy to navigate.
Read more: The Ultimate City Guide To Visiting Warsaw, Poland
Getting Around Kraków
Kraków is an extremely walkable city and you should be able to get everywhere you need to go just by using your own two feet. For those of you that aren't keen on walking, or if the weather isn't great, there are plenty of local buses, trams, taxis and bike share options throughout the city centre at a fair price.
Rynek Główny
Kraków's Old Town Square, otherwise known as Rynek Główny, is declared a UNESCO World Heritage Site. The Rynek Główny is the city's major hub for all things social, whether it be dining, social gatherings, or watching a bunch of street performers play music. Surrounded by beautiful restaurants, cafés, a ton of shops, street vendors and historic buildings, the Rynek Główny is without a doubt, one of the major attractions of Kraków. Dating back to the 13th century, the Rynek Główny is also the largest medieval square in Europe with a total of 9.4 acres.

Read more: How I Spent 3 Weeks Travelling Solo Around Poland
Read more: The 5 W's Of Travelling Internationally
Mały Rynek
Situated behind the main square sits the Mały Rynek. This smaller and much more quiet market square dates back to the year 1257 and is the perfect place to relax and people watch. The original function of Mały Rynek was to house butchers' stalls and keep bloody animal bodies and swarms of flies away from the view of the rich people that inhabited the posh townhouses of the Rynek Główny. Nice, huh? In 2007, it was declared a pedestrian zone and redone with cobblestones, benches and a small fountain depicting the 750th anniversary of Kraków obtaining its city rights. Today, the Mały Rynek puts on numerous small fairs and festivals throughout the year.

Sukiennice
What once was a major centre of international trade, the Sukiennice, or Cloth Hall, was home to travelling merchants that would meet there to discuss business and to barter. The Sukiennice in Kraków is considered the most famous cloth hall building and was rebuilt in 1555 in Renaissance style and is one of the city's most recognizable icons. It's the central feature of the Rynek Główny and has been listed as a UNESCO World Heritage Site since 1978. Nowadays, the Sukiennice is home to loads of vendors selling things like trinkets and souvenirs.

Saint Mary's Basilica
One of the most recognizable attractions in the Rynek Główny is St. Mary's Basilica, or Kościół Mariacki. This magnificent church dates back to the 14th century and is by far, one of Poland's greatest examples of Gothic architecture. When you step inside the church, you won't be able to stop yourself from looking up at the mesmerizing blue ceiling dotted with tiny golden stars that resemble a starry night. The colours within the church are mind blowing as well. You'll be in absolute awe of Kościół Mariacki's beauty. The wooden altarpiece within the cathedral, is the largest Gothic altarpiece in the world. It was carved between 1477 and 1484 by the German sculptor Veit Stoss and in 1941, during Nazi Germany occupation, the dismantled altarpiece was shipped to the Third Reich. It was then recovered in 1946, after being hidden in the basement of Nuremberg Castle along with other valuables. The intricate altar underwent major restoration work in Poland and was put back in its place at the Basilica 10 years later. One of the most notable characteristics of Kościół Mariacki is its uneven towers.
There's actually a popular legend that goes back a long time, which explains "why" the towers are uneven. Two brothers were hired to build the towers of Kościół Mariacki and they were recognized as the city's best builders. The older brother was supposed to build the south tower, while the younger brother was to build the north tower. Initially, construction went on as planned and their towers were quite similar. However, the south tower, being built by the older brother was clearly taller than the younger brother's tower. This didn't go over too well with the younger brother and in a fit of jealous rage, the younger brother killed his older brother with a knife and ordered that the unfinished south tower be crowned with a cupola. He then proceeded to finish the north tower, which is the taller tower. After all of that, the surviving brother was consumed by tremendous guilt of killing his brother, so on the day of consecration, he climbed to the top of his tower, holding the knife he killed his brother with then publicly admitted the murder and jumped to his death. Crazy, right!? The knife is hanging within the exterior of the Sukiennice.

Speaking of legends…there is another one associated with Kościół Mariacki. Called the Hejnał Mariacki, a trumpeter belts out a Polish anthem every hour, on the hour, four times in succession. This is actually one of the important cultural traditions within Poland. The legend says that the song ends abruptly because when the trumpeter was warning the city of the invading Mongols, they shot a flurry of arrows into the air and one of the arrows struck the trumpeter right in the throat. If you listen carefully, you'll hear the trumpeter end the song suddenly.
Read more: Essential Things To Remember Before You Travel
Read more: Tips For Travelling Within Europe
Wawel Castle & Wawel Cathedral

Without a doubt, the Wawel Hill complex consisting of the Wawel Castle and Cathedral are on the top of many tourists must see list when they arrive into Kraków. So much so, that in 2019, a whopping 2.1 million visitors came through the Wawel gates! Katedra Wawelska and Zamek Królewski na Wawelu sit on top of Wawel Hill at the end of Ulica Grodzka on the left bank of the Vistula River and have a commanding view over all of Kraków. This site in Kraków was the first UNESCO World Heritage Site in the world as part of the Historic Centre of Kraków and consists of Romanesque, Gothic, Renaissance and Early Baroque architecture. Wawel Castle is now home to one of Poland's most prestigious art museums that house a collection of important Italian paintings, sculptures and textiles. At over 900 years old, the Wawel Cathedral is where Polish monarchs were crowned and buried since the 14th century. The exterior is absolutely stunning and resembles a fairy tale castle that you'd see only in storybooks. You can see all three iconic towers: Sigismund Tower, Clock Tower, and Silver Bell Tower. For a small admission fee, you can make your way up the tower for some breathtaking views across Kraków. The admission to the grounds is also free and you can walk all along the gardens, which are absolutely spectacular. To my surprise, the flowers were still in bloom at the beginning of November, which is when I visited the city for the second time during my travels. Make sure to visit the fire breathing Smok Wawelski, the Wawel Dragon, which is famous in Polish folklore for having lived in a cave near the Vistula River and was defeated by a cobbler named Skuba during the reign of King Krakus.

Church Of Saints Peter And Paul
Along Ulica Grodzka, you'll come across the beautiful Church of Saints Paul and Peter, or Kościół ŚŚ Piotra i Pawła. This iconic church is one of Kraków's most recognizable Roman Catholic Churches. Built in the 6th century, this Baroque church's most striking feature is of the twelve apostles standing tall at the church's front gate. If you're lucky, you'll come across some incredible buskers just in front of the church singing, or playing instruments. Be sure to visit at night to see it all lit up in the Old Town streets.

Floriańska Street
From the Barbakan Krakówski, you'll walk through the Brama Floriańska and onto the main artery of Kraków's Old Town; St. Florian's Street, or Ulica Floriańska. As you make your way down Ulica Floriańska, you'll pass beautiful old buildings, high end clothing shops, big restaurant chains, such as McDonalds and small Polish cafés that have been in business for years. As you make your way closer to the Rynek, you'll see the stunning 14th century church, St. Mary's Basilica, or Kościół Mariacki standing tall as the main attraction within Old Town. Ulica Floriańska is also noted as the beginning of the prestigious Royal Route within Kraków, which makes it one of the most sought out places for businesses and tourist shops to be situated. Businesses and rent costs on Ulica Floriańska are said to be the second highest in Poland, next to Ulica Nowy Świat in Warsaw as number one.

Read more: How To Spend A Day In Poznań: Poland's Best Kept Secret
Church Of St. Adalbert
The Church of St. Adalbert, otherwise known as the Church Of St. Wojciech , or Kościół św. Wojciecha in Polish, is a tiny chapel that sits in the heart of the Old Town at the intersection of Ulica Grodzka and Rynek Główny. It is Poland's oldest stone church and is approximately 1000 years old and is where merchants travelling across Europe would go to worship.

Podgórze District

If you're looking to get away from the crowds, head to the less visited area of the Podgórze District. This quiet area of Kraków is far from the tourist route, but is such a beautiful area to explore. Although beautiful, the Podgórze District has a dark past and saw one of the most horrible aspects of WWII. Within this small district, Nazis herded about 17,000 Polish Jews and established the Kraków Ghetto. The Rynek Podgórski (main square) is home to one of the prettiest churches in Kraków, St. Joseph's Church, or Kościół św. Józefa. The church was built between 1905 and 1909 and is the finest example of Gothic Revival architecture in the city.

Bednarski Park
While exploring the lesser known Podgórze District of Kraków, make sure to visit the lush and quiet grounds of Bednarski Park. Located above the Rynek Podgórski and up a large flight of stone stairs, Bednarski Park has a commanding presence over the Podgórze District. When I visited, the trees with lit like tiny flames in bright yellow leaves and the ground looked as though it resembled the yellow brick road from Wizard of Oz. The park's founder, Wojciech Bednarski was applauded for his accomplishments for opening such a gorgeous park and was acknowledged even in Russia for his efforts.
Read more: Solo Female Traveller Safety Tips
Oskar Schindler's Enamel Factory 
While visiting Kraków, it's next to impossible to avoid the role that the city had during WWII and Oskar Schindler is a man left a mark for years to come. Oskar Schindler was a German entrepreneur and a member of Nazi party, NSDAP. He is credited for saving approximately 1000+ Jews by employing them in his enamel factory, Fabryka Emalia. By doing so, those Jews avoided the horrible living conditions and eventual death in the Nazi labour camps. One of those camps was located right in Kraków, within the area known today as the Zabłocie District, which is located in the northeast part of the city centre, otherwise known as Podgórze. Although the museum concentrates more on the daily life in Kraków during the events of WWII rather than Oskar Schindler himself, if you're a history lover, you will see relics from the war such as items that were stolen from the Jews' homes by Nazis and then given to the Third Reich, old Polish street signs that were converted from Polish to German language, hand written notes from the Ghetto and so much more. You can walk through Oskar Schindler's original office, which is very cool and they used it when they filmed Schindler's List, a movie based on the events of Oskar Schindler saving and employing many Jewish people. Make sure to book your tickets well in advance, since the museum only sells a certain amount of tickets a day. When you arrive, you will show your reservation email and then pay the person at the ticket booth.

Day Trip To Auschwitz-Birkenau
As you all know, I love learning anything and everything about WWII history. I visited Auschwitz-Birkenau during my time in Poland and I was exposed to information I could've never had known if I didn't go there. As I walked through the infamous gates of Auschwitz I (1), I looked up to see, "Arbeit macht frei," or "work sets you free" and immediately got chills. All over the world, Auschwitz became a symbol of supreme terror, genocide, and of course, the Holocaust. Auschwitz was established by Germans in 1940, in the suburbs of Oswiecim, which is a Polish city that was annexed to the Third Reich by the Nazis. The first transport of Poles reached Auschwitz from Tarnów prison on June 14, 1940. Over the next few years, Auschwitz I (1) became the place of the extermination centres where the Final Solution, or the "Endlösung der Judenfrage" of the Jewish population was to be carried out – the Nazi plan to murder European Jews. Not only Jewish people were executed in Auschwitz, although the majority that perished were Jewish. The second part was the Birkenau camp that held over 90,000 prisoners in 1944, also known as Auschwitz II (2), was the largest part of the Auschwitz complex. The Nazis began building it in 1941 on the site of the village of Brzezinka, three kilometers from Oswiecim. The Poles were evicted, their houses confiscated and destroyed. The greater part of the mass extermination was built in Birkenau and the majority of the victims were murdered here. It's important to make sure that history like this will never be repeated. Jewish people had their businesses closed, while German businesses were allowed to be opened. They had their houses raided by Gestapo, they had their neighbours rat them out. They lined up for food. Were disinfected with spray. Treated like shit and ultimately decimated. Some people that lived this hell are comparing some actions of today, to those of the past. I never lived it, thankfully, but I hope we listen to those who have. 
Read more: A Present Walk Through Yesterday's History – A Visit To Auschwitz-Birkenau
Read more: How To Create The Perfect Travel Itinerary
Kraków Barbican
The Kraków Barbican, or Barbakan Krakówski is a fortified outpost that was once connected to Kraków's city walls. It's a historic gateway that leads right into the Old Town of Kraków and sits right in the heart of the city. The barbican is one of the few remaining relics of the complex network of fortifications and defensive barriers that once enciricled the royal city of Kraków. As of today, it currently serves as a tourist attraction and venue for a variety of exhibitions throughout the year. As you make your way around it, try to use your imagination to envision what it used to look like in years gone by.

St. Florian's Gate 
The picturesque St. Florian's Gate, or Brama Floriańska in Kraków is one of the best known Polish Gothic towers and is on of the major focal points of Kraków's Old Town. St. Florian's Gate was built around the 14th century and was connected by a long bridge to the circular barbican (Barbakan) that was erected of brick on the other side of the moat. The Gothic gate's tower stands 33.5 metres tall. The addition to the Baroque metal "helmet" that crowns the gate was constructed in 1660 and then renovated in 1694, which added another metre to the height of the gate. Brama Floriańska is the only city gate within Kraków, of the original eight that were built during the Middle Ages, that was not torn down during the 19th century modernization of Kraków. For some unique views of Ulica Floriańska, you can climb the stairs along the wall, but during my visit, it was blocked off.

Grodzka Street
One of the most beautiful and oldest streets in Kraków is Ulica Grodzka. This street was once used as the trade route and the Royal Route that Polish royalty once took to reach Wawel Castle. Ulica Grodzka is now home to many attractions, such as beautiful churches and colourful historic buildings. The street also boasts some great restaurants, delicious dessert shops that are serving up some traditional ice cream, or lody as its written in Polish, that will have you spoiled for choice when it comes to choosing a place to eat, or grab a coffee for the walk.

Church Of St. Andrew
Located on Ulica Grodzka in the Old Town district of Kraków, sits the Church of St. Andrew, or Kościół św. Andrzeja. Noted as one of Kraków's oldest churches, Kościół św. Andrzeja was built between 1079 and 1098 and has been a place of worship for over 900 years. It's also one of the rare examples that survived to this day depicting early European fortress churches that were once used for defensive purposes. Built in a Romanesque style, it isn't just one of the oldest churches in Kraków, but one of the oldest and best preserved buildings within the entire city. It was the only church in Kraków to survive the Mongol attack of 1241.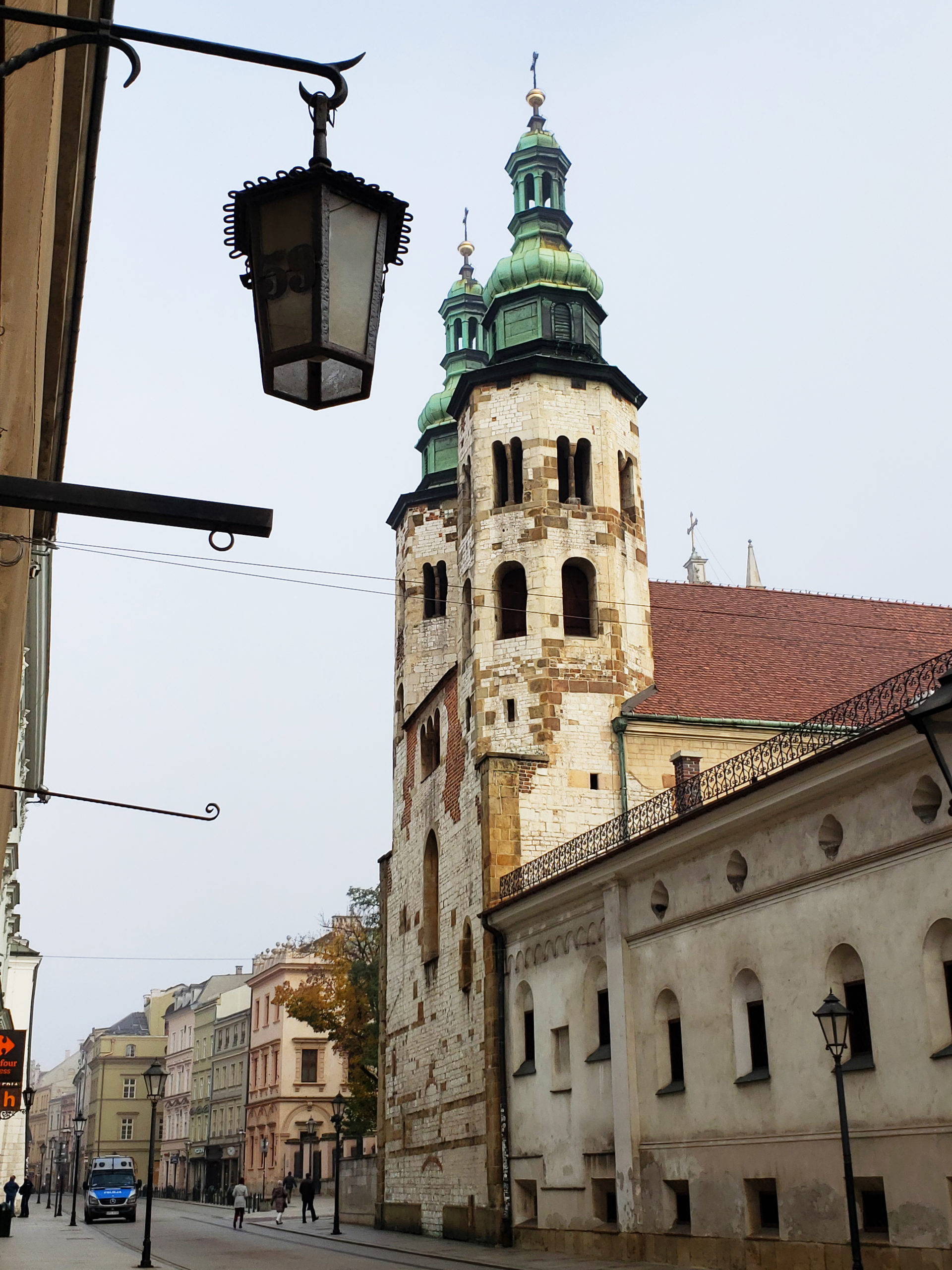 Kanonicza Street
Highly regarded as one of the most picturesque and photogenic cobblestone streets in Old Town Kraków, Kanonicza Street, or Ulica Kanonicza sits at the foot of Wawel Hill and is lined with historic and colourful Baroque and Renaissance style buildings and townhouses that once housed knights and private residences and is now home to boutique hotels and museums. I was told by the owner of the first apartment I rented in Kraków that I must walk down this atmospheric street and he was right; it's a must visit street if you are looking for some great street photos day, or night.

Read more: How To Spend The Perfect Day In Wrocław, Poland
Town Hall Of Kraków
The 70 metre tall Town Hall tower is one of the major focal points within Rynek Główny and the only remaining part of the original Town Hall. The historic Town Hall, or Ratusz in Polish, was constructed of brick and mortar for the first time in 1316 after many different variations over the years and then was demolished back in 1820. The cellar of the Ratusz once housed a city prison along with a medieval torture chamber as well. Nowadays, the tower houses a branch of the Historical Museum of Krakow and visitors can ascend to the top viewing deck of the tower to marvel at panoramic views of Kraków below. A metal model of what the Ratusz looked like during the 18th century is outside next to the stairs, which was built to help assist the blind to envision what the Ratusz may have looked like in the past. Right next to the Town Hall, stands the extraordinary sculpture of Eros Bendato's head, which was donated to the city in 2005 by the Polish sculptor Igor Mitoraj.

Father Bernatek Footbridge
Commonly referred to as the "Love Lock Bridge," the Father Bernatek Footbridge, Kładka Ojca Bernatka, connects the Kazimierz District and Podgórze District between Ulica Mostowa and Ulica Nadwiślańska over the Vistula River and was completed in 2010. The bridge is a popular aspect of the urban landscape and has an incredible aesthetic while strolling across it. In 2016, Polish sculptor Jerzy Kędziora adorned the bridge with sky high acrobatic sculptures, which made the bridge a draw for tourists. Five of the sculptures were taken down, but there are four left on display. Many couples are drawn to this bridge to place a padlock with their names on it. Now, I'm not a fan of "love lock bridges." I think it's a silly tradition that compromises the structure of the bridge and weakens it over time. Many cities in Europe cut the locks off their bridges after many structures were compromised due to additional weight being added year after year.

Kazimierz District
Another area of Kraków that isn't overflowing with tourists (unlike the uber popular Rynek Główny) is the historical Jewish district Kazimierz. From the 14th century to the early 19th century, Kazimierz was an independent city. Located south of Kraków's Old Town, it is a fantastic place to grab lunch in one of the many hip restaurants, grab a drink in a cool bar and explore the historic streets. For many centuries, Kazimierz was a place of coexistence with ethnic Polish and Jewish cultures. In the northeastern portion of the district, it was mainly Jewish, and the people that lived there were forcibly relocated by the Nazis into the Kraków Ghetto, which was located just across the river in the Podgórze District in 1941. Nowadays, Kazimierz is visited by many tourists and is noted as an important centre of cultural life within Kraków. Kazimierz is full of life at night and nice and quiet during the day. Make sure to visit one of the many hipster approved cafés dotted throughout the district.
Planty Park
Planty Park is one of the largest city parks in all of Kraków. The entire park surrounds the Stare Miasto (Old Town), where the Medieval city walls once stood until the early 19th century. The green space was established in place of the medieval walls between 1822–1830 during a revitalization of Kraków. Planty Park is filled with people walking their dogs, couples strolling with loved ones hand in hand and groups of children laughing and playing in the grass. The entire park is about four kilometres around the Old Town and consists of a bunch of smaller parks that have fountains, statues and benches to sit on. In the summer months when the heat gets unbearable, Planty Park acts as a shady haven for people walking around in the sun and in autumn, the trees are filled with bright yellow leaves that fall gracefully to the ground below.

Take A Day Trip To Zakopane
Situated in the very south of Poland in the Podhale region at the foot of the Tatra Mountains, lies the beautiful resort town of Zakopane. Mostly visited by Polish and other European tourists, Zakopane is still rather unheard of when it comes to travellers coming from North America. Taking a day trip from Kraków to the mountains is easy and accessible by car, train, or bus and can be reached in approximately two hours. Zakopane is to Poland what Banff is to Canada; a magnificent wonderland for winter activities such as skiing, snowshoeing, hiking and snowboarding. In the summer and fall, tourists flock to the green Tatra Mountain Region to bask in the beauty of dozens of hiking trails, ride ATVs and dirt bikes, enjoy the beautiful scenery and relax in the fresh mountain air. Chalets can be booked for quite a decent price compared to other popular resort towns throughout Europe. Zakopane welcomes approximately 2.1 million tourists every year, so if you plan on visiting during high season, make sure to book your accommodations and any activities, such as popular cable car tickets, in advance to avoid massive crowds. While in Zakopane, make sure to try the local food in many of the traditional mountain style restaurants within the town. 
Where And What To Eat
If you're in the mood for food, Kraków has got you covered no matter what you're craving. Whether you're looking for a pierogi fix, a clean green smoothie bowl, refreshing drinks, cozy cafés to read in while sipping a cappuccino, or diving into some ethnic kabobs, you'll be absolutely spoiled for choice when it comes to picking a place to curb your hunger. Some of my favourite places to grab a coffee, a snack, or a full meal were:
Obwarzanek Krakowski: Street food is HUGE in Kraków and also really, really, rrrreally delicious. Oh, and it's super cheap too! SCORE! One of the most popular streets foods in Kraków is the Obwarzanek Krakowski. Rolling blue and white carts that look as though they've been plucked right out of a history book, sell these soft, doughy rings (that resemble a mix of a bagel and a pretzel) on literally every street corner. There are approximately 170 to 180 carts located in the city of Kraków and they are said to sell at least 150,000 in a DAY!! Obwarzanek Krakowski are protected by geographical indication and on the EU Traditional Food List meaning that they may only be produced in the city of Kraków and the adjacent Kraków and Wieliczka counties. These twisted breads are usually topped with poppy seeds, sesame seeds and even cheese and are a go to snack for locals on the move around the city. At just 2 zloty each ($0.69 CAD), they make for the perfect carby snack while sightseeing around the city. I bought a cheese one and warmed it up in my apartment microwave and ya, best thing EVER! 😛
Zapiekanki Krolewskie: In the mood for more street food? Well, this is a place you cannot miss while in Kraków. Located in the Kazimierz District on Plac Nowy, sits an round market hall, otherwise known as Okrąglak, that houses at least 17 different built in stalls serving up the most delicious street food I've ever had. Folks, I'm talking about Zapiekanka. This incredible and cheap meal is essentially what a Polish pizza would be like. It's a toasted open-face sandwich made from a sliced baguette and topped with sauteed white mushrooms, cheese and sometimes other ingredients, such as ham. Served piping hot and topped with ketchup, it's been a popular street food in Poland since the 1970's. I visited the Zapiekanki Krolewskie stall and grabbed a Greek version of the Zapiekanka for under $5 CAD, which was topped with mushrooms, melted cheese, tomatoes, cucumbers, black olives, feta and topped with a garlic sauce. Let's just say that if I died after eating that, I would've died happy.
Pod Wawelem: If you're craving some delicious traditional Polish food, you have to try Pod Wawelem. Located at the end of Planty Park near Grodzka, this restaurant is tucked away from the crowds just a short walk into Planty Park. Surrounded by large trees, make sure to grab a window seat so you can watch the world go by as you sip on a nice cold beer. I ordered the pierogi and a steaming hot bowl of Barszcz czerwony z kołdunami litewskimi, which is a hot beetroot soup with tiny meat filled dumplings that was absolutely amazing. The meal comes with a complementary pickle and plate of pickled cabbage as well. At the end of my meal, I was also given a free shot of what I think was cherry vodka with my bill. The service was great, the food was good and because of the lack of tourists when I went, I made sure to leave a decent tip. My meal (without tip) only ran me about 23 zloty ($7 CAD).

Cytat Cafe: If you love coffee, cakes, unique interiors and books, then you'll have to add the Cytat Café to your list of places to go. The Cytat Café is located in the Kazimierz District and boasts the most unique and colourful interior I've ever seen. The walls are covered in eclectic photography and the doorways are made completely of books. There are comfy chairs to sink into and you're encouraged to grab a book off the shelf and have a read. Cytat, meaning quote, or quotation in Polish, suits this coffee shop well. With every order, you're given a little piece of paper with a quote written on it and mine said: "Put your future in good hands – your own."

Noworolski: After some sightseeing and walking around, I felt like getting a little nightcap before heading to my apartment. I stopped in at Noworolski right in the Rynek Główny. I didn't mind that it was right in the heart of the city centre, since it was night time and there were zero crowds. I sat outside under the heat lamps and order a mulled wine, or grzane wino. Now, anyone that knows me, knows I despise wine, especially hot wine, but for some reason I decided to give it another chance. The nicest waiter brought out my drink and I paid him the 12 zloty ($4 CAD), sat back and enjoyed the gorgeous lit up view of Rynek Główny and Kościół Mariacki, which was framed perfectly by the arches of the Sukiennice. I didn't enjoy the mulled wine, but I enjoyed the view. Would recommend for a drink and the view.

Morskie Oko: One of my favourite restaurants in Kraków. Morskie Oko, named after the famous lake in the beautiful Tatra Mountains, is a stunning restaurant in Kraków's Old Town that specializes in traditional mountain region food that isn't only delicious, but is hearty and classifies as total comfort food. The traditional wooden interior is super cozy and filled with wooden tables and benches covered in fuzzy fur throws along with walls that are covered in mountain decor. I enjoyed a beer, a polish sausage and some homemade soup, which reminded me of the soup my grandmas would make. I was in foodie heaven. 10/10 would recommend Morskie Oko for your next meal out!
Where To Stay
Kraków is filled with places to stay at great prices. Most of the accommodations listed within Kraków are aparthotels, full apartments and hostels. Obviously, there are hotels as well, but for a fraction of the price and double the space, you're better off renting an apartment for your stay. During my time in Kraków, I stayed at two incredible places; one was an aparthotel called Lounge Apartments and an apartment named EWM Unique Brick 3 – Old Town & Market Square, which coincidentally were both located on Ulica Krowoderska, just outside the Old Town and Planty Park. The street was quiet and close enough to everything including major attractions, coffee shops, banks and restaurants, so I could easily walk anywhere I needed to go.
Kraków is the most visited city within Poland for many travellers and I can understand why…it's absolutely fantastic. This city is teeming with restaurants, great museums, buildings with so much historical value and friendly locals. The streets are vibrant, yet still feel as though you're making your way through an open-air museum while walking through town. What's not to love? Kraków was an incredible stop during my travels through Poland and I'm glad I had the chance to visit twice, so I could do and see as much as possible at my own pace. I'd definitely come back again and again just for the Zapiekanka! 😉
Have any of you visited Kraków? If you have, what was your favourite part of the city? Let me know in the comments below! xo
A huge thank you to Piotr from Lounge Apartments for your help arranging my Auschwitz tour and for your incredible hospitality and gorgeous apartment during my stay. Another thank you goes to Maciek from EWM Unique Brick 3 – Old Town & Market Square for the kind hospitality and amazing apartment.
Let's get social!