This post contains affiliate links to products and or services.  I may receive a small commission for purchases made through these links, but with no additional costs to you.
Poland is a country that is teeming with beautiful and unique cities to visit. While planning a trip to Poland, you'll come across bustling cities filled with sky high buildings, modern transit and malls overflowing with common clothing brands, but you'll also come across smaller cities that are definitely off the beaten tourist track, but just as deserving of tourism as the popular well known Polish cities.
Yes, you'll want to visit the usual cities, such as Warsaw and Kraków, but you should try to visit the lesser known cities, such as Bielsko-Biała and Opole. Not only will you find less tourist crowds, you'll be surprised with the amount of history, quaint streets and fantastic architecture you'll come across.
Read more: Poland Travel Costs – A Budget Friendly European Destination
Some of my favourite cities that I visited in Poland were the cities that nobody (that I know at least) have ever heard of. Of course, you will find the typical cute Old Town squares that are overflowing with pastel coloured buildings, but you'll also find that some of the lesser known cities have much cheaper prices when it comes to food, accommodations and museums. Win win!
When travelling through Poland, all cities are easily accessible by public transit and because it is very cheap when you compare it to other European countries, you'll save yourself the cost of a rental car and gas prices. Plus you'll get to see parts of the countryside that you wouldn't see via the fast paced motorways.

Read more: Getting Around Poland By Public Transit – A Comprehensive Guide To Polish Trains & Buses
Poland is a massive country with so many great cities to visit, so it's difficult to narrow it down to just a handful of ones you should consider visiting. Here are, in my opinion, some of the best cities to visit in Poland.
Read more: How I Spent 3 Weeks Travelling Solo Around Poland
Rzeszów
A city as unique as its hard to pronounce name, Rzeszów is the largest city in southeastern Poland, with a population of just under 200,000 and is the capital of the Subcarpathian Voivodeship as well as one of the largest cities within the region. In 2011 Forbes awarded Rzeszów with the second place in the ranking of the most attractive semi-large cities for business. While in Rzeszów, make sure to visit the historical Stary Rynek and walk the length of the gorgeous pedestrian friendly Ulica 3 Maja, which is filled with inviting ice cream shops, restaurants and boutiques. Another must see stop along Ulica 3 Maja is the interior of Kościół Rzymskokatolicki pw. Świętego Krzyża, or Roman Catholic Church of the Holy Cross. If modern architecture is your jam, make sure to visit the uber modern Round Overpass, or Okrągła Kładka Dla Pieszych and from the top of the round overpass, you'll be able to see what is, in my opinion, the strangest looking monument I've seen throughout my travels. The Monument of the Revolutionary Deed, or Pomnik Czynu Rewolucyjnego w Rzeszowie, is widely known throughout Rzeszów as the Wielka Cipa, which literally translates to the Big Pussy, or the Giant Vagina. 😛 LOL
Read more: What To See & Do In A Day In Rzeszów, Poland
Bielsko-Biała
One of my favourite stops in Poland was this unique city situated in southern Poland. Known for its beautiful green spaces, Viennese style architecture and inviting Old Town, once you visit Bielsko-Biała, you'll never forget it. This magnificent city in the south of Poland, in the Silesian Voivodeship, is home to approximately 170,000 people and has quite the interesting history. Bielsko-Biała's name derives from the river that runs through the city, Biała River, which means White River. Originally, the city used to be divided by the river into two separate cities; one being Bielsko and the other being Biała. Although being two separate cities, they both functioned as one urban area during the 19th century. Due to its close proximity to the Beskidy mountains, Bielsko-Biała is also a great city to base yourself in if you are looking to explore the hiking opportunities in the surrounding area. If a trip to the nearby mountains to do some hiking isn't your thing, head to Park za Ratuszem to enjoy people watching while sipping on a coffee and listening to the ducks quack as they float down the river. A leisurely stroll through Bielsko-Biała's Old Town and Rynek is must. The gorgeous Baroque styled buildings are coupled with cobblestone streets making it feel as though you've stepped back in time. Make sure to stop into one of the many small bakeries throughout the city for a delicious sweet treat!
Read more: One Day In Bielsko-Biała – A Unique Polish City Off The Beaten Path
Opole
Opole was definitely one of the most surprising cities that I visited throughout my trip through Poland. From the moment I laid my eyes on photos of Opole's stunning Old Town, which is situated along a calm canal and home to a colourful Rynek filled with inviting restaurants, shops and churches, I knew I had to visit. Opole is located in southern Poland along the Oder (Odra) River and is the capital of the Polish province with the same name. It is also considered one of the oldest cities in Poland, which dates as far back as the 8th century. Opole is very much under the tourism radar even though it is conveniently located about halfway between Wrocław and Kraków and boasts some very picturesque streets, green spaces and a lot of history that spans many rulings over the years gone by. While most tourists to Poland tend to stick to the more popular cities, I highly suggest adding Opole to your Polish itinerary and if you want to spend a few days exploring the region, Opole makes for a great place to base yourself in. I was pleasantly surprised with this hidden gem of a city and found Opole to have such a relaxed vibe filled with beautiful architecture and friendly people.
Read more: Spending A Day In Opole, Poland
Kraków
During my three weeks travelling through Poland, I loved Kraków so much, that I ended up spending four days total there; two at the beginning of my trip and two at the tail end. Kraków is, without a doubt, one, if not the most visited city within the country by tourists from all over the world. Kraków is a large city and the old capital, but is compact enough where you can see all the main attractions on foot. Kraków is recognized by many travellers as one of Europe's most beautiful cities and I have to agree wholeheartedly. The city is alive any time of the day with locals cheerfully having a drink in a local pub, or tourists, whether they be from Poland, or abroad, standing in awe of the Rynek Główny and its incredible architecture. Make sure to visit the incredibly stunning St. Mary's Basilica to stand in awe of the intricate ceiling details that resemble a starry sky. Wawel Castle and Cathedral are on the top of many tourist's must see lists when they arrive into Kraków, so be sure to walk over by heading down Ulica Grodzka, or Ulica Kanonicza to marvel in the massive castle complex, which is especially lovely during a foggy morning. If you're looking to get away from the crowds, head to the less visited area of the Podgórze District. This quiet area of Kraków is far from the tourist route, but is such a beautiful area to explore. Although beautiful, the Podgórze District has a dark past and saw one of the most horrible aspects of WWII. Within this small district, Nazis herded about 17,000 Polish Jews and established the Kraków Ghetto. No trip to Kraków is complete without a visit to its many historical museums. Oskar Schindler's Enamel Factory is one of my favourites and of course, you cannot skip a visit to Auschwitz-Birkenau to be immersed in a whirlwind of emotional and historical sites from such a horrendous time in human history.
Read more: A Present Walk Through Yesterday's History – A Visit To Auschwitz-Birkenau
Read more: The Ultimate City Guide To Visiting Kraków, Poland
Wrocław
Another city on my list that almost every tourist butchers its name, is the Silesia city of Wrocław. Wrocław, as pretty of a city as it is now, was also dubbed the prestigious title of 2016 European Capital Of Culture and has been ranked in the top 100 cities to live in by the Mercer Quality of Living Survey. Wrocław also possesses numerous historical landmarks, including the Stary Rynek, Ostrów Tumski (Cathedral Island) and the Centennial Hall, which is listed as a UNESCO World Heritage Site. While you're on Ostrów Tumski, try to stick around to catch the elusive gas lamp lighter that makes his way around the island while dressed all in black (complete with a black cape) to light over 100 gas lamps at dusk every single day of the year. Wrocław was definitely a city I could see myself living in. It had a small town charm, yet had all the amenities of a capital city. There was such a cool factor emitting off of the Wrocław streets that I can't really explain. Everyone I met was so nice and had a ton of recommendations for me, which made me want to stay for longer. The Old Market Square in Wrocław, or Stary Rynek we Wrocławiu is one of the largest medieval squares in Europe and without a doubt, one of the most colourful. Filled with restaurants, bars and undoubtedly the prettiest Town Hall I've ever seen, it's the social hub of the city for sure.
Read more: How To Spend The Perfect Day In Wrocław, Poland
Poznań
The charming Polish city of Poznań is situated along the Warta River in Western Poland and was definitely one of my favourite cities to wander around during my visit to Poland. I feel like a broken record saying this, but it's true. Poznań is such a fantastic city! Poznań is Poland's fifth largest city and is the capital of the Wielkopolska province, but still manages to keep that small town feel with its spectacular Old Market Square (Stary Rynek), cobblestone streets and colourful row of merchant houses. Poznań's Stary Rynek is also home to four mythological Romanesque fountains and depending on which corner you enter the square from, you'll be immediately greeted by one of the four works of art. Colourful cathedrals are hidden all through the old streets and with every turn, you're bound to come across one. No trip to this underrated city is complete without a tour and baking class at Rogalowe Muzeum Poznania to try the infamous and decadent St. Martin's Croissant (Rogal świętomarciński). Although the city is dubbed as the top tourist destination in Western Poland, Poznań is still not well known to many visitors from outside of Europe, but I can tell you that it is worth a visit if you're travelling through Poland.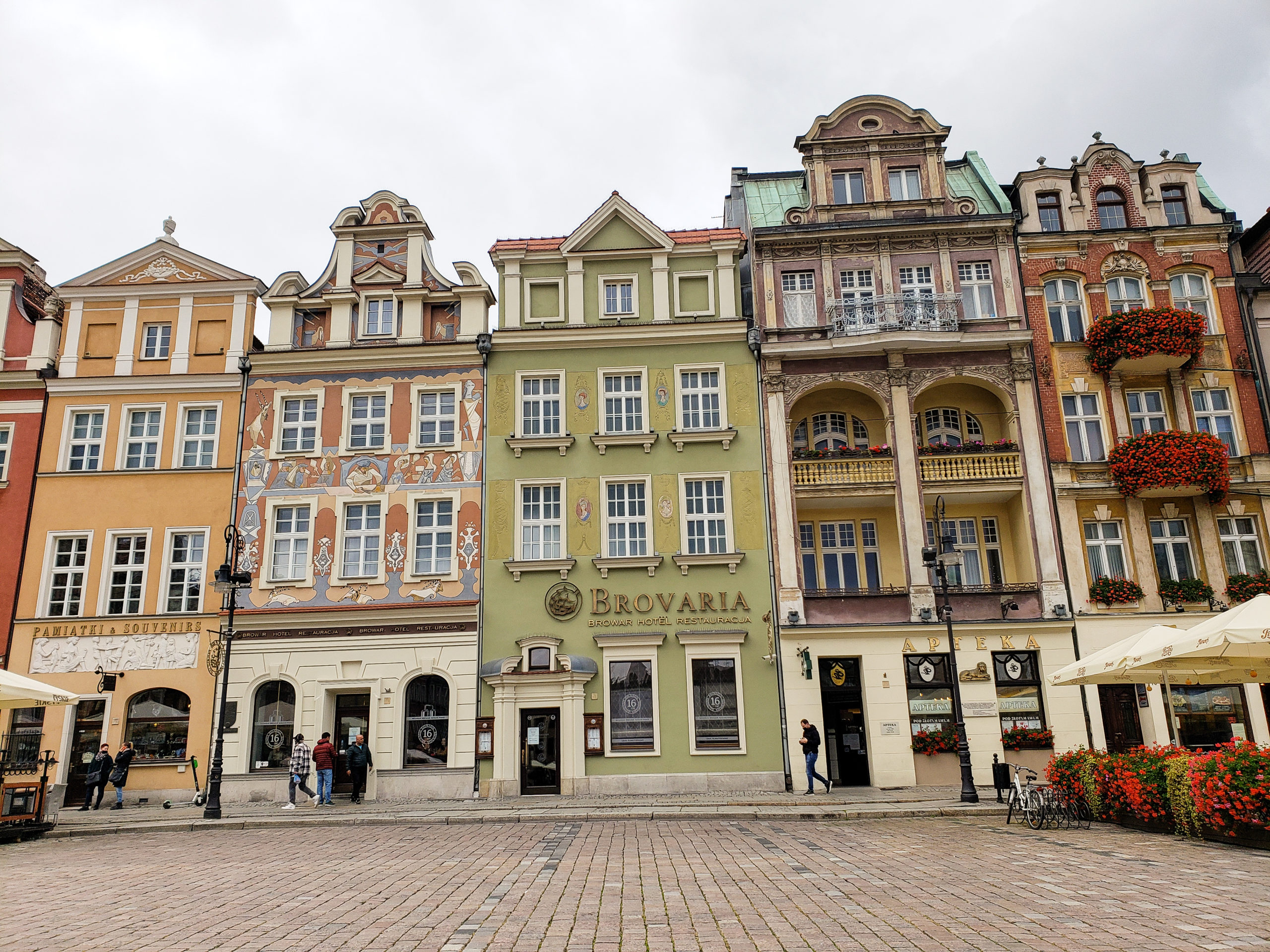 Read more: How To Spend A Day In Poznań: Poland's Best Kept Secret
Gdańsk
Situated on the Baltic coast of northern Poland lies the beautiful port city of Gdańsk. Gdańsk is the largest city within the Pomeranian Voivodeship and is part of a metropolitan area called the Tricity, which consists of Gdańsk, Gdynia and the resort town of Sopot. From the moment I first laid eyes on a photo of Gdańsk and its historic waterfront along the Motława River, I knew I had to visit. Located approximately three hours north by train from Warsaw, it makes for the perfect day trip, or even a weekend getaway. Although not as popular of a city to visit as Warsaw and Kraków, Gdańsk is in a league of its own when it comes to Polish cities. Unlike most cities in Poland, Gdańsk does not have a typical town square, but instead boasts the colourful Ulica Długa (The Long Lane), which is one of the most notable tourist attractions of the city. It leads from the Golden Gate (Złota Brama) to the Długi Targ (Long Market) and the Green Gate (Brama Zielona). If you're a sucker for a great view, make sure to visit Basilica of St. Mary of the Assumption of the Blessed Virgin Mary, or simply St. Mary's Church (Bazylika Mariacka). The views from the top are worth the 405 steps and burning leg muscles. 😉 If you still have some energy after that climb, for another great vantage point, head up the Gdańsk Town Hall (Ratusz) for some more epic views. Ulica Mariacka is one of Gdańsk's most beautiful and ultimately the most photographed street in the entire city. Locally known as just Mariacka, this cobblestone street is lined with amber shops, galleries, restaurants and many quaint coffee shops, so it's a must visit while strolling around the city. 
Read more: How To Spend One Day Exploring Gdańsk, Poland
Warsaw
Last, but certainly not least, one of the BEST cities to visit in all of Poland is yes, Warsaw! Warsaw was a city that surprised me unlike any other I've been to. Yes, I knew the history that Warsaw is famously known for, but what my views of the city were before arriving, drastically changed by the time I left. I was also educated on much more than I had known about Warsaw prior to my visit, which made me appreciate this city even more so. After spending a few days in Warsaw throughout my travels in Poland, I found Warsaw to be interesting, strong, resilient, misunderstood, cosmopolitan and extremely complex. Warsaw is commonly referred to as the Phoenix that has risen from the ashes and with great reason. Warsaw was completely devastated during WWII and over 80% of the city was turned to rubble. In 1939, Warsaw was heavily bombed by the Germans and in 1944 during the Warsaw Uprising, the Germans then decimated the city as retaliation for people of Warsaw and the Polish Resistance fighting back against German Occupation. There was virtually nothing left of Warsaw after this. The city was so badly destroyed that authorities almost dismissed the idea of rebuilding Warsaw's city centre and leave it as one big war memorial. Thankfully, they decided against that idea and the rebuilding of Warsaw would commence after the war was over in 1945. Warsaw has overcome so much during the last few decades; German Occupation, devastating destruction, Communist Rule and in the end, freedom and independence. A city that has had such a gloomy and dark past is now brimming with a bright and glorious future and definitely deserves more credit as a place to visit while in Poland. Complete with an absolutely charming Old Town, calming green spaces, metropolitan vibes, fancy restaurants, mom and pop bakeries and malls that you can shop til you drop in, Warsaw has something for everyone and in my opinion, is much more interesting than people give it credit for. 
Read more: The Ultimate City Guide To Visiting Warsaw, Poland
There are so many great cities to visit in Poland and while I had the chance to visit a handful, I know I haven't even scratched the surface when it comes to seeing all that Poland's cities have to offer. Have you ever been to any of the cities I've written about above? If you don't see your favourite Polish city above, let me know yours in the comments below and tell me about it! xo
Let's get social!